Hello fellow bookworms 📖 I first saw The End of the Year Book Tag over at Lia's Blog and really loved the idea of it! The year already is almost over, as we have under 2 months left, so now was the perfect time to squeeze the Tag into my blogging schedule! I wasn't tagged or anything, but I really wanted to answer the questions so here we go! The Tag was originally created by Ariel Bisset! I'm not tagging anyone, as it's quite late for that, but if you want to do this Tag go ahead and pingback to me!!
The Questions 📖
1. Are there any books you started this year that you need to finish?
I don't usually start books and then not finish them – most of the times I push through or DNF if it's really bad. Therefore, I went with a book series that I have started this year and need to finish. Technically I reread the first book of the Silver Trilogy by Kerstin Gier that I hadn't read in forever. Now I finally, finally, finally want to get to the rest to the Trilogy, so i can finish it this year. I used to be really bad with not finishing Series so this is another one that I started, but somehow never finished. The second book is on my TBR for this month and the third one will likely be on my December TBR, so I can go ahead and finish the Trilogy right on time! It's a shame I didn't read the books sooner, because I absolutely love this author and adored the first book – it was just so much fun.
2. Do you have an autumnal book to transition into the end of the year?
At first I didn't have a clue which book to choose, but then it became apparent. For me Fangirl by Rainbow Rowell will be that book which eases me into the end of the year. This largely has to do with the fact that I always gravitate towards a reread once the Winter is about to start. Since starting university last year, I now also read Fangirl as a fitting read when the Winter semester is about to start. This year I am a bit late, as I'm a few weeks into university, but Fangirl never fails to make me connect to Cath in everything regarding to university. Especially since I had a rough start this semester, I'm all the more excited to dive into the book and feel like everything will turn out okay in the end. By the time you're reading this, I will have finished my third reread.
3. Is there a new release you're still waiting for?
Since it's pretty late in the year, all my anticipated releases have been published yet. Somehow there usually aren't many books releasing in November or December. therefore, I am going with New Releases I haven't yet gotten my hands on. (I wished for all of these books on my Christmas wish list, since I sadly own none of them) First is The Gentleman's Guide to Vice and Virtue, which everyone seemed to have read but me. Hopefully I'll like the book as well since the premise sounds so interesting, but recently I have also heard a few mixed Reviews. A book that wasn't high on my priorities list used to be Turtles All The Way Down, since I kind of left my diehard John Green phase several years ago. I was excited about a new book from him, but didn't want to buy it right away. However, ever since the books release I heard so many great Reviews, that I'm now itching to read it as well. The last book I haven't gotten to is Eliza and her Monsters, a tale about fandom and a girl with anxiety writing comic books. I adore books about fandom that also deal with anxiety, which is why I really, really want to read this book.
4. What are three books you want to read before the end of the year?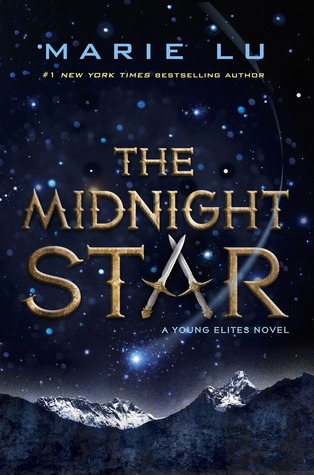 It's so hard to pick what books to read before the end of the years, because I want to read so so many of them, but can't get to them all! The book that I absolutely NEED to read before the end of the year is The Midnight Star, the finale of the Young Elites Trilogy! I have read the first two books recently and now I cannot wait to see how everything will come together and where that last book will lead our main character. It's exciting, because I have no idea what will happen, since these books are so unpredictable and refreshing as they follow a villain character. Another book I just have to read is Chainbreaker and I was lucky enough to receive a digital Arc after also receiving a digital Arc of Timekeeper last year. I loved the first book and am hoping to love the second one as well. Tara Sim is truly underappreciated so definitely check out her books! I will buy  a physical copy of both books of course. The last book I am super in the mood for is Sanctuary, the kind of sequel to Haven, part of a New Adult Series. I kept getting recommended these books and received digital arcs for both books.
5. Is there a book you think could still shock you and become your favourite book of the year?
Hmm I already had a book that shocked me by become a new favorite (Queens of Geek btw.), but hopefully this will maybe, maybe be The Book Thief? I'm reading this for Tome Topple later this month and have been really looking forward to for such a long time. Everyone I know loved this book and thought that it was super moving and emotional. I do expect this to be a real tear-jerker, as it's set in World War 2. Let's hope that I enjoy it as much as everyone else has, because I would hate for this to end as a disappointment. I normally love historical fiction stories that are really moving and sad (throwback to when I cried reading the Code Name Verity duology), therefore I think that this definitely has fave potential.
6. Have you already started making reading plans for 2018?
Well seeing as I'm a planner that always thinks ahead, yes I have already made a few reading plans for 2018. First off, I have been thinking a bit about doing less Reading Goals for the upcoming year, because in 2017 I focused on too many things all at once. More to come in a post at the end of the year. Apart from that here are some of my reading plans for 2018 📖
Reread The Hate U Give
ReRead Red Queen 1-3 before the last book comes out
Finish The Heroes of Olympus Series
Participate in lots of Readathons
FINALLY get to the Grishaverse books
Read John Green's new book
Hopefully continue with the Shadow Falls Series
What books do you want to read until the year is over? What release haven't you gotten to yet? 📖