Hello fellow bookworms 🎄 MERRY CHRISTMAS! It's officially my favorite day of the entire year 💕 And before you ask: most gift giving and get together with the immediate family is done on Christmas Eve in Germany, at least in my family. Therefore, I consider this Christmas, as Christmas Day is mostly for visiting my extended family, that I don't have the best relationship with. I hope you have a merry Christmas and if you don't celebrate I hope you have a wonderful day with your family and friends! 🙂
HolidayadventureAthon Wrapup 🎄
I have wanted to have a festive Readathon and now I've got one! I have absolutely loved doing the HolidayadventureAThon for Team #holidaypenguin, it was lots of fun to complete all the challenges and get into the festive spirit 🎄 I have created a Twitter Moment, that you can check out if you want! I even participated in a few Holiday Sprints, which was a new experience for me as I never really had participated in a reading sprint. I have to say that it's really great if you huddle up with your book, phone and a hot drink. I set myself an alarm so I could read without having to keep an eye on the clock. Overall it was lots of fun and got me motivated to read. Apart from that I truly did lots of festive Things like getting my Gingerbread Latte, going to the Christmas market, watching Christmas movies and of course reading Christmas books. I truly hope that the Readathon will take place again next year, because I had a blast!
1. A Court of Thorns and Roses (Sarah J. Maas) ✅
Presents 🎁 Read a book you got as a gift 🎁
Wish ✨ Read a fairytale retelling ✨
Nice 😊 Read a book that a friend recommended to you 😊
2. Silber 03 [Just Dreaming] (Kerstin Gier) ✅
Star ⭐️ Read a book with a metallic cover ⭐️
Jingle Bells 🔔 Read a book with the word 'silver' in the title 🔔
3. My True Love Gave to Me (Anthology) ✅
4. A Christmas Carol (Charles Dickens)✅
Cookies 🍪 Read a book while eating a festive food 🍪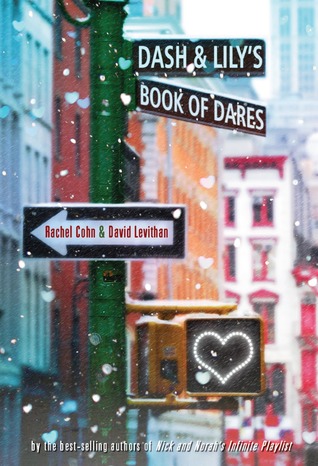 5. Dash and Lily's Book of Dares (Cohn & Levitan) ✅
Penguin 🐧 Read a contemporary book 🐧
Festive Movie Recs 🎄
Since the most festive days are upon as I thought that I would share a few movie Recs with you, as it's still time to decide what to watch in the evening with or without your family. I have a few suggestions below of Christmas movies that I have watched and really liked! If you click on the covers you get to the Wikipedia page and can look up what the movie is about, as I will be mainly talking about why I liked the movie!
A Christmas Carol 🎄 🎄 🎄 🎄 🎄 Without the doubt this is my favorite Christmas Movie, because I adore the classic. This is a great movie to get yourself into the spirit of Christmas and you can pretty much watch it with the entire family. It's kids appropriate and is beautifully animated. Everything about the movie makes me feel cozy and warm inside especially seeing Scrooge recover his love for Christmas and changing for the better. This is a movie I watch ahead of Christmas every time, but it would be great to watch on Christmas Eve as well!
Christmas Vacation 🎄 🎄 🎄 🎄 🎄 Another classic that I always watch on Christmas Eve because it's simply funny, entertaining and the perfect movie to watch on a festive evening. The movie is actually quite old, but I love it all the same. Without fail I watch it every year and laugh, because not everything goes according to plan and it's always amusing to see such a huge family come together to Christmas, as it usually ends in disaster. I am going to make my parents watch this movie this very evening, there is no escaping my tradition!
The Polar Express 🎄 🎄 🎄 🎄 🎄 Technically this is a kids movie but I just have lots of feelings about this okay? I don't care that I am technically too old to watch this, because I love this movie and sometimes I need something light-hearted. This is another gorgeous animated movie with a very profound message and so many heartwarming relationships forming among the kids. The hot chocolate scene is my aesthetic and always makes me crave some hot cocoa. I'll always have watched this by the time this post goes up and you should definitely too.
A Christmas Prince 🎄 🎄 🎄 🎄 🎄  This is only available on Netflix, but it's so good I just had to mention it. At the first glance this is kind of cheesy, but the best kind of cheesy! This is the perfect light-hearted, feel good Christmas movie for a lazy evening with a hot drink. This is such a comfort movie and way better than you would think. It has a slow burn romance, a lovely friendship between the main character and the love interests sister and the most beautiful Christmas aesthetics you have ever seen! It's not a perfect movie, but very, very enjoyable to me and I don't get why so many people think it's bad.
Christmas with the Kranks 🎄 🎄 🎄 🎄  I mainly watched this recently, because it was on Netflix and sounded interesting. I ended up really enjoying the movie, because it was quite funny and different from the movies I had watched before. The only thing I was a bit skeptical about was how vicious the neighbors were not respecting the Kranks choice not to do Christmas, no mater why. I don't get this whole American Neighborhood thing, it's a bit weird to me that everyone had to do certain things because everyone on the street did them.
Have you participated in the HolidayadventureAthon? What's your favorite festive Movie? How are you celebrating Christmas? 🎄