Goodreads – Amazon – Bookdepository
Summary
Surrounded by enemies, the once-great nation of Ravka has been torn in two by the Shadow Fold, a swath of near impenetrable darkness crawling with monsters who feast on human flesh. Now its fate may rest on the shoulders of one lonely refugee.
Alina Starkov has never been good at anything. But when her regiment is attacked on the Fold and her best friend is brutally injured, Alina reveals a dormant power that saves his life—a power that could be the key to setting her war-ravaged country free. Wrenched from everything she knows, Alina is whisked away to the royal court to be trained as a member of the Grisha, the magical elite led by the mysterious Darkling.
Yet nothing in this lavish world is what it seems. With darkness looming and an entire kingdom depending on her untamed power, Alina will have to confront the secrets of the Grisha . . . and the secrets of her heart.
Review
"What is infinite? The universe and the greed of men." 
Initially I was not so  sure about this one, because as always I'm late to the party and was being spoiled early on, so I kind of know how things end (and I already don't like it). Plus everyone kept saying it's not as good as Six of Crows, so I lowered my expectations a lot. Suprise, surprise: I GOT SO ADDICTED to this book. It completely drew me in, I tabbed so many pages and I absolutely loved this first book! Hopefully it only gets better from here on, especially as I adored this AND Six of Crows is supposed to be even better, so it's a win-win situation! (Also: I've been obsessing over Shadow and Bone for past week, someone save me)
🖤 I loved the idea of the Grishas & the world! I appreciated all the Russian influence in the world-building, because it was truly fascinating to. But I've also heard people who were not happy with those elements, especially the names as they were not used correctly (as far as I know e.g. Alina's last name would have to be Starkova, because she's female). Generally, I loved the three Grisha orders with their abilities and the explanations behind them as well as the bit of hierarchy that we see! However, we could have done with more background history on how the world came into being and how the Grishas first appeared! I liked the different coats (I love me some color coordination) and how Darklings as well as Sun Summoners are different! Plus the shadow fold was a very interesting part of the world and really creepy with the volcras and what not. Overall, the world felt rich and I loved it!!
"The Darkling slumped back in his chair. "Fine," he said with a weary shrug. "Make me your villain." 
🖤 The Darkling has just become my favorite villain! Yes hello, I've fallen down the deep hole that is the Darkling obsession. I didn't think that I would adore him as much, because the Darkling is so hyped up, it felt like I was set up for a disappointment, but oh was I wrong. I love him so so so much, because I love dark, snarky, mysterious characters, he gets bonus points for leaning more towards dark and being a full villain rather than anti-hero! The Darkling is such an interesting character, he's flawed, bad and still sometimes surprisingly gentle and moments he slips up and shows someone different. I want to know so much more about him, because there is a lot to be uncovered about him and his past for sure.
I definitely don't agree with what he does of course, but I knew that he would be a villain going in, so I never expected him to be a good guy. I'm definitely trash for him like I predicted because I love a good villain. The "Every villain is a hero in his own mind" 100% applies to him, I think he genuinely thinks he has to do what he does to ensure peace, even though it's a twisted logic, but that makes him so much more interesting as a villain. I can understand his motivations, even though I don't agree with his methods. Also: Just because I love him doesn't mean that I don't like seeing his ass kicked. especially for what he does later 😁
Me: I love the Darkling so much
Also Me: Alina needs to kick his ass right now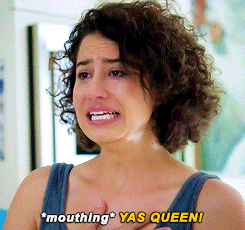 🖤 I love my girl Alina Starkov. I sometimes have a hard time connecting to first person narrators, but I LOVED Alina, she is my favorite girl and I root for her so hard, because she is amazing! She'll kick the Darkling's ass so hard and I'm here for it – I love myself a powerful lady who slays. So Alina starts out feeling like she does not belong, she is largely ignored by Mal, pretty much taken for granted and I felt for her, because I get that feeling so very much. Alina was so lost with only one person to hold onto who had let her go and it really resonated with me, because I've been in a similar position. Then of course Alina discovers her powers and is moved to a new place, where once again she is different, not belonging anywhere and not making any progress with her abilities. However, I loved how she claimed her power and finally stops suppressing her abilities YES GIRL! I also love when her snark comes out! Generally, I love how complex and well-written Alina she is. It's so easy to root for her and I … just want her to be happy and protected please!
"The problem with wanting," he whispered, his mouth trailing along my jaw until it hovered over my lips, "is that it makes us weak." 
🖤 I'm hooked by the Darklina dynamic. It's a definite fact that I'm going to hell for liking this (I'm kidding of course, but that was my first thought after reading the book). Look I wasn't sure if I would like their relationship, because I don't always like ships that include the villain. Here, they start out differently then I thought as the Darkling doesn't seem like a villain at first, which is probably why I like their relationship.
So in the beginning it was so interesting to watch them together and I have to say that the Darkling was surprisingly gentle at times, amused at her snark rather than be offended and going off at her like Alina expected. I do think that they are equals (which is why I want Alina to kick his ass, because she is the only one who can do it!) and there was so much tension and ugh I was here for it, the cat and mouse games, the scene in the dark – everything. Of course in the end the Darkling turns out to be a true villain, or how I would call him a manipulative dumbass. He could have made her his equal right now instead of trying to control her and that would have worked out, but no he was so focused on being in control. I could have handled that better than him. No girl wants to have her power bound and now he's going to pay. I love him, but someone needs to kick his ass and by someone I mean Alina.
Still, the Darkling never turned away from her power, instead he seems to accept who she is. I also think he does care for her somehow, even if it isn't really love. Also Alina's heart still aches for him. I love the blurred lines of 'do they care about each other?'
Their dynamic is more messy and twisted, which I usually don't like, but here it strangely worked out, which is not to say that I think their relationship is goals or good. It isn't, it has flaws and isn't the most healthy, I understand if people don't like them or the Darkling, as they do have their problems, that I'm always willing to acknowledge.
 🖤 I loved Genya & her friendship with Alina. You know that I'm always here for some girl friendship, especially as the other summoner girls can hardly be described as Alina's friends, so I was glad that we got Genya whom Alina could connect to and build a friendship with! I have to admit that Genya's obsession with beauty and turning Alina beautiful was a bit off-putting, but I liked how close they grew together! It was great watching them gossip and hang out together. But oh the end … I still think they care about each other and Alina forgave her, but it's heartbreaking, especially as Genya battled her own demons and I think she truly thought Alina could do good. That's as much as I can say without spoilers.
🖤 I didn't mind Mal, but he pales in comparison – as does the romance. The thing is that I just don't like the childhood friends to lovers trope, because I find it incredibly boring and I hate this 'she always had feelings for him, he didn't, but now they are not one-sided' thing. For me their romance was too safe, too uneventful, especially when her dynamic with the Darkling was so much more interesting. Not to mention that Mal starts out pretty much ignoring Alina and taking her for granted. Speaking of him: surprisingly I didn't hate Mal, but he pales in comparison to the Darkling (+ this Nikolai guy that's I hear is going to appear in the next book, since everyone seems to loves him, I'm guessing he's a great character) and that's the main problem. He's not annoying (yet), but also feels bland when compared to the other potential love interests. Don't get me wrong it was sweet how he admitted that he was sorry for not seeing her back then and realizing he was wrong, and then giving up so much, but I don't ship it. There's no real chemistry there for me.
IN CONCLUSION: Shadow and Bone managed to completely hook me and surprised me by how addicted I got to the characters and story! I absolutely love the Darkling, he's one of the best villains I've seen and I really rooted for Alina, she's my favorite! I'm not going to lie, I also enjoyed their dynamic, the tension in the world and the opposing powers facing off. I'm surely excited what else this world has in store for me.
Have you read Shadow and Bone? Who is your favorite villain? 🖤