Hello fellow bookworms 💗 It has been a while (I think over a month) since I participated in this amazing meme, but with my hiatus announced and university keeping me really busy I wasn't able to do June's themes on time 😥 That's a shame, because as I said I love the idea of this meme and was so inspired by the topics. Therefore, I decided to do a 3 in 1 and catch up on the topics in one post, because I still wanted to do them! Therefore, this is my catchup post for the prompts Wicked Witch, Grump with a Golden Heart and Second in Command! The only prompt I didn't do was "a character who can fly" but my characters for the last prompt can actually fly so I kind of got that covered as well!
I Heart Characters! is a weekly meme hosted by Dani @ Perspective of a Writer to showcase our book blogger love for characters! Each week she'll supply a topic and you'll supply the character. Post on whatever day suits you, about characters from whatever media you love (books, movies, K-dramas, television, manga, anime, webtoons, whatever!) and link up on Thursday so YOU and others can blog hop and share the character love. 💗
The Wicked Witch – Rowena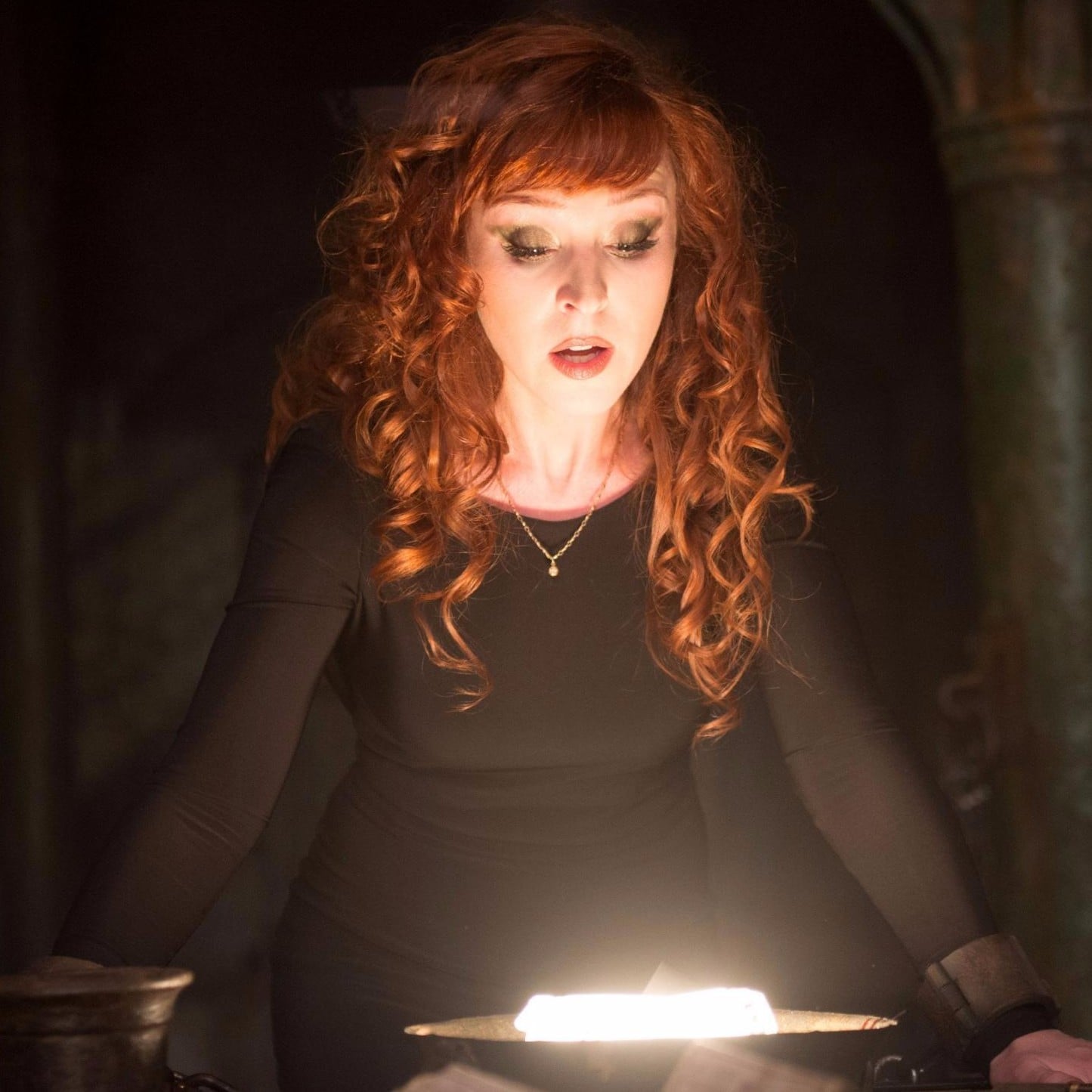 "But nice girls? They're pathetic. Here's to evil skanks."
If you don't know Rowena is a character from Supernatural, but only appears in Season 10, so I will try to keep it spoiler free. Fitting for the prompt Rowena is an actual witch and a very powerful one at that. She is hundreds of years old and very cunning, evil and incredibly wicked. I adore her because of that, as Rowena is a great antagonist and I love powerful ladies taking over and showing how much they are capable of. What I love most about Rowena though, is that she has many sides to her and a good background story that gets more explored as the seasons go on. She is not invincible. Rowena can also be very vulnurable and as she has been hurt a lot in her life, this witch is good at being in power to avoid ever being weak again. Later on we even see her dealing with her own trauma and kind of  going from wicked witch to an unlikely ally who is not longer 100% focused on only looking out for herself. I'm very glad that she's still on the show as Ruth Conell – the actress that plays Rowena – is really good at showing us all of her facades.
The Grump with a Golden Heart – Aeduan
"Sometimes justice was all about the small victories." 
THE BLOODWITCH AEDUAN IS MY SON. Like I love him so so so much, he's one of my favorite characters of all time. I'm just all here for super sassy, sneering characters that are 10000% done with everyone else. Aeduan is very morally gray which is another thing I loove having with characters and honestly he showed so many different sides. On the one hand he's killing people without a second thought but on the other side he's also really considerate. He can call himself a demon a hundred times, but he doesn't have a bad heart like he says of himself. Or to say it with Leopold's words: "You aren't the demon your father wants you to be". Therefore I present A tiny list of nice things Aeduan did 1) he let one of his enemies live 2) he saved his old mentor 3) he saved another enemie's life multiple times, 4) saved a tiny child and turned back the way he came to bring it to safety!!! Suuuure you're a "demon" Aeduan, keep telling yourself that. Therefore, he's the perfect grump with a golden heart, that surely will come out a few more times in the future books. I think the author also described him as a "Hufflepuff who thinks that he's a Slytherin" and honestly that's pretty accurate.
Second in Comands – Azriel & Cassian
"Hurry up, you lazy ass," a deep male voice drawled from the antechamber beyond. […] The pounding continued, followed by the second male murmuring to his companion, "If you're going to pick a fight with him, do it after breakfast." 
Well I wish I had written my ACOMAF Review, because then I could link it, but I'll just talk about those two here now as I haven't done that before. I love all of the Inner Circle, but when I saw the prompt Azriel and Cassian immediately popped into my head as the very first characters. Azriel is Rhys' spymaster and the more quiet, reasonable one of the two. You could say that he's pretty mysterious with generally not talking and being able to blend into shadows that is, but that just makes him so much more interesting as a character! And then there is Casisan, the general of Rhys' armies and usually the one who gets into trouble (like wrecking buildings in the summer court). I love Cassian too, he's a lot of fun and definitely has a big mouth and a dirty sense of humor. However, he's also very selfless and loyal to his friends, which is shown on several occasions. Overall, I just really like those two and I cannot wait to learn even more about them in ACOWAR, the new novella and the books after that!
What is your favorite wicked witch, grump with a golden heart or second in command? Please tell me in the comments! 💗