Hello fellow bookworms 📋 Two things I absolutely love are a) lists and b) books, so what would be better than a Tag that combines both of them? The lovely Swetlana @ thecaffeinatedbookwormlife tagged me for the Listicle Tag, so thank you so much 💕 I have been wanting to do another Tag for a while now (I recently created a list of all Tags I've been tagged in as I want to keep an overview and slowly do all of them!) and this one inspired me right away, so I decided to do it first 😍 It's so creative as everyone creates a new prompt for their nominees, which means that there are so many possible lists!
The Rules
Create your own listicle tag, using the prompt from the person who tagged you.
Tag the creator of the post, not-so-modern-girl, so that I can read all your brilliant posts and see how the joy of listicles is being spread.
Nominate as many people as you want!
Set those people the subject/prompt of their listicle post
You wake up on a deserted island. What are the five books you wish you had on you to keep you company and entertained?
I absolutely love the prompt that Swetlana choose, it immediately got me thinking which books would be perfect for my island vacation! Should I choose those that are light, or maybe long so they last me longer? After all I don't know how long I'm on that island 😄 I wasn't sure if I wanted to choose books I had already read or ones on my TBR, so I decided to pick out 3 books to reread and 2 TBR books that would fit perfectly for a vacation on a lonely island.
1. Simon vs. the homosapiens Agenda (Becky Albertalli) 🏖
This was one of the first books I immediately thought of when I read the prompt, because it fit so perfectly. I love Simon vs. the homosapiens agenda so much, it's a fun comfort read that I would totally want to have with me on a relaxing day at the beach. Now this is a book that I can get through quite fast, but it's totally worth it, because I could read Simon vs. all over again and have done so a few times.
I just couldn't not pick it as a book, because this book would certainly keep me entertained throughout my time on a deserted island and wouldn't fail to make me love and swoon! This is just one of those books that always puts you in a good mood wherever you are!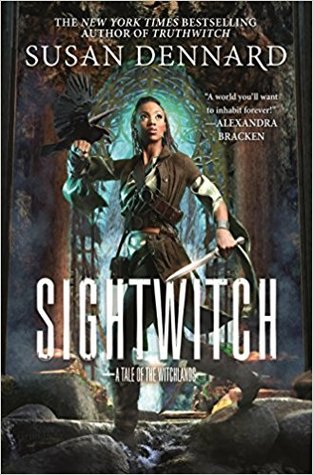 2. Sightwitch (Susan Dennard) 🏖 
Would I even be on brand if I didn't mention the Witchlands? Of course I need a Susan Dennard book with me on the island, the question was just which one! Now Sightwitch is on the shorter side, as it's a novella to be read after Windwitch, but the reason I choose it is that I want to reread it so badly!
There are a lot of clues in this one that are relevant for the rest of the Series and I'm determined to uncover them all! What better way to do so, then when you're on a deserted island and have lots of time to think? (I have paper and a pen right?) The fact that this is also told in such a unique style (with illustrations of all kinds, from maps to riddles and drawings) and has an adventure element, makes this the perfect book to take to my island trip!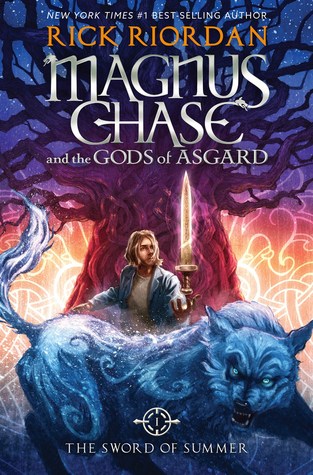 3. The Sword of Summer (Rick Riordan) 🏖
I mean I had to choose a Rick Riordan book, as I adore all of his books so much and they are guaranteed to make me laugh. I choose my favorite book by him, which is the Magnus Chase Trilogy and since I can only pack one book, I decided to go with the first one – The Sword of Summer -, as it will always have a special place in my heart!
The Sword of Summer is probably one of his funniest book as well and since it has such great humor, it would definitely keep me laughing and entertained the entire time. The book is also over 500 pages long so I would have a lot to read, which is great, as no one knows how long I would be on said island! Magnus Chase himself also has to endure a lot of adventure which perfectly fits the overall "adventure" vibe of a deserted island that I'm stranded on!
4. To Kill a Kingdom (Alexandra Christo) 🏖
I had to pick this book mainly because this gives me all the beach/ocean/island vibes, as it's about sirens and the ocean!! I have been wanting to read this book for a while now, because I heard a lot of great Reviews, that also mentioned that this has a great hate-to love romance and convincing characters! Now I just hope that magically a copy appears on the island, as I don't have one yet myself 😂
I'm definitely intrigued by the book and I have high hopes that I will end up liking it, so it would be the perfect read for the island, especially with all the ocean (minus the sirens of course) nearby. It's the perfect aesthetic to be honest and as much as I hate the heat, it would be great to lie in the sun and read this!
5. Blue Tide (Jenna-Lynne Duncan) 🏖
I've never talked about this book before, which is such a shame, because I love the premise and it definitely deserves more attention! Now I haven't read this myself, but I really want to and feel like Blue Tide is very underrated. At least I haven't heard anyone else talk about it. I truly love discovering hidden gems and sharing them!
This book is about a girl called Lux stranded on an island with her family (which just fits perfectly with the prompt). She tries to get them away, but then she is kidnapped by pirates, who have a bigger enemy to defeat – one responsible for a lot of deaths. Lux has to figure out if she wants to help them! That sounds really intriguing to me and I'm already hooked! I have high hopes for this one and it's the perfect beach read for sure.
My Prompt is …
Oh no, it's the Zombie Apocalypse! Which five characters would you want on your team to help you survive as long as possible?
I'm tagging a few people at to do this Tag (again, no pressure, you don't have to do it if you don't want to 💕), but if my prompt sounds good to you feel free to do it as well and link back to me so I can see your list!
What books would you bring to an island? Which characters would you want on your Team? 📋