Hello fellow bookworms 📚 It's time for another Top Five Wednesday, which is a weekly meme which was created by Lainey and is now hosted by Sam! This week's topic is Books For My Younger Self so the idea is that we should pick "Books that you wish your younger self would have read to learn a life lesson, get more self-confidence, open your eyes to a new perspective, etc." which is such a cool topic to talk about!
This topic was perfect for me as I didn't read a lot during my high school years (I'm still sad about this, think of all the books I could have read) and really hope that I would have had certain books to help me through difficult times and make me happy when things were getting stressful. This will be a rather personal post, as it of course directly relates to my younger self and the experiences I had back then, which are not all positive, as life tends to be. Let's just say that this is a small window into my soul back when I was in high school.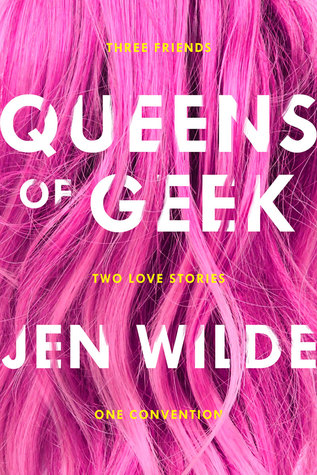 1. Queens of Geek (Jen Wilde)
"That's what we do. We walk a tightrope every day. Getting out the door is a tightrope. Going grocery shopping is a tightrope. Socializing is a tightrope. Things that most people consider to be normal, daily parts of life are the very things we fear and struggle with the most, and yet here we are, moving forward anyway. That's not weak." 
Not only would have younger me liked the fandom culture, which is super relatable, I would have adored the friendships and romance as well. This book is so right up my alley that I would have liked it at any point during the last years! However, specifically for my high school years this book would have had a monumental impact. I mentioned before how this book made me very emotional when I read it, because the anxiety representation was so on point. I felt deeply connected to Tay and her thoughts, it felt like she was me and this realness and her journey throughout the book felt so empowering too. She is getting out of her comfort zone, while staying who she is and she struggles with it. Tay was so relatable for me and she made me feel less alone with my own struggles. It felt like she understood me like no one else had before. I wish someone would have told me back than that it's okay to be who you are, that it's okay if I'm failing, because I'm trying my hardest every day again and again and again. This book made me feel like there is nothing wrong with me and that is a message that I would gave desperately needed in high school.
2. Heroes of Olympus (Rick Riordan)
"Piper gripped his hand and followed him, "If I fall, you're catching me." "Uh, sure." Jason hoped he wasn't blushing.
Leo stepped out next. "You're catching me, too, Superman. But I ain't holding your hand."
I honestly wish I had read more Rick Riordan back then, because I only read Percy Jackson and loved it a lot. However, I never got around to reading his other books and it makes me a bit sad, as they could have become a great joy in my life. The reading experience would have been fantastic, because Riordan is one of my favorite authors and was back then too! It would have been great to have these books whenever I needed a laugh and a distraction when things were not so great. I could have especially needed this book during a very tough time, to tell me it was going to be okay again even if it didn't look that way at the time. I'm still not caught up on the Heroes of Olympus Series (only 1 book to go), but I wish I would have binge read it back when I was in high school. It could have definitely saved me after a stressful day of school!
3. A Monster Calls (Patrick Ness)
"He knew it would come, and soon, maybe even this 12:07. The moment she would slip from his grasp, no matter how tightly he held on. And he also knew he was going to get through it. It would be terrible. It would be beyond terrible. But he'd survive." 
It's personal sad story time, as this one is related to grief and my great-grandmother's death. Now I would have liked 2015 Me to have this book at hand when it happened, because it was (fortunately) the first time I was ever confronted with heavy grief. I was very close to my great grandmother, she was always warm, kind and cared about me a lot. So the grief was intense when she died. Of course I knew this day would come – my grandma lived to be 91 after all and I'm fortunate to have spent so much time with her – but I still wished she was here, that she had witnessed my graduation 6 months after and seen me now. A Monster Calls deals with grief and that's why this book would have resonated with me so deeply. My first encounter with this kind of grief could have been helped by this book. It's Middle Grade, but I feel like it can apply to any age range. Every year I read it and I'm emotionally moved by how well this book deals with the topic. Just thinking about how it has been 3 years since my grandma's death is honestly shocking me. It has been so long and I miss her every day.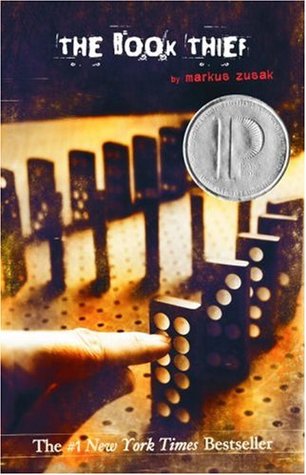 4. The Book Thief (Markus Zusak)
"It amazes me what humans can do, even when streams are flowing down their faces and they stagger on, coughing and searching, and finding."
I honestly think that past me would have really appreciated this book and took time to savour it. Back then I was loving historical fiction even more, so this would have been THE book for me to read! Apart from the genre being something I wish I had read even more back then, The Book Thief is also a very impactful book. It's unique – being told through Death's POV is something I have never seen before – and emotionally attachment to the characters is guaranteed. I have a lot of quotes I like from this book and while a lot of them are sad, the book is also about inner strength and enduring even in the darkest times. The main character uses words to describe her story and her love for books – them being an anchor among all the war – is something so beautiful it would have moved me. I think reading this book would have also reignited my love for reading in a lot of ways, so I wish I had read it or even known if it's existence back then when I needed an impactful book to  read!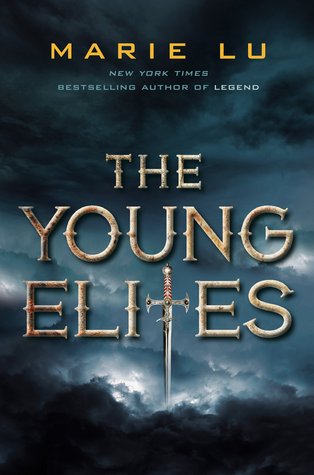 5. The Young Elites (Marie Lu)
"To love is to be afraid. You are frightened, deathly terrified, that something will happen to those you love. Think of the possibilities. Does your heart clench with each thought? That, my friend, is love. And love enslaves us all, for you cannot have love without fear." 
I mean I love this book in general, so of course I would recommend it to younger me: the villain arc and later development in here is fantastic and ends in a way that I found deeply resonating and realistic. The thing I like most about the main character Adelina though, is that I can understand where she is coming from. She has been constantly mistreated and it has caused her to hold her emotions tight and coil hatred around her heart. This of course hasn't happened to me, but I guess that we all feel used, mistreated and not understood at times. It's sadly inevitable and I felt like that too a lot of the time in the less nice periods of high school. What Adelina is feeling isn't pretty, she makes horrible choices, but I found it refreshing that we see a main character struggle so much. It's okay to be angry and hurt, it's okay not to be okay. In the end this book ends with a message of light despite darkness, emphasising that despite all the hurt you can still change, you can let go of the darkness and hold on to the light. (Wow this is getting metaphorical. I can only highly recommend reading the books, they are great!)
What books do you wish your younger self had read? 📚