Hello fellow bookworms 💗 I have finally finished my very last exam, which was later than the other ones, so here's a new blog post! I was actually getting a bit behind with comments and blog hopping this week, as I wasn't feeling too well. But now I'm back
The lovely Kate from readingthroughinfinity tagged me for the This is my Genre, tell me yours Tag a while ago and as I really loved the questions of the Tag, I decided to do it today. Thank you so much for tagging me!
(I would normally have you guess what my favorite genre is, but it literally says so in the title 😂 Extra Points to everyone who already knew 😄 )
Rules
Credit the bad bad Drew at The Tattooed Book Geek as the creator of the tag. Either use the created tag name graphic or create your own and link back to his blog.
Answer the questions.
Tag as many people as you want.
What's your favourite genre?
My favorite genre is and always has been Fantasy, I like both Urban and High Fantasy, but the latter has to be what I generally prefer 💕
(was it really necessary to create a Fantasy aesthetic? No, but I really felt like doing it 😂)
Who is your favourite author from the genre?
Here we go with me being pretty predictable as far as favorite authors go 😄 (I decided to go with my Top 3)
I have always loved anything by Rick Riordan even back when I started reading, so you could say that I'm a long-standing fan of his work. Every single book he put out has been 5 stars and that just underlines that I cannot go wrong with picking up a Riordan book. He writes the best, most unique books about mythology that are always fun to read and never fail to amuse me!
Of course I also have to mention Susan Dennard, I'm a 100% a big fan, so I'm keeping on brand 😜 But seriously, I adore her Witchlands Series, it's so well written and set in a huge fantastic world that I cannot wait to explore even more. The characters and dynamics are so engaging, plus I love how she manages to handle a multiple character cast and all the little hints that build up to something huge, it's amazing! I cannot stop with the gushing when it comes to her, I highly recommend the books and signing up to her Newsletter for excellent writing advice!
The third author to choose was actually a lot harder as I have a lot of favorite fantasy books, but sometimes I have only read 1 book by the author, so it's a little hard to say this is an all-time favorite. But I really enjoy Roshani Chokshi's book and think that she is a very underrated author! I'm seeing a theme here, as she also writes books inspired by Mythology and I adore her Star-Touched Queen Duology! Her wiring is plain gorgeous and now she has a new Series with Rick Riordan's imprint out!
What is it about the genre that keeps you pulling back?
That's a very interesting question! I think what always pulls me back is getting to escape from reality to a completely different world and experiencing the magic of this new setting. I have always been more of a dreamer and getting to read all about magical, whimsical worlds with intrigue, incredibly abilities and adventure has a way to never fail to draw me in. I love the excitement of these stories, because they are so unlike my daily life. This is always what I have loved about Fantasy and continue to love. After all there are so many more amazing worlds to discover, the creativity of writers is endless and there is always something new to read about 💕
What's the book that started your love for your favourite genre?
I have three books that I read the earliest and therefore are mostly the books that really got me into fantasy and also reading in general. The first would be the Inkworld Books as they have always fascinated me from the very beginning. These are one of the first books I remember reading and totally falling in love with. They are about people who have the ability to read characters out of books and people into the books, which is just amazing and general. So much book appreciation here.
The second book Series is Thirteen Treasures, a Middle Grade Series about a girl who can see fairies and visits her grandmother who lives near a forest full of fairies. I have such fond memories of reading this book, it's about family, friendship and very naughty fairies. The last book Series to mention is of course Harry Potter. I read it a bit later than everyone else, but there's no denying that I was really obsessed with it and the books have definitely contributed to me living fantasy as dearly as I do now.
If you had to recommend at least one book from your favourite genre to a non-reader/someone looking to start reading the genre, what would you choose and why?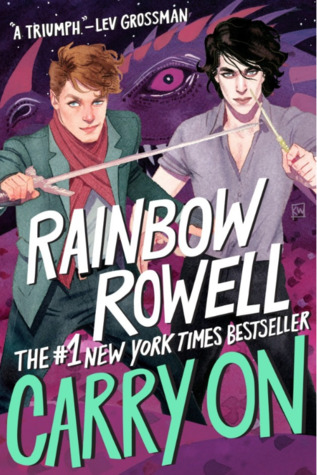 I could of course mention all my favorite books (especially by the favorite authors mentioned above), but I didn't want to repeat myself as much. Therefore, I decided to go with books that I think are very easy to get into for people who may be a bit overwhelmed with very heavy fantasy books that are long and take a bit of time to get into.
Personally, I think that Carry On is a great book to start with. It's 500 pages long, but so quick and easy to read, you practically fly through it. The book convinces with its humor, fun and engaging characters and an interesting, but easy to understand fantasy world. Then I also think that Leigh Bardugo's books are excellent for starters.  Especially Shadow and Bone is a great book to get you into Fantasy: it has an amazing heroine, the best most intriguing villain and a cool concept that it easy to get into. The book is overall great to read and definitely addicting!  My last recommendation is An Enchantment of Ravens, and while this one has received mixed reviews, I think it's perfect for Fantasy beginners. The book isn't too long, it has great, atmospheric world building and two super fun characters that have a great dynamic.
Why do you read?
To Escape. That's what first popped into my head when I read the question. I lobe how stories offer us the chance to escape our daily lives if only for a moment. To completely get immersed into a different world or maybe just a different life has its own magical healing property. For me dreaming and getting lost in stories has been a way of self-care. Even if everything is going wrong, by reading books I've never felt completely alone 💗
I'm tagging everyone who wants to do this Tag!✨
What is your favorite genre? What book would you recommend to someone new to your genre? 💗