Hello fellow bookworms 🎃 I'm participating in Sbooktober again! This is now my third year participating, as I love the overall event and Readathon a lot 😄 What can I say? I'm a spooky reader 👻 For those of you who don't know what Sbooktober is: it's a bookish spooky event tat runs the entire month of October and includes lots of fun things to get yourself in the spooky mood! This includes Instagram and video challenges that run weekly, as well as a group book to read (this time it's Undead Girl Gang), movie nights and lastly the week-long Readathon! Definitely check out the Sbooktober Twitter for any more information!
As you might know I LOVE Readathons, so naturally I can never resist one, especially as I'm a huge Halloween/Fall Person so I'm all here for the spooky prompts and a week full of reading! Below are two amazing graphics explaining this year's Readathon, which is a bit different from the one last year. This October we have 5 basic challenges all about defeating an evil creature in a haunted house + 2 additional one per clan (there are 5 clans in total), if you want to join a team! Each clan is moderated by one of the Sbooktober hosts.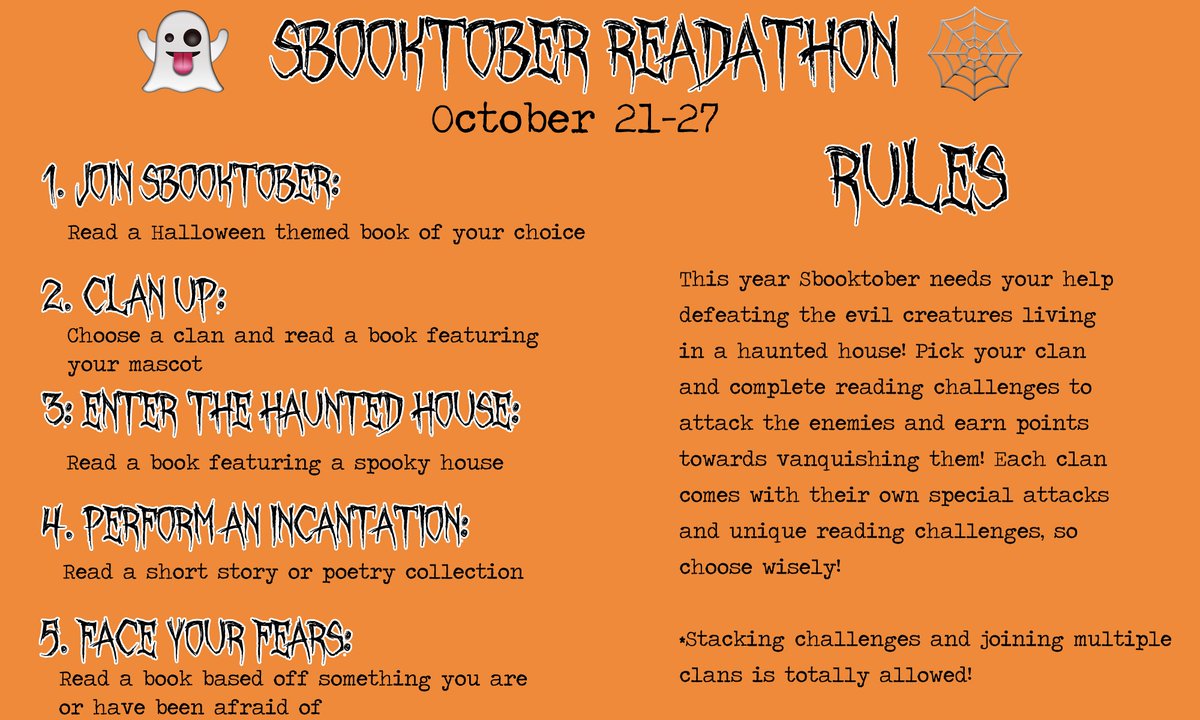 Here are the specific challenges for each Clan that you can do!!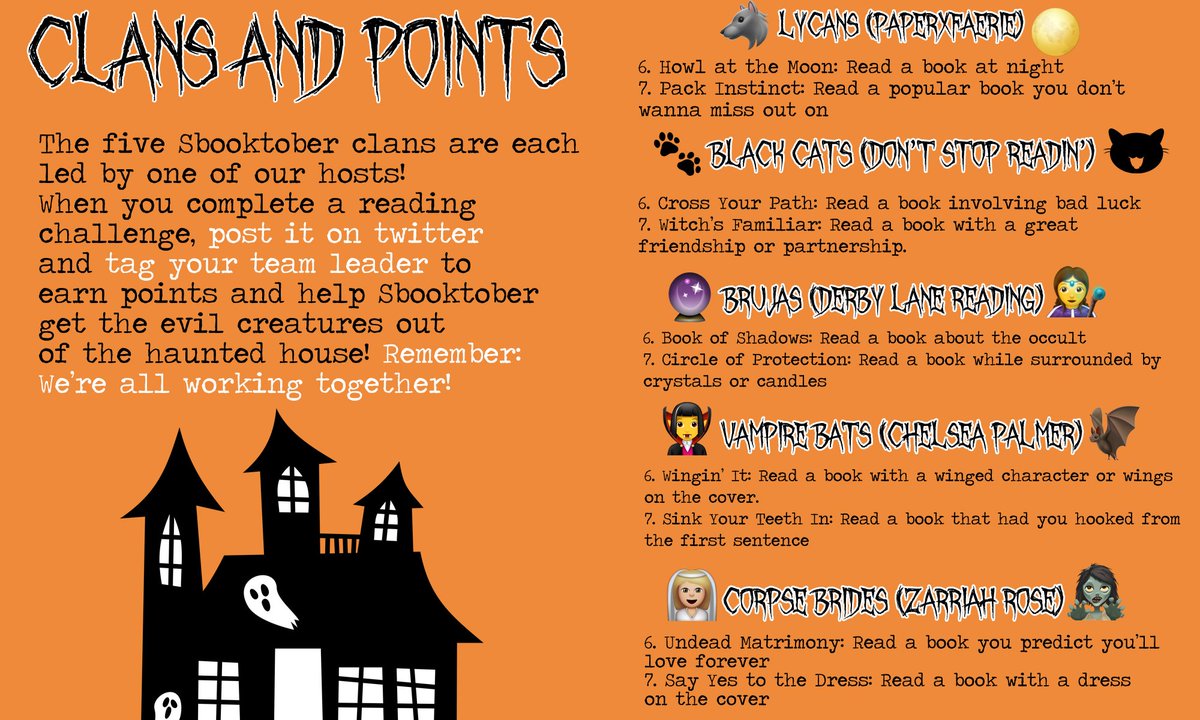 Sbooktober TBR 🎃
I didn't realize until now that the Readathon takes place during my first week of the new semester, but that has been the case in the past as well. Therefore, I'm using the option to double up on some challenges, as I don't want to stress myself out with reading, especially as I sadly have a weekend seminar towards the end of the week. However, I'm super excited for the 3 books that I'm planning to read
Thunderhead (Neal Shusterman)
Face your Fears 👻 Read a book based off something you are or have been afraid of. Getting up close and personal now, but the fear represented by this book is obviously death – not an uncommon fear, but one of my greatest. Theunderhead is the sequel to Scythe, which is all about a dystopian word here only the Scythe can kill people!
Pack Instinct 🐺 Read a popular book you don't want to miss out on. I adored the first book in the Series, which was already very hyped, so now I'm ready for th sequel! People are loving Thunderhead even more than Scythe, so I have high hopes and wouldn't want to miss out on this reading experience! This book will probably destroy me as  well.
The Invasion (Peadar O'Guilin)
Join Sbooktober 🎃 Read a Halloween themed book of your choice. I have been wanting to read this ever since I got this for my birthday in April and have waited until now, because it's the perfect Halloween read. The Invasion is the sequel to The Call, all about mudery fairies in Ireland and the humans that try to survive them.
Sink your Teeth in 🧛‍♀️ Read a book that had you hooked from the first sentence. Giving that I ead the first book in one setting without meaning to, because I could not stop reading, I hope that the same will happen in the sequel as well. There is simply so much at stake that there is no good part to stop and take a break, because everyone is in danger all the time.
Possible Third Book 🎃
A Monster Calls (Patrick Ness) This is a library book and currently on hold until the 22nd so I have no idea if I can actually read it. This would be my third reread and I really should get myself a copy sometime, but for now let's pray that the person who currently has this, gives the book back on time 😅 If not I will still read it later, just not for the Readathon, but I have made it a tradition to reread this book around Halloween. It's really good, 10/10 would recommend if you like getting your heart ripped out of your chest.
Cross your path 🐱

Read a book involving bad luck
Vengeful (V.E. Schwab) I recently read and adored Vicious, so of course I'm very excited for the sequel. I did download the audiobook from Scribd, but a) I don't know if Scribd will not restrict it until the Readathon and b) I'm cutting it close as my Scribd free Trail expires on the 30th and O have to cancel it before. (Does anybody know if you are locked out immediately if you cancel or still get those last few days?) Anyways, I really want this to happen, pretty please.
Undead Matrimony 👰

Read a book you predict you'll love forever
What are your favorite spooky books and movies? Do you liked seasonal Readathons? 🎃