Hello fellow bookworms 🎄 As you might have noticed I'm a huge lover of Christmas and the winter/festive Season in general, so I often try to be a seasonal reader as well! I'm only a seasonal reader in fall and winter, but when I do that, I go all out, especially for Christmas! I love watching all the christmas movies  as they really help tp get me in the mood and that's something I also try to do: get into the festive mood! However, there are not nearly enough good festive YA boos in my opinion, more often I see adult fiction Christmas books and that's just not a genre I reach for. However, there have been some great festive books (some I have already read) that I wanted to talk about as they are high on my TBR for next year, as this month's festive reading has already been settled, as you could see in my festive Readathon TBR post! If you have recommendations for YA Christmas movies, definitely let me know in the comments, I'm always on the hunt for more!
All my Blogmas Posts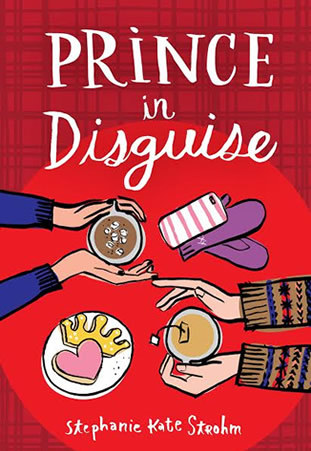 1. Prince in Disguise (Stephanie Kate Strohm) 🎄 So this isn't technically even a Christmassy book, but it just gives me the ame vibe that most Netflix Christmas original movies give, as it's all about princes! Also, someone told me it was wintery last year, so I just have to go by that, as I couldn't gather as much from the synopsis. I mean the cover pretty much screams coziness, so I hope it will give me the cozy feeling no matter what the content is. I know it's about a girl wise sister is marrying a Scottish prince and therefore she has to come as her maid of honor and participate in a reality TV show, which sounds like fun! I really hope there are at least some hidden wintery elements to this story, as it really reminds me of A Christmas Prince.
2. Carols and Chaos (Cindy Anstey) 🎄 A festive historical fiction that is YA you say? This is absolutely amazing and I cannot believe that I have not heard of this book before, as I love Christmas and historical fiction, so this is the perfect blend of both for me! It's about two servants in the 1817 who ate preparing for the festive season and therefore have lots to do as the estate owners are planning lots of activities. However, between romance and duties, they also get swept up in a scheme, which is likely where the Chaos part of the title comes from. This promises to be a real romantic Christmas adventure, so a perfect read for the holiday season and something that sounds like I could really, really enjoy it, so that's amazing!
3. Snow in Love (De la Cruz, Stone, Friedman, West) 🎄 I actually wanted to read this so badly this year, but it just wasn't possible, because I didn't have money to spend on two books and just got the anthology I've be home for Christmas, as I had wanted to read that one for way longer tan Snow in Love (and I could get it used, so way cheaper). Still I really want to read Snow in Love, especially as it has been the group Book for the Tis the Seasonathon that I participated in last week and therefore everyone has been talking about it. I have only read something by Nic Stine, but I'm excited to read the other stories as well, as this anthology sounds super cozy and I really hope I can ger around to reading it next year as I really, really want to! There are not nearly enough YA anthologies about the winter/festive Season if you ask me, so I'm just very glad that book exists!
4. The Twelve Days of Dash & Lily (Cohn, Levithan) 🎄 I actually did read the first book Dash and Lily's Book of Dares last year and I liked it (a solid 3.5 star rating, as it was a bit unrealistic at times, but relatable), so I want to read the sequel sometime as well! My library sadly doesn't have it, so I still have it on my TBR, as the books are pretty fast to read. Maybe next year I will get ahold of a copy, so I can read it as well! As I liked the first book well enough, I'm excited to rea more, especially as it was perfectly festive and that's what I'm always looking for.
5. A Christmas to Remember (Jenny Hale) 🎄 This book is actually pretty far out of my comfort zone, as it's adult fiction and I almost never read that. However, I was searching for more feel good Christmas books and most tend to be adult, so I decided to give this one a try in the future! Jenny Hale seems to be an author who writes a ton of those Christmassy books, so I hope I might like this one! It's about a nanny who takes care of the children of a businessman who is always so busy and had no time for anyone – that set in Christmas time, so it sounded good to me!
6. A Boy Called Christmas (Matt Haig) 🎄 I just added this to my TBR, as I realized that I didn't have that many festive boos on my TBR and I recently saw it on a recommendations list, so I decided to give it a try in the future! It's a middle grade book, which I don't usually read, but it sounds interesting and sweet, so I think it could be a nice, quick festive reward for sure!
Have you read any of these books? What festive books do you have on your TBR? 🎄