Hello fellow bookworms 🎄 I'm usually not much of a movie person (I always lose interest in them so quickly, so I usually stick to TV Shows), but the only exception to that are Christmas Movies, because I love them a lot and never get bored with them! I have quite a few movies that I rewatch every year and my list is ever-growing, so I decided to share my favorites with you today! I thought it would be a quite a fun idea, as the holidays are fast approaching and that means probably watching some movies with your friends, family or just yourself, so I got you covered! Special shout out to my friend Sandra, who is my watching buddy and watched a few of them with me! ❤
All my Blogmas Posts

My favorite Christmas Movies 🎄
Funny Movies 😄
Perfect for: comedy fans, anyone looking for a cheerful, fun movie (which might be a bit silly at times, but still lots of fun)
Christmas Vacation 🎄🎄🎄🎄🎄 
Source: DVD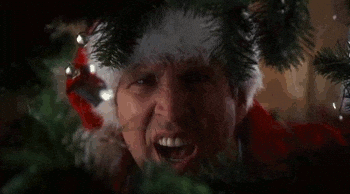 This is a classic that I always watch on Christmas Eve because it's simply funny, entertaining and the perfect movie to watch on a festive evening. The movie is actually quite old, but I love it all the same. Without fail I watch it every year and laugh, because not everything goes according to plan and it's always amusing to see such a huge family come together to Christmas, as it usually ends in disaster. I am going to make my parents watch this movie for sure, there is no escaping my tradition! I know the movie inside and out by now, but I still manage to enjoy it, especially the squirrel scene at the end, as it always sends me into a laughing fit without fail!
Elf 🎄🎄🎄🎄🎄
Source: my friend Sandra 💗
I had never watched this movie before this year and I don't know why because it was so hilarious and such a gift to be honest! Shouout to my friend Sandra, who owned the movie and decided to watch it with me via rabbit! Honestly Elf is such a strange, a bit silly but perfectly funny and festive movie, it had the best combination of elements! The main character Buddy, who was adopted and is not in fact a real elf, goes in search of his real father in New York, where everything is very different from on the North Pole. Buddy is so naive, good-hearted and all around precious, I just wanted to protect him all the time, because this world doesn't deserve him! I love how he managed to eventually make his father's family love him with his Christmas cheer, it was just so very heartwarming and made me so happy!!
Christmas with the Kranks 🎄 🎄 🎄 🎄 
Source: Netflix (Germany)
I discovered this movie last year and ended up really enjoying it, because it was quite funny and different from the movies I had watched before. Therefore, I had to reread it this year and also found out that this is actually based on a book called Skipping Christmas, which is super cool! Maybe I'll read it next year for the festive season! The only thing I still don't quite get is this American Neighborhood thing, it's a bit weird to me that everyone had to do certain things because everyone on the street did them. The Neighbors were very particular about celebrating Christmas, but I did like how everyone came together in the end and helped them, no matter how difficult things were between them before!
Home Alone 1 🎄🎄🎄🎄🎄 
Home Alone 2 🎄 🎄 🎄 🎄 
Source: Netflix (Germany)
Another shocking reveal: this was my first time watching Home Alone as I had never really seen it before, as I thought it wasn't my thing. But then Sandra watched it with me and honestly it was SO good! The first movie was fantastic and it's unreal how much I loved it – it was so addictive, interesting and made me really emotional. The idea of Kevin being left at home (I'm still ready to fight his family, my poor boy got treated so unfairly, just because he wasn't an 'easy' child and got lost in this huge family) and having to fend off some criminals trying to break into his home was pretty suspenseful, especially as they sorely underestimated Kevin! The second movie operates pretty much according to the same pattern: Kevin gets left behind (this time in New York) and encounters some familiar friends, who he has to stop again! The second movie made me so nostalgic for New York, next year it'll have been 5 years since I visited, I miss NY 😭
Christmas Chronicles 🎄 🎄 🎄 🎄 
Source: Netflix
I think this might be the only Netflix Christmas original movie that doesn't fall into the romantic/cheesy category, as I would say that this is more of a funny movie. It's about a little girl and her older brother, who try to catch Santa and accidentally crash his sleigh, resulting in all kinds of mayhem. I especially liked seeing the dynamic between the twi siblings, as they are very much at odds with each other and slowly grow to get closer again. Kate is very much a believer in the christmas magic and even her brother Teddy is coming to enjoy the holiday again, for the first time after his dad died. Santa is also pretty hilarious and more attractive than how you typically imagine him. And I mean, he kind of adopted both of them, it's the truth! This movie was a bit silly at times (Santa giving a rock performance is all I'll say), but it was too funny for me to mind that much!
Cheesy/Romantic Movies 💕
Perfect for: Fans of swoonworthy romance, anyone looking for a light movie to cozy up with (who doesn't mind a bit of cheesiness)
A Christmas Prince 🎄 🎄 🎄 🎄 🎄 
Source: Netflix
I discovered this movie just last year and guess what I still love it so much! At the first glance this is kind of cheesy, but the best kind of cheesy! It's the perfect light-hearted, feel good Christmas movie for a lazy evening with a hot drink when you just want to cozy up with a blanket. A Christmas Prince is such a comfort movie for me and way better than you would think. It has a slow burn romance, a lovely friendship between the main character and the love interests sister (who is the actual best character, I love her so much, she is sassy and caring!) and the most beautiful Christmas aesthetics you have ever seen! It's not a perfect movie, but very, very enjoyable to me – I have not yet seen the sequel, but I will check it out over the holidays for more cheesy goodness!
Christmas Inheritance 🎄 🎄 🎄 🎄 🎄 
Source: Netflix
This is one of the Christmas movies they released last year, and I have to say that it's even better on the second rewatch! What I love most about Christmas Inheritance is that it has a great character Arc for its unlikable main character Ellen, who is very much a spoiled girl concerned with partying and not really seeing much else. However, when she is sent by her father to the town where his business started without any money, she slowly learns to be more considerate and kind towards others! I have to say that I also loved the aesthetic of the small town, it was so cute and festive! Originally, I wasn't the biggest fan of the love interest, as he was a bit meh, but now I liked him a lot more!
The Holiday Calendar 🎄 🎄 🎄 🎄 🎄 
Source: Netflix
I just recently watched this movie with Sandra and we both loved it so much! I had no expectations for this one, but it ended up being so good and really surprising me! There is literally a magical/haunted Advent Calendar that can predict the future and this is the best thing to have ever happened in a Christmas movie! I also loved the main character's best friend Josh, he was such a gift and a really good friend: he was always there for her and so incredibly loyal, he's the absolute best. I was a bit skeptical at first, as we obviously have a love triangle dynamic, but I liked how things turned out in the end, as they were handled very maturely without any unnecessary drama. Also: that town … how can it be so festively aesthetic? Do real towns like that even exist??? If yes, can I please go there? Anyways, this movie was great, I want a sequel!
The Princess Switch 🎄 🎄 🎄 🎄 
Source: Netflix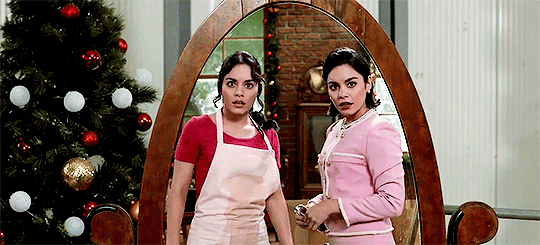 I have to say that out of all the Netflix original movies, this is probably my least favorite so far, but it was still very enjoyable! I just didn't find the explanation behind why they looked exactly alike and why they had to switch places really that logical 😅 However, the movie was still lots of fun, especially as both girls are so different and I liked seeing how that showed when they were living the other's life! I'm definitely more like Stacy and I really liked how she stood up to the Prince, because he needs someone like hat! Margaret was also lots of fun, as her character was so at odds with how restricting her life was! The romance was predictable, but cute, especially the one involving Kevin, as he's such a great friend and person! His daughter is also very cute, so I liked her a lot!
Animated Movies 🎅
Perfect for: all age groups (at least according to me), anyone looking for movies that will melt your heart
A Christmas Carol 🎄🎄🎄🎄🎄 
Source: DVD
This is without the doubt my favorite Christmas Movie, because I adore the classic so much and that translated into my love for the movie. This particular adaption is a great one to get yourself into the spirit of Christmas and you can pretty much watch it with the entire family as well. It's kids appropriate and also beautifully animated. Everything about the movie makes me feel cozy and warm inside, especially seeing Scrooge recovering his love for Christmas and changing for the better. This is a movie I watch ahead of Christmas every time, but it would be great to watch on Christmas Eve as well! I could honestly never get sick of watching A Christmas Carol or rereading the book, as it's perfect on every rewatch/reread! (Comment from my mom: you're watching this AGAIN? 😂)
Arthur Christmas 🎄🎄🎄🎄🎄 
Source: Netflix (Germany)
I discovered this movie by chance last year and ended up loving it so much, because it's so heartwarming. It's all about Santa Claus and his family (including his grumpy father and two sons who couldn't be more different) and what happens when a present doesn't get delivered. I loved the main character Arthur so much, he was so invested in Christmas and cared a lot about the presets and children. Oftentimes he was also chaotic, but his big heart definitely mae up for it! The adventure he went on with his grandfather and a friendly elf was lots of fun and I generally liked how the movie explored the family dynamics and differences between the generations & tradition!
The Polar Express 🎄🎄🎄🎄🎄 
Source: DVD
I know all these animated movies are technically marketed towards a younger audience, but I just have lots of feelings about them! I don't care that I am technically too old to watch this, because I love this movie and sometimes I need something light-hearted. This is another gorgeous animated movie with a very profound message and so many heartwarming relationships forming among the kids who are taken aboard the Polar Express to go see Santa Claus at the North Pole. The infamous hot chocolate scene is my aesthetic and always makes me crave some hot cocoa.
What are your favorite Christmas Movies? Did you like any of the movies I mentioned?🎄