Hello fellow bookworms 🎄 It's Christmas Eve tomorrow (the main Christmas celebration in Germany is tomorrow unlike in many other countries, so December 24th is what I define as Christmas!), so now it's time to find out if I have ended up on the nice list and will be getting presents … or if there is a lump of coal waiting for me 😱😂 This also means that Blogmas is drawing to a close, as I won't be posting until Wednesday – I did end up writing 10 Blogmas posts, so I didn't quite reach my goal of 12 Days of Blogmas, but maybe next year!
To find out if I have been naughty or nice, I'm doing the Bookish Naughty or Nice Tag! The lovely Swetlana @ thecaffeinatedbookwormlife and Kate @ readingthroughinfinity tagged me to do this, thank you so much for tagging me! 💗 I won't be tagging anyone specific, as I have seen that lots of people already did that, but if you haven't done it yet, please feel free to do so 😊
The Rules
Tag & link the person who tagged you
Tag and link me/this post (if you would be so kind, I love reading your answers!)
Tick/cross off the ones you've done
Tag another 10 people!
All my Blogmas Posts
Bookish Naughty or Nice Tag
Let's find out if I've been naughty or nice 🎄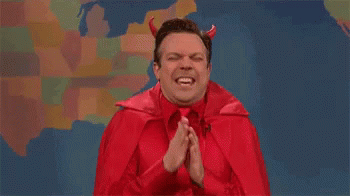 Received an ARC and not reviewed it
NAUGHTY 😈 I try to review every ARC I get, but that doesn't always work out. Especially in 2017 I requested lots of Arcs (when it was still possible … without having to wish for everything) and I did sadly lose interest in a few of them and never reviewed them
I also sometimes get behind on Arcs and it has happened a few times that the digital copy has expired, making me unable to read and review it!
Have less than 60% feedback rating on Netgalley
NICE 😇 I usually have a feedback rating above 80%, as that's also the recommended ratio to get approved by publishers, so I try not to dip below that! I try to read and review all the Arcs I get (which doesn't always work out – see above), because it does make me feel very guilty if I'm slacking with that 😅
Rated a book on goodreads and promised a full review was to come on your blog (and never did)
NICE 😇 I'm actually pretty good with this! I don't often write RTC or something when I rate the book or promise a Review on the blog. How long it takes me to write my full Review does vary, but I always end up writing one (even if it ends up being shorter). I have also recently started only reviewing Arcs & 5 Star books on my blog, because otherwise it would have gotten too crowded with all the posts.
Folded down the page of a book/Accidentially spilled on a book
NAUGHTY 😈 To be fair, this doesn't happen often to me, but recently I spilled some tea on my copy of Fantastic Beasts (because I was so greedy for my tea 😂), but it was only on the cover,so all is well! I don't usually fold down the pages of my books by accident, but you should have  seen my school book copies, some where so bent and folded and falling apart (tells you about how much I loved required reading) 
DNF a book this year / Skim read a book
NAUGHTY 😈 I have no qualms about DNF'ing books. I often try to read a significant amount of them to really find out if it doesn't get better, but after at least 25% I will shamelessly DNF if I totally don't like the book, there's simply not enough time to read something I'm not enjoying. I usually skim through the rest of the book though, to find out how it ends!
Bought a book purely because it was pretty with no intention of reading it
NICE 😇 Of course I'm lured in by a pretty cover, but that's never going to be the only reason I buy a book for me. I have to be interested in the book, otherwise I won't buy it. I did buy a beautiful copy of A Christmas Carol, but I did up reading it (it had illustrations too and some extra content – yay!)
Read whilst you were meant to be doing something else (like homework)
NICETY? NAICE? 😇 / 😈 I'm going with both naughty and nice, because this one is really hard to judge. I don't usually read when I'm supposed to be doing else and as I read in the evenings, by then I have usually quit working on something. However, I cannot say that this never happened, as I did procrastinate a bit by reading for a while, as it always happens!
Completely missed your Goodreads goal
NICE 😇 This is my third year doing the Goodreads Goal and I met it every year, because I'm pretty competitive with myself. I also never set my Goal very high for my reading, meaning that I won't aim for a goal, I know is going to be stressful to reach. My goals were 50 (2016) and 65 in 2017 and 2018 and will be 65 in 2019, no matter how much I read, because these are attainable goals that won't stress me out about my reading!
Borrowed a book and not returned it
NICE 😇 I always give back the books I borrowed from the library (obviously), and apart from that there are sadly no readers around me in real life that could lend me books right now. Back in high school I did borrow more books from friends, but I always returned them, so I'm a very nice reader!
Broke a book buying ban
NICE 😇 I never really have set a book buying ban for myself. I do think about my book purchases and monitor how much I get in my notebook, so I can keep track of everything, but I never had to set myself a strict ban not to buy any books. That means I have never broke one either!
Started a review, left it for ages then forgot what the book was about
NICE 😇 It sometimes takes me a while to review a book (record: 8 months), but eventually I end up doing it and I usually still know what it was all about. I try to write Reviews as soon as I can and write them in one sitting. It has only happened a few times that I outlined my Review and then later came back to it, as I'm not a huge fan of taking notes while reading (it reminds me too much of required reading in school) 😅
Wrote in a book you were reading
NAUGHTY 😈 I have only done it two times, as my handwriting is pretty ugly and I always feel bad forcing it upon my poor books 😂 I annotated the traveling book (Ace of Shades) I did with Swetlana & Sandra and wrote in my copy of War Storm, as I have been anticipating it so much! I do only write in my books for special occasions, as it is quite fun to record your reactions!
Finished a book and not added it to your Goodreads
NICE 😇 I'm always lurking around on Goodreads, as I only joined it three years ago when I got back to reading and still haven't gotten enough of it. I don't make many reading updates, but I always rate the book as soon as I finish it and see it counted towards my Goodreads Challenge, it's quite a nice sight!
Now … the Results
… I'm Nice!
Nice 😇 9
Naughty 😈 5
What things on this list have you done? Are you more 'naughty' or 'nice'? 🎄