Hello fellow bookworms 🏆 It's my favorite time of the year (apart from Christmas) … Book award time! I love wrapping up the year and talking about my favorite and least favorite (coming Friday) books that I read in 2018! I will also be doing a 2018 Recap on Monday and then … we enter 2019 … 😱
This year 30 books ended up on my best of 2018 list that I keep on Goodreads! Like last year I didn't narrow it down to a Top 10, as every book that makes it to my best of the ear shelf deserves a spot, as only my faves end up there! This year I have even more favorite books than before, making it a very good year, at least when it comes to reading 😊 The following books are sorted according to date read (I could never make an official ranking, that would be too hard 😂), even though I did keep Series together! The cover links back to my Review on the blog, as I managed to write one for very single book here 💕 If you would ask me to name the absolute favorite books I read in 2018, I would choose Sightwitch, as it really gripped me and provided me with my absolute favorite quote of this year that really resonated with me!
A Court of Mist and Fury (Sarah J. Maas) 🏆  Most Addictive  🏆  "There are good days and hard days for me—even now. Don't let the hard days win."
A Court of Mist and Fury was a fantastic sequel and definitely took the Series to a new level. We got to explore a lot more of the world and meet amazing new characters that were very easy to love. I also liked that we saw more of Rhys and his growing relationship with Feyre, especially as he helped her through some rough times. I really appreciated that we got to see Feyre's trauma represented, as I feel some fantasy books often skip the impact that war and death can have on a person. Overall, this was so amazing that I read it twice this year and enjoyed it both times! The hype around ACOMAF definitely was right for me, as this book really is one of the best sequels I have read this year!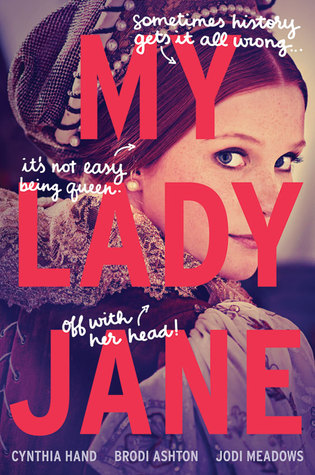 My Lady Jane (Ashton, Hand, Meadows) 🏆  Best Humor  🏆 "I'm so hungry I could eat a horse. Oh. Sorry, G. Not you, of course."
My Lady Jane was such a humorous, witty read that totally takes a spin on history and retells the story of Lady Jane Grey in a unique way that leaves you entertained and laughing. All the characters – especially Jane herself – were very complex and easy to like, so you cannot help but want to learn more about their story. The fantasy elements that were added were perfectly woven in with the story and made it even more interesting to me! I truly had no expectations going into this book, but it ended up really surprise me and being a very entertaining read! I had such a great experience reading this book, it made me so happy and invested and I'm so glad that I give it a chance!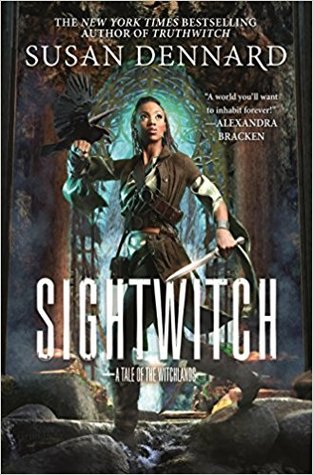 Sightwitch (Susan Dennard) 🏆  Most Anticipated  🏆  "A person can grieve for herself yet still revel in someone else's good fortune"
Sightwitch was an amazing addition to the Witchlands books, which hopefully manages to hold me over until book 3 arrives next year. This novella definitely is a must read for the fans of the Witchlands, because it's amazing full of hidden clues and easter eggs that you don't want to miss! I cannot even explain how much I loved seeing the characters journey, the illustrations and revisit this world! Sightwitch is shorter, since it's a novella, but manages to wrap every up perfectly, which makes the story a joy to read from start to finish. I will not stop to scream about the Witchlands books, they are so amazing nd such a delight to read!
An Enchantment of Ravens (Margaret Rogerson) 🏆  Most Atmospheric  🏆 "Isobel. Isobel, listen. The teapot is of no consequence. I can defeat anyone, at any time." 
An Enchantment of Ravens stole my heart and made me emotional. I loved these amazing characters and their swoonworthy romance, I was rooting for them so hard and it's safe to say that they have become one of my favorites. Furthermore, the world was lush, had an interesting spin of fairies and humans and the writing style convinced by being very atmospheric and beautiful. My greedy self wants more books about Rook and Isobel or generally set in this world, but sadly there won't be more books 😭 I know this book had some mixed Reviews, but I'm with those who really ended up loving it!
Scarlet, Cress & Winter (Marissa Meyer) 🏆  Best Series to binge read  🏆 "Yeah, but broken isn't the same as unfixable."
The Lunar Chronicles just keep getting better and better with each installment and especially the last three books are a testament to that. I loved them so much, finally getting to know  all the other characters besides Cinder, who ate so easy to love and each string in their own right! The ships are all very swoonworthy and I loved getting to see my old favorites and discovering new ones! The plot in each book totally blew me away and the conclusion to the Series also held up and made me very satisfied with the ending!
Saints and Misfits (S.K. Ali) 🏆  Biggest Surprise  🏆 "The truth does not change according to our ability to stomach it." 
You really need to read Saints and Misfits, because it's a book that you cannot miss! I feel like the book is severely underrated, which is why I gave it a spotlight Review after I read it. Janna is such a relatable, complex character and you will immediately get invested in her story and her struggles! The book also contains a lot of great female friendships and in the end is very empowering, even though it deals with a lot of heavy topics! Please go read this book, it definitely deserves more attention than it has been getting so far, I promise it's really good!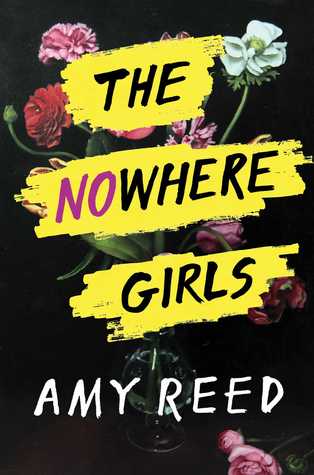 The Nowhere Girls (Amy Reed) 🏆  Most Heartbreaking  🏆 "Silence does not mean yes. No can be thought and felt but never said. It can be screamed silently on the inside. It can be in the wordless stone of a clenched fist, fingernails digging into palm. Her lips sealed. Her eyes closed. His body just taking, never asking, never taught to question silence"
The Nowhere Girls is an impactful novel about challenging rape culture, consent and sexuality that is an absolute must read! It can certainly be heavy at times and make you very at the injustices taking place, but just that is also empowering. The girls are trying to change something and they will stop at nothing to get justice. This also explores intersectionality when it comes to feminism and fighting back, which I really appreciated, as all three main girls are very different from each other and give us a new perspective!
Ace of Shades (Amanda Foody) 🏆  Best Reading Experience  🏆 "Sometimes we're not who we want to be because we're supposed to be something else."
Ace of Shades was exactly as good as I hoped it would be and completely meet my expectations! I adored the world building, the fantastic high stakes-plot and the amazing characters that really made me root  for them. This book has so many great elements like its atmosphere, vivid setting and great strong relationships. You must give this one a try if you love fantasy, danger and high stakes! I'm very worried for the next one, as my beloved characters are bound to get through lots of hardship and suffer a lot in King of Fools, which shows how attached I am to the characters! This was a traveling book project with Swetlana and Sandra ❤
The Brightsiders (Jen Wilde) 🏆  Best Friendship Dynamic  🏆 "I need to stop treating other people better than I treat myself."
The Brightsiders is an incredible book about the downfall of fame, complicated relationships and the value of found family. You will find yourself rooting for the main character Emmy and her story coping with emotional abuse, spinning out of control and trying to figure out how she can make things right again. Not only her but also her friends and biggest supporters grew on me and made this story very emotional and dear to me, I needed to see how the story ended, because I was so invested! Queens of Geek will always have a special place in my heart, but this one was really good as well!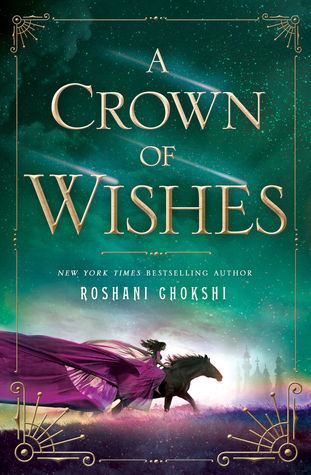 A Crown of Wishes (Roshani Chokshi) 🏆  Best Banter  🏆 "Beside him, Gauri looked distraught. Chivalry demanded that he should inquire after the Princess's well- being. She caught him looking at her and frowned: "You're heaving like a water buffalo in its death throes." Never mind." 
A Crown of Wishes was a delightful read for me, full of whimsical worlds, magic, complex characters and a heart-melting romance. The two leads of the story are unique in their own way and I couldn't help but root for Gauri and Vikram on their quest to win themselves a wish. They confronted a lot of their own fears and it was great to see them working as equals. Their romance totally made me swoon and so did the banter and all the humor. I had the best reading experience! This is a companion novel that can be read separately, but please read The Star-Touched Queen a well!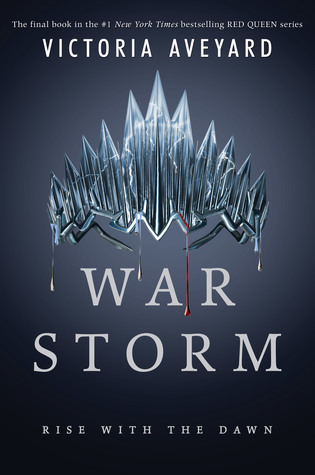 War Storm (Victoria Aveyard) 🏆  Best Series Finale  🏆  "But we all still have the ability to choose, in the end."
War Storm truly has got to be one of my favorite Series finale I've read. War Storm was a perfect ending to one of my favorite Series, at least in my opinion.  I'm just so happy about the ending and of course a little sad, that the book Series has come to a close and I have to leave these lovely characters behind. Gladly, we'll get one last short story collection and after that it's truly over. Strangely I'm not too sad, because I'm 100% okay with leaving things like they are. War Storm left me feeling happy and hopeful for the characters and I know that I'll be able to accept this ending, as it left things exactly how I wanted them to be.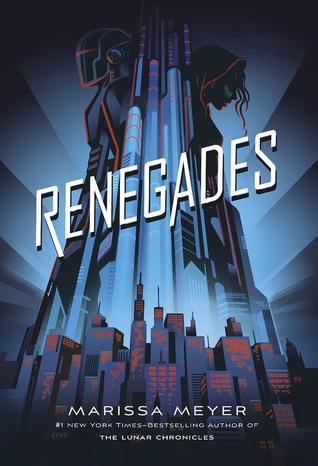 Renegades (Marissa Meyer) 🏆  Best Series Debut  🏆 "One cannot be brave who has no fear." 
Renegades was just as good as I hoped it would be. If you love superheroes, this is the book for you! It had lots of cool, unique powers with great, complex characters who totally stole my heart and made me super invested in the story! We get some great discussions about good vs. evil and there is a lot of complexity and secrets that make the next 2 books a rollercoaster ride for sure! Especially Adrian and Nova stole my heart and I cannot wait to se how their relationship is going to progress in future books. This book is also perfect for inspiring theories on me and I'm so excited to see what's next!
Scythe & Thunderhead (Neal Shusterman) 🏆 Best Plottwists  🏆  "No, I decided. Let humankind be the saviors and the silencers. Let them be the heroes. Let them be the monsters."
The Scythe Duology is a fantastic Dystopian Series because it has such a complex world which seems nice at first, but quickly delves into horrific. The author managed to perfectly explore the conflict between doing right and wrong, between the meaning of death in the hands of humans. It was a thrilling ride with many twists and turns, the plotlines get more intense and well thought out with each book & I'm a bit terrified of the conclusion to be honest. Shusterman knows how to make this readers suffer.
The Burning Maze (Rick Riordan) 🏆 Hugest Tearjerker  🏆 "Pain is an interesting thing. You think you have reached your limit and you can't possibly feel more tortured. Then you discover there is still another level of agony. And another level after that."
The Burning Maze was a wild ride and honestly the darkest book by Rick, Riordan to far. It was a shocking Series middle (is that even a word?) and surprised by completely turning the tables and shifting the entire atmosphere of the books with a few heartbreaking plot points. This is the point of no return and it was written so well. This made me so emotional for obvious reasons and I honestly cried so much at the end, as it broke my heart and yet was so well done!
Children of Blood and Bone (Tomi Adeyemi) 🏆 Lived up to the hype  🏆  "I won't let your ignorance silence my pain."
After some troubles on my part Children of Blood and Bone managed to convince me with it's great characters and engaging worldbuilding. I was deeply invested with the three POV characters and like how well set up their character Arcs were. I cannot wait to explore more powers and changes in the upcoming books, as there is still a lot left to be told. This was a truly vivid and magnificent read and it's hard to describe this book in a way that does it justice.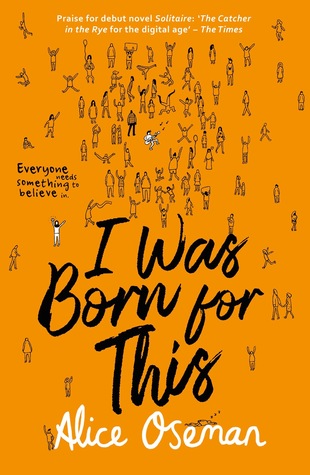 I Was Born for This (Alice Oseman) 🏆 Most Relatable/Touching  🏆 "That's why people get into fandom and bands and stuff. They just want something to hold on to something that makes them feel good. Even if it's all a big lie."
I Was Born for This was the perfect exploration of fandom culture and one of the best portrayals I have ever seen. The author took great care to provide a nuances discussion about the good and bad sides of fandom and offered two very different perspectives: from star and fan together. We have a lot of excellent representation too, especially the anxiety rep and Angel's character meant a lot to me.
The Illuminae Files (Kaufman, Kristoff) 🏆 Most Relatable/Touching  🏆 "The universe owes you nothing, Kady. It has already given you everything, after all. It was here long before you, and it will go on long after you. The only way it will remember you is to do something worth remembrance." 
I wasn't even planning on reading The Illuminae Files, as I thought it  wouldn't be for me, but when I picked it up by chance I got really hooked on the books! The concept is truly as unique as everyone says, as it's told through files and reports, making it super easy and fast-paced to read. All three books had high stakes and kept me on the edge of my seat the entire time, as things were going down. I especially loved Kady and of course the evil AI AIDAN, but the other characters were amazing too!
The Grisha Trilogy (Leigh Bardugo) 🏆 Best Villain  🏆 "The Darkling slumped back in his chair. "Fine," he said with a weary shrug. "Make me your villain." 
The Grisha Trilogy managed to completely hook me and surprised me by how addicted I got to the characters and story! I had heard that this Series was mediocre and most people just read it to get to Six of Crows, but these books were honestly so well-written and deserve lots more love than they are getting! I absolutely love the Darkling, he's one of the best villains I've seen and I really rooted for Alina, she's my favorite! I'm not going to lie, I also enjoyed their dynamic, the tension in the world and the opposing powers facing off. The entire Trilogy was intense and just what I like to read in Fantasy!
Wildcard (Marie Lu) 🏆 Best ending  🏆 "Every problem has a solution. But after every solution, there's a new problem to tackle, some new challenge to take on.
This is a bit of an unpopular opinion, but I thought that Wildcard was a great conclusion to Warcross, even though I wish we had gotten a third book. I liked that we saw so much development in the story, from the exploration of the future of free will to the many different sides of the story and the struggles of the characters! The ending left us satisfied between realistic and hopeful. This wasn't what I expected when I thought about the end to the Duology, but it was really well done nevertheless!
Six of Crows & Crooked Kingdom (Leigh Bardugo) 🏆 Most Character-Driven  🏆 "No mourners. No funerals. Among them, it passed for 'good luck."
The Six of Crows Duology definitely convinced with its characters as the are the driving point of the books and what makes it so beloved with many readers. I couldn't even pick a favorite, as I found all characters to be unique and interesting in their own right! The dynamics that develop between them were also very intriguing and the plotline especially is fast paced and suspenseful, as he have lots of heists and dangers!
Vicious (V.E. Schwab) 🏆 Best worldbuilding  🏆  "Because you don't think I'm a bad person," he said. "And I don't want to prove you wrong."
Vicious was the perfect book about villains. It explores the question what makes a hero and what makes a villain. None of the main characters are good people, so we have a lot of grey areas to explore. I love me an all Slytherin cast of characters! I also love Victor Vale and his accidental found family, yes please! I was not expected for how much I would end up loving all these characters and getting invested in their story. This was such a fantastic book, it was really well narrated, suspenseful and had an interesting concept about the 'superpowers' here!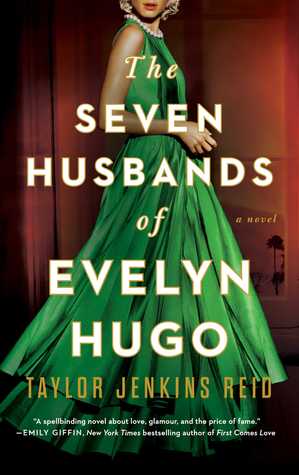 The Seven Husbands of Evelyn Hugo (Taylor Jenkins Reid) 🏆 Most interesting plotline  🏆 "Sometimes reality comes crashing down on you. Other times reality simply waits, patiently, for you to run out of the energy it takes to deny it."
The Seven Husbands of Evelyn Hugo was a fantastic historical fiction novel about a bisexual Cuban actress navigating the movie industry in the 1950s and trying to keep her greatest love, despite the odds being against them. It was a very emotional read dealing with a lot of hard topics, but beautifully written. Evelyn Hugo was such an authentic protagonist and really took the stage.
Have you read any books on my list? What are your Top Reads of 2018? 🏆