Hello fellow bookworms 💖 It's time for one of my favorite recurring Tags: The Mid Year Book Freakout Tag! I wasn't tagged to do it, but I'm doing this one in the middle of every year to reflect on how the reading has been so far. I love doing this quick check in almost more than the end of the year lists, it's just fun to evaluate my reading with the following questions. The Tag was created by Earl Grey Books and ReadLikeWildFire (who has since taken down the video though! I have linked all my existing Reviews for the books I choose on the cover!
I'm tagging … 💖 (as always, only if you want to!)
Best Book you've read so far in 2019
Bloodwitch (Susan Dennard) 💖 I would have technically put this as the best sequel, because Bloodwitch is the strongest addition to the Witchlands Series so far. However, I think that it is truly my top book of the year so far, so it deserves this spot! 💗 I had hyped this one a lot for myself and joined the street team, but gladly it turned out to live up to these expectations. A lot of things are coming together for Bloodwitch and with all the plots converging, this sequel tops everything that came before. I love how the Series is getting better with each book as more hints are uncovered. I adore complex fantasy Series with so many layers!
Radio Silence (Alice Oseman) 💖 I loved reading I Was Born for This last year (it made it to my list of top 2018 books), but I had no expectations for Radio Silence. In the end however, this one stood apart and I had to include it as a second book for the prompt. (I love all the other books on my best of 2019 shelf, but it was so hard to choose a favorite, because they are all fantastic). Radio Silence just really got me by how realistic it was about academic pressure, fandom, friendships and what it means to be a teenager. I'm 100% happy that I got this at the beginning of the year, because I'm in love! 😍
Best sequel you've read so far in 2019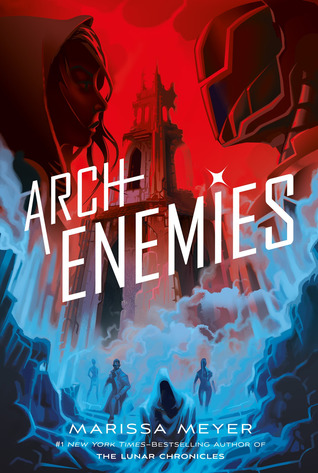 Archenemies (Marissa Meyer) 💖 I'm just going to say this: Marissa Meyer tends to do really well with sequels as evident by the Lunar Chronicles. Archenemies was no exception, because I obviously loved it! I had such a fantastic personal reading experience, despite being full of action and stakes, I was so happy to be back in this world. I remember the sequel to Renegades very fondly and thought that it raised a lot of great new thematic discussions and oh the characters how I still adore them 😍 I do think this was a quieter book and that the big reveals will happen in the next one (to destroy us all emotionally at once).
New release you haven't read yet, but want to
Love from A to Z (S.K. Ali) 💖 There are a lot of new releases that I haven't read yet that were on my most anticipated list, but I picked the one I would most like to read soon! I have my last audible credit until the end of my trial, so it's very likely that I will get the audiobook of Love from A to Z 😉 The author's debut book was a positive surprise last year and ended up becoming one of my favorites, therefore I'm incredibly excited to be checking out her newest release 😍 What I love about this one is that it's set in Qatar, it's nice to have a non-US and especially non-western setting in YA!
Most anticipated release for the second half of the year
Wayward Son (Rainbow Rowell) 💖 The Tyrant's Tomb (Rick Riordan) 💖 Supernova (Marissa Meyer) 💖
I'm actually going to be doing a post about my most anticipated releases for the last part of the year soon, so I won't be going into much detail. However, I'm very excited for all three of these sequels, because they are part of Series that I love. I mean Carry On was originally meant to be a standalone book, but I'm surely not going to say no to a sequel, because I adored that book and it made me so happy. I'm very nervous about both Supernova (this is a Series finale aaaah) and The Tyrant's Tomb, because I'm pretty sure both will make my heart hurt … a lot 😅
Biggest disappointment
Again, but Better (Christine Riccio) 💖 I actually had relatively high hopes, because college and studying abroad are such cool themes that relate to me! However, … this ended up going wrong for me on so many levels. I'm glad that I had Swetlana to buddy read it with, so we could rant to each other 😄 Again, but better just didn't hit the mark: the kind of cheating put me off and it was crammed with too many pop culture references – I usually like that, but not this much! It also made me a bit uncomfortable how much the main character was like Christine, writing and character voice should be kept strictly separate. I'm a bit sad, because I watched all of Christine's writing updates, but her book didn't do it for me.
To Kill a Kingdom (Alexandra Christo) 💖 *awkward silence* because I saw so many fellow bloggers loving this one, but it was a bit of a letdown for my personally. I still love the concept and potential of this one – I mean it had so many of my buzzwords: hate to love, sirens, forbidden love!!! – but I wasn't a fan of the execution. The characters fell flat for me, with too much telling and not enough showing and as a result the romance ended up not convincing me either 😢 I desperately wanted to love this one as much as everyone else, but in the end I didn't care much for the story.
Biggest surprise
The Speaker (Traci Chee) 💖 Now this was a BIG surprise, let me tell you!! I liked the first book alright, but didn't really care about the characters at all, it was a weaker 4 star read and idk how I would rate a reread. But THIS sequel was fantastic and improved by 100% 😱 I cannot believe that these books are so different, because the Speaker suddenly took every aspect of the book up a notch. The characters suddenly got me invested and were so much more complex, the plotline got intricate and full of stakes. Basically, I loved this one, I highly recommend sticking with this Series! 
Favorite new author (Debut or new to you)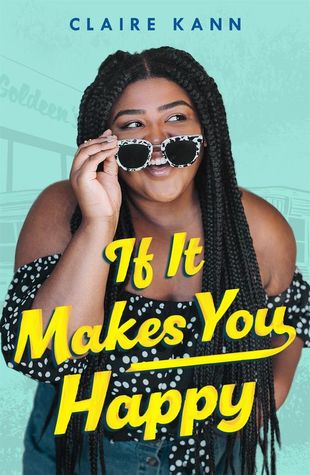 Claire Kann 💖 A lot of my 5 star reads this year have been by authors that I have read about before, so this was surprisingly hard! However, I really want to give a shoutout to Claire Kann, because I loved her most recent book and think that she deserves some more love! If It Makes You Happy was so fantastic when it came to healthy communication, trust and loving someone, that it really stood out to me. I cannot wait to read her first book Let's Talk about Love, because I have been wanting to read it for some time now as well! 😍
Newest favorite character
Aziraphale & Crowley (Good Omens) 💖 Spoiler: I'm going to be gushing about the TV Show farther down this post, because I adore their TV selves, but I do like Aziraphale and Crowley in the book too 💕 They are an angel and a demon, who have been forbidden allies forever and are basically like soulmates. I love them SO much; they are chaotic and strangely human and have such an interesting dynamic that the show really portrayed well. I loved seeing the blurred lines between good vs. evil  and how it's basically about them trying to save the world while not being competent at all 😂 They are my loves!!
Book that made you cry
If There's No Tomorrow (Jennifer L. Armentrout) 💖 Oh this one was a real tearjerker. It deals with a horrible tragedy occurring in the main character's life that I won't name because of spoilers, but I can state that it deals with loss and grief, so of course this is a sadder, heavier book. It really got me due to some personal stuff that recently happened, so I was really crying for the second part, but a good cathartic kind of crying. This one was really emotional and tugged at my heart 😭 I feel like JLA can do emotional contemporaries well, see: The Problem with Forever, a book I also loved two years ago!
Book that made you happy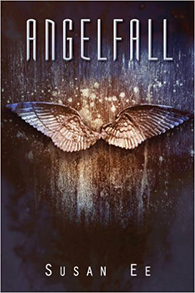 Angelfall (Susan Ee) 💖 Is it bad that I almost didn't have a book for this one? 😂 I should read more happy books, I don't know why I couldn't really think of one that made me super happy. I loved reading a lot of books, but usually there is lots of emotional investment and then pain. Angelfall isn't the coziest book out there (it is about the apocalypse, so things are looking bad), but I honestly loved the banter between Penryn and Rafe, especially the 'bird with an attitude' one, a true classic! I also loved my reread of Carry On, as that book makes me always happy! 💕
Favorite Book to Movie Adaptation
Good Omens (Amazon Prime) 💖 Hello this is my new obsession. You might have noticed that already if you follow me on Twitter, because I have been retweeting a lot about it recently (Whenever, I saw someone on my Timeline love it too, my heart melted 💗) As you can see above this is a book to miniseries adaptations! I read Good Omens at the end of March and really enjoyed it (giving it 4 stars), even though it was hard to read. I thought it was cool that there was an adaption just conveniently waiting for me that looked promising … I was expecting this to be a casual watch. But no, I got deeply obsessed with the show (so. GOOD. a million stars out of ten) and the cHARACTERS!!! I love them!!! I'm very happy that I had my friend Sandra to fangirl with me 😍 Good Omens officially saved 2019 for me!!! 💖 Here is a not so subtle hint to watch it if you're interested, it's really, really good!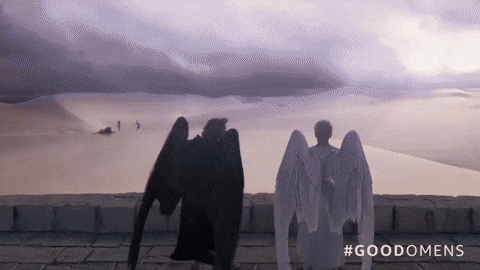 Favorite Review
What books do you need to read by the end of the year?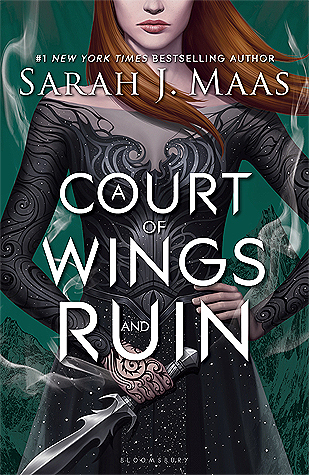 A Court of Wings and Ruin (Sarah J. Maas) 💖 The Blood of Olympus (Rick Riordan) 💖
Well, I have only read 1 book from my 2019 TBR and we're already halfway through the year, so that's not good 😅 These two books are among the 9 remaining on said TBR and I really, really should have read them like a long time ago. I got caught up with the Heroes of Olympus Series like … oh almost a year ago, but somehow never got to the last book, so that's awkward. It will happen this summer though! I have also postponed reading ACOWAR, despite loving the first two books and already having read them twice … maybe it's the size that intimidates me.
What is the best book you've read so far? What is a new release you haven't gotten to yet? 💖