Hello fellow bookworms 🌻 I'm doing another Top Five Wednesday, which is a weekly meme which was created by Lainey and is now hosted by Sam! Make sure to check out the Goodreads Group as well 💖 Top 5 Wednesday is on hiatus for the summer, however, we can totally catch up on topics we missed from the last years as there is a big archive to choose from. That's why I'm doing right now, because I have a few topics that I would like to do.
For this week I choose a topic from July 2016: Favorite books outside of my comfort zone. I already did this one back when I had a Tumblr Book Blog, but a lot has changed since so here we go again 😄 Outside of my comfort zone pretty much means primarily adult books, but things I usually don't read are also mystery/thriller/crime books and non-fiction. Sometimes I do leave my comfort zone though and that's when there are surprises. I don't like reading books that I'm not sure about all the time, but sometimes I do want to expand my reading and occasionally I find books that are amazing, but that I probably wouldn't have checked out on my own if not prompted by someone else!
Top 5 Favorite Books outside my comfort zone 🌻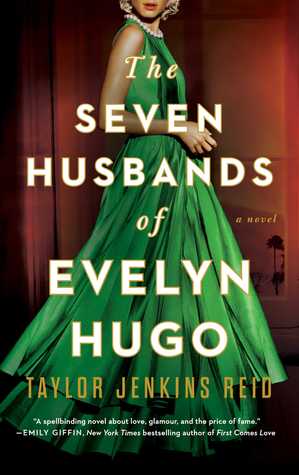 1. The Seven Husbands of Evelyn Hugo (Taylor Jenkins Reid) 🌻
⭐⭐⭐⭐⭐
After everyone had been raving about this book everywhere, I went, I sure had to finally see what the hype is about. Historical fiction is a genre I like, thought I don't often read it, but on my own I don't think I would have been interested in the synopsis. However, the glowing Reviews guided me to this book and didn't disappoint, even though my own expectations had been built up over time. The Seven Husbands of Evelyn Hugo ended up being such an outstanding book about the memoir of a famous actress who was confronted with racism, sexism and homophobia in both society and the movie industry. It's a hard-hitting book, that not only sucked me into the world of Evelyn Hugo, but also left enough room for the second POV of Monique, a young interviewer who has her own story. I was really happy that Evelyn was allowed to be a morally ambiguous woman without being vilified for it and all in all, this story really gripped me until the last page!
2. The Black Prism (Brent Weeks) 🌻
⭐⭐⭐⭐⭐
I LOVE Fantasy, but adult Fantasy still intimidates me a lot because it's a) really dense with usually 800+ pages, b) primarily dominated by men and male characters and c) usually hard to get into. The Black Prism arguably hits all three points, but still got through to me. This isn't the best book to get you into Adult Fantasy, but after I saw Regan from PeruseProject recommend it so much, I bought it on impulse; and it was worth it. What really got me into the story was the fantastic worldbuilding, that stands out and had a lot of complexity. There are so many characters, politics and powers, but I was immediately connected to the world. I also grew attached to the characters and that one twist had me gasping, I didn't even know what was happening to me 😱 All books in the Series are tomes with lots of action and darker themes (rape, war and violence), but they are so cleverly plotted, that they still ended up on my favorite list. I have procrastinated reading books 3 and 4 (with book 5 out this year!) though 😂
3. The Guernsey Literary Potatoe Peel Pie Society (Mary Ann Shaffer, Annie Barrows) 🌻
⭐⭐⭐⭐.5
This was out of my comfort zone not because of the historical fiction (I like this genre, even though I don't reach for it nearly as often as I'd like it), but because it's an adult book. However, what really struck me about the Guernsey Literary Society (not writing the whole title, because it's long 😂) is that it has such an amazing protagonist. Juliet is not only an author and fellow bookworm, but also shines with her humor and quirky attitude. She is so much fun to read about and I found myself relating to her, something I honestly never expected with an adult book, for me personally. At the same time, we hear about the aftermath and impact of the second world war and discover a tight-knit community on a small island, that communicates with Juliet via letters. It was all very engaging and well-thought out, you can totally read this even if historical fiction isn't normally your thing 😊
4. Good Omens (Neil Gaiman, Terry Pratchett) 🌻
⭐⭐⭐⭐
Yes, we're talking about Good Omens again this week 😈 (I'm also including the TV tie-in cover for once, usually I don't like them, but as I love the show so much, this is an exception). Even though I love the show more than the book, I did read it first and really, really enjoyed it (as in the book is 4 stars, but the show just hit 5 stars in contrast). Good Omens is probably one of the hardest books I had to read, because it's brimming with details, characters and information, but that's what ultimately sold me on it. There is so much to the story, that I need to reread it several times to get the real experience, because I sure missed a lot the first time around. Though difficult to read, this book is extraordinary in its originality and convinced me with Book! Aziraphale & Crowley, who I immediately connected to. All in all, it's worth it to make it through all the footnotes and try to keep track of all the characters 💖 I mean … you should also watch the show thought, it's got the same vibe to the book and is close to it, because Neil is also the showrunner
5. A Streetcat Named Bob (James Bowen) 🌻
⭐⭐⭐⭐
I rarely ever reach for Non-Fiction, except for when it comes to writing advice, because I'm more invested in fiction. I do wish to read a few more interesting autobiographies and the like in the future though, I'm very picky about that though. Obviously when I saw the story of a former homeless guy and his street CAT, I had to read it … because CATS are so underappreciated and this one saved his life. This is such a heartwarming story about a human and a cat each having their second chance at life together and making it out against all odds. Reading the book is heartbreaking at the same time, because you get confronted with a lot of issues homelessness causes like drug addiction, poverty and being treated like a second-class citizen. There are a few more additional books, that I also highly recommend reading, because this human-animal duo stole my heart. (Also: there is a movie and it is fantastic!) 🐱
What is your favorite book outside of your comfort zone? Do you often try to change up what you read? 🌻