Hello fellow bookworms 💖 When I saw that there was a Waffle Book Tag I had to immediately drop everything and go do it, because I LOVE waffles 😍 I like pancakes too (there's a book tag for that too), but waffles are my first love and writing the answers to these questions has left me with a huge craving for waffles 😭 (also: why is there a pancake but not a waffle emoji? The injustice 😱) Thank you so much fellow waffle lover Kat @ novelsandwaffles for creating this Tag, that was a true blessing! Definitely check out her blog, she's such a lovely person and there are more waffles waiting! I'll be using Kat's (very delicious looking) graphics that she created for the Tag because they are stunning, her designs are always so aesthetically pleasing ❤
The Rules 💖
Link back to the original creator, Kat @ Novels & Waffles
Feel free to use any of the waffle graphics in this post, just make sure to credit Kat (pretty pretty please with lots of maple syrup on top)
Tag as many people as you want (or don't want) to. No pressure here, folks 🙂
I'm tagging 💖 
A Christmas Carol (Charles Dickens) 💖 This is my absolute favorite classic, because I'm such a festive person and like Christmas themed stories 🎄 (not to be one of these people but I wish it was the most wonderful time of the year again) I'm usually not a big fan of classics, but A Christmas Carol is the exception (maybe alongside with Alice in Wonderland … obviously 😂 & Macbeth) and I reread it very year for Christmas, meaning that I have read it a lot of times already! I also like the animated Disney movie, it's great and never fails to put me in the Christmas spirit 😍
Heartstopper (Alice Oseman) 💖 This was surprisingly hard to pick, because most books I read are … never 100% wholesome 😂 Even those that I consider to be comfort reads have some more serious/darker aspects (e.g. I wanted to pick Carry On, but like … kidnapping, the weird ritual and some stuff during the climay of the story are darker), but then Heartstopper is closest to wholesome 💗 I haven't gotten a copy of the graphic novels but I did read the story on Tapas last December (still not caught up) and that was such a good call, because I had so much fun resding the story and it warmed my heart. The two main characters are cuties and deserve the world! 😍
The Lightning Thief (Rick Riordan) 💖 Not being from the US, I've never had eggo waffles (but I would like to, send me the waffles), but I have a lot of nostalgia reads. One of them is and will always be Percy Jackson, because I loved them way before I got into more of Rick Riordan's books. I read them ages ago (and *gasp* I actually saw the movie first, that's how I discovered the books in the first place, so I think at least some good came out of the adaption at last) and then got addicted to the rest of Rick Riordan's works when I finally caught up to them years later 💗 I'm currently reread the books because after finishing The Blood of Olympus I was in SUCH a Percy Jackson mood, I love my chaotic demigods so much 😍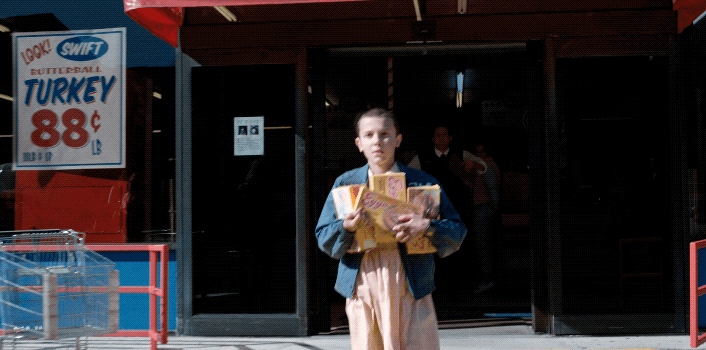 Adrian Everheart (Renegades) 💖 He's such a BIG SOFTIE it's adorable. I genuinely love Adrian so much, because he's such a kind person and a really good leader of his team/friends, who are definitely part of his personal found family. It's really hard to dislike him, because Adrian is fiercely loyal to his friends and family and in general just such a sweet character, he'll melt your heart ❤ Among my favorite moments are when he brought his love interest a sandwich in the middle of the night, because he was worried that she might be hungry and alone – softie alert 😭 You can just tell that Adrian has a good heart and is always trying to do this best to protect others!
The Burning Maze (Renegades) 💖 ahahaha … this one still HURTS so MUCH, so I immediately thought of it when I saw the prompt, so I'll do my best to explain without revealing any spoilers. My heart is still broken, because The Burning Maze turns the Series into a dark direction by having a lot more heavy themes and a devastating climax that teared my heart right out of my chest 💔 Anyone who has read the book can probably guess what I'm talking about and it hit me so hard, especially the aftermath and how realistically it was … I still get really sad thinking about it 😭 That makes me kind of nervous for the next book, because the trend off heavier books could continue and I fear for basically everyone!
Here Lies Daniel Tate (Cristin Terrill) 💖 I like that the prompt is so open, as it could apply to a unique book but also one that is special to you for some reason. For me that has to be one of my more recent reads, because it's out of my comfort zone and a genre I don't reach for at all: thriller/mystery. However, it turned out to be a fantastic read that gripped me and didn't let me go until the end. Here Lies Daniel Tate is about a boy who is impersonating a missing person and gets sucked into the intrigue of his rich family that has lots of deadly sequels. This book messed with me, it did have some decent twists (not 100% surprising, but still good) and the ending whacked me over the head most of all 😱 I need some answers, because I have theories about it!!
Red Queen (Victoria Aveyard) 💖 First of all, Maple Syrup is the best and I wish I had it more often. Second, I really have a soft spot for these books. There is a lot of mixed opinion about them, which I kind of get, but for me they have always been great and enjoyable. I read the first book in 216, right when I got back to reding, it wasn't only the first book I read this year, it was the first book I loved after a long time. That pretty much cemented my love for the Series, and I ended up adoring them. Something about them really got me invested (especially the second book, for some reason it like really helped me to sort out some things before I went off to college) and after a reread I feel the same. I stuck it out until the last book came out last year (still haven't read the novella collection, but novellas are never high on my priority list) 💕
Slytherin Scarf (+ Truthwitch Candle) 💖 This was a bit harder to answer, because I had to think if I had a clear favorite. I don't have that much bookish merch, but my Slytherin Scarf is much beloved for years now and I looove wearing it in autumn and winter, because it's so comfortable and cozy. Plus, it makes me feel all magical and confident 💗 Now why do I own a Slytherin scarf if I'm a Hufflepuff? 😱 I have a lot of Slytherin merch because I was obsessed with the house and still find it fascinating (it's my favorite house along with my own house of course) + I think green suits me 🐍 In other fandoms, I love the Truthwitch candle that I won along with other merch in a giveaway, I'm eternally grateful to have gotten merch for one of my favorite Series 😭
Do you like waffles? What is a Series that you have stuck with until the every end? 💖