Hello fellow bookworms 🎃 It's READATHON TIME again! I've taken a break from Readathons in September to just mood read, but now I'm 100% back into them in October, as it's spooky season 👻 I love doing all the seasonal themed Readathons so I couldn't resist joining a fair amount, even though I had to select. There are simply so many Readathons centered around Halloween and Spookiness, that it's impossible (or rather stressful) to do them all. In the end, I selected my Top 3 Favorite Readathons to participate in (Supernatural-athon, Hocus Pocus Readathon & Sbooktober 2019: Harvest Festival), with a good mix of time frames as one is month-long, another two weeks and the last one-week-long 👍
My favorite thing in the world is making Readathon TBR's so I will be combining 3 Readathons (all with their respective information) into one and give a quick overview of what books I want to read! Somehow this post turned out to take SO long to write because I wanted everything to look good and include as many helpful information as possible 😅 This just shows that I'm ready for spooky Season and who knows maybe I can lure you into participating in a Readathon 😈
EDIT: Just as I finished writing my post the Series SCAREdown was announced, the spooky version of the 10-day long Series Crackdown Readathon by Mel @ thebookmo, running from October 25th to November 3th! As the post is already so long, I'll not be including it, but will be sharing my TBR later this month 👻

When I saw that there was a Supernatural Readathon, I knew that I had to join in!! Supernatural is the first TV Show I truly fell in love with and still remains my all-time favorite 💗 With the next season being the last (starting October 10th), it's a great time for some Supernatural themed reading, especially as the show has got lots of paranormal creatures and spookiness, especially the earlier seasons 😈 The Supernatural-athon takes place from October 1st to October 31st, meaning that it's a month full of reading! The creator of the Readathon is fellow Supernatural lover Steph @ stephloves! Most excitingly, there are character-based reading challenges that are inspired by the character's most iconic quote that you can find on the Readathon Twitter!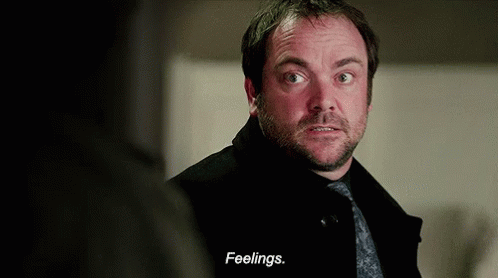 The Prompts 👻
As this is a month-long challenge I'm trying to fit as many books as possible into the Readathon, in total there are 9 books that I'm hoping to read during October (+ UnWholly that didn't fit into the challenges)! I'm very excited for all of them, as I have been waiting all year for the perfect time to read some spooky and paranormal books, as I love getting a bit spooky during the Halloween Month 😈 I have a great mix between some owned books that I have been saving, library books that I checked out and Riveted's free read of October: The Wicked Deep, for the extra Hocus Pocus vibes! I like that the books also vary in their level of scary and spookiness! 👻
Dean.  Read a graphic novel ➽ A Monster Calls (Patrick Ness)
Sam. Read a fantasy & Cas. A Sassy sidekick ➽ Wayward Son (Rainbow Rowell)
Bobby. Features Family dynamics/siblings ➽ The Tyrant's Tomb (Rick Riordan)
Crowley.  Title begins with a D ➽ The Diabolic (S.J. Kincaid)
Lucifer. A Villain you love ➽ The Invasion (Peadar O'Guilin)
Charlie. A LGBTQ Book ➽ The Devouring Gray (Christine Lynn Herman)
Jody. A Strong female MC ➽ Warm Bodies (Isaac Marion)
Rowena.  A Book featuring witches ➽ The Wicked Deep (Shea Earnshaw)
Death. A Book about/featuring death ➽ Girl of Nightmares (Kendare Blake)
When I saw that there was a Hocus Pocus Readathon happening, I knew that I had to join!! The Movie is one of my favorite Halloween classics to watch every year, as it's pretty iconic *insert cool witch emoji* The Readathon takes place from October 1st to October 13th (somehow I thought it was month long at first 😂 I think I initially read October 31st instead … my mind already is in Halloween mode 🎃) and was created by Alyssa @ Pages and Ink and Tiffy @ TiffyE! You can find the Readathon over on Twitter as well, where I think there will be some Reding Sprints going on!
The Cohosts
I choose to be Team Sanderson Sisters, because I liked the prompts and team stats (strength, weakness) the most! The other teams had a) one audiobook prompt that I sadly cannot fulfill as my access to them is very limited and b) a weakness about having to read a book in one place which is hard for me because I'm commuting and moving around a lot in October. So, in the end I'm one of the wicked witches 😈 I'll be reading YA all the time, so dealing with the witch weakness is no problem for me! I'm also adding 5 points to the first prompt *casts spell* ✨ In total I'm aiming to read 5 Books during the Readathon and of course watch some Hocus Pocus to get into the mood for Halloween! 🎃 I sadly won't be reading the group book(s), but I appreciate that there are two options to choose from. One is Hocus Pocus & the All Out Sequel and the other the newly released Serpent & Dove that I've been eyeing because witches 👀 I don't think I'll be able to read a sixth book and I'd have to buy it first, so I'm sticking to the following TBR!
Potions, Spells, and Enchantments. Read a book with a witchy main  character  ➽ Wayward Son (Rainbow Rowell)
The Sanderson Sisters have risen. Read a book with a female protagonist ➽ The Diabolic (S.J. Kincaid)
The magic book is calling to you. Read a book that is spellbindingly
atmospheric  ➽ The Devouring Gray (Christine Lynn Hermann)
The Burning Rain of Death! Read a book that frightens you ➽ The Tyrant's Tomb (Rick Riordan)
Mater Satan is pleased with you. Read a book with a powerful villain ➽ Warm Bodies (Isaac Marion)
It's Sbooktober Time again!! I have been participating in this month-long Bookish Halloween celebration for three years now and I'm always eagerly anticipating the Readathon Week leading up to Halloween: this time it's October 25th to October 31st! I love that the Readathon is different every year from Team based challenges to a Choose your Own Path and this year it's themed around a Harvest Festival! I think that's great because there aren't just spooky but also general fall reading prompts, so it's a bit more neutral while still seasonally appropriate 🎃
Sbooktober in general has photo as well as video challenges to get involved and usually also has spooky movie nights! I'm trying to join in with the photo challenges at least this year, as that sounds like fun! You can follow the Readathon on Twitter to ger all the important information about the schedule and challenges! This year there's going to be a community voted Book of the Month as well and it turned out to be The Beautiful by Renee Ahdieh 🦇 I'll have finished the book by October already as I've got an Arc that I need to review beforehand, but I did finish it close to the Readathon and cannot wait to see what everyone else thinks!
Current Hosts
Harvest Festival Prompts 🎃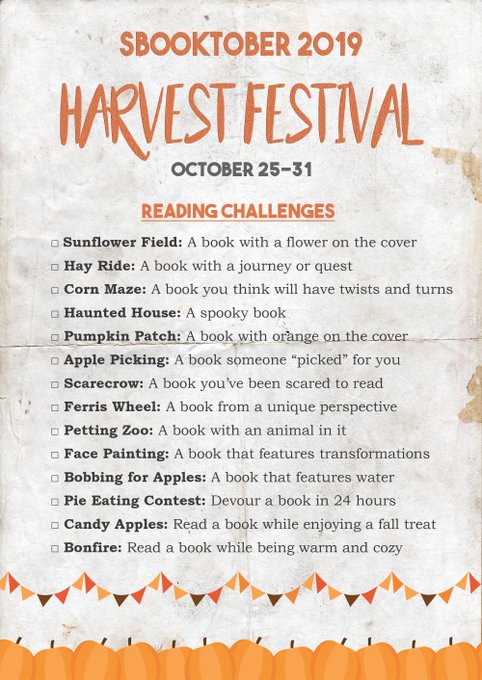 As this is just a week long Readathon, I have a TBR full of 2 books only! However, Dewey's 24 Hour Readathon will take place within the timeframe of the Festival on Saturday, so I might read more, but I didn't want to stress myself packing a TBR full of books. I might not even read as much during the Dewey's, it all depends on how the workload of the new semester is going to be. With that being said, I love the two books I choose to read for the Readathon because they are among the spookiest on my October TBR, so I have been saving them for Halloween Week! They're also both sequels to books that I enjoyed reading years ago but have not continued with! The Invasion is the sequel (and conclusion I think) to The Call, a book that I adored in … 2017? It has been a long while and the book has just been lying around! I also read Anna Dressed in Blood years ago and want to finally read book 2, as the first one was so deliciously spooky 👻
Haunted House. A spooky book & Scarecrow. A book you've been scared to read ➽ The Invasion (Peadar O'Guilin)
Corn Maze. A book you think will have twists and turns & Hay Ride. A book with a journey or quest ➽ Girl of Nightmares (Kendare Blake)
I'll also be doing the following Prompts 🎃
Pie Eating Contest (Devour a book in 24 hours)
Candy Apples (Read a book while enjoying a fall treat)
Are you joining in on any spooky Readathons? What are your favorite spooky/creepy reads for October? 🎃