Hello fellow bookworms 🧡 I had planned to do a different autumn Tag today,  but then I saw the lovely Sophie  @ sophiexli do this amazing Fall Favourites Tag and I knew that I had to do it as well! Fall is my second favorite season, so I have lots of favorites to share and I wanted the chance to talk about a few non-bookish things so I wrote up this post on a whim. A great decision, because I had lots of fun answering the questions and chatting a bit about how I'll be spending the season 🍂 I won't be tagging anyone for this one but if you're a fellow autumn lover feel free to do it! 🥰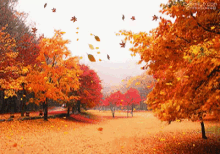 1. What is your favourite thing about Fall?
➽ EVERYTHING!! I love fall so much, it's my second favorite season and I always yearn for it after the long months of heat and summer! Let's make a little list.
The cold weather & the leaves falling down
Getting to wear sweaters again
Cozying up with my favorite fuzzy blanket
Drinking a Pumpkin Spice Latte and Tea
Lighting scented candles
All things Halloween
Carving a pumpkin
Picking up chestnuts and walnuts
2. What is your favourite Fall Candle scent?
➽ I LOVE candles though I notice that I have accumulated a lot more Christmas scented ones as there are so many to choose from. Nowadays I burn whatever candle I have no matter if it has a distinct fall smell. However, I love pumpkin scented candles as they can make you feel like you're standing in that pumpkin patch I would love to visit! I like the candles more that have a discreet smell as some can come on very strong and I don't like that at all! In general, I enjoy all candles that have vanilla and cinnamon in them as they make for a nice scent in the air 🕯
3. What is your favourite Fall drink?
➽ PUMPKIN SPICE LATTE! I've had a significant lack of everything in my life as it's not as big here so I'm making up for it by ingesting as much pumpkin spice latte as possible 🎃 My go-to place for this is Starbucks because they make a good PSL, but I can't go too often with the price being so high. Nevertheless, this is my number one fall treat and absolutely delicious! Of course, I also drink lots of tea once it gets colder again, as it makes me feel all cozy inside. I drink tea all year round (even in summer, the sun cannot stop me!) but it's especially nice in autumn. My favorite tea types are peppermint, anything fruity and these Caramel Apple Pie flavored once that might upset some tea experts 😇
4. What's your favourite trend for Fall?
➽ I'm not sure if that means fashion trends, as we've already established that I'm bad at keeping up with them, so I'll take that in the general sense. Apart from pumpkin spice everything my favorite 'trend' for Fall is all things Halloween. Is that a trend? Probably Not but I love immersing myself in the Halloween decorations, themes and everything that comes with it. I'm not a horror movie person but I like getting a bit spooky and pulling out the paranormal/creepy books to read during October! I'm also big on celebrating Halloween itself because it's fun and I get to watch a cool movie and eat ghost/witch/zombie-shaped fries – that's basically my aesthetic 🍁
5. Ankle Boots or Knee-high Boots?
➽ I usually only wear knee-high boots when it's cold in winter, so I reach for more ankle boots in autumn! I think that's good because I'm not very tall so I think the latter looks a bit better on me. Truth to be told I don't pay much attention to autumn fashion trends apart from buying all the cozy sweaters and scarves to get all cozy 🍂
6. Pumpkin Pie or Apple Pie?
➽ I've been obsessed with all things pumpkin, but I've actually never been able to try a pumpkin pie 😭 I definitely have to change that even though the 'classic' American pumpkin pie isn't really popular in Germany … but there might be a cafe that has an autumn snack, I'll go search for that once I'm back at university again 👀 So I'll choose Apple Pie for this round, as my grandmother bakes a delicious pie of all sorts and I love apples in general. Basically, give me all of it!!! I have never baked an apple pie myself, but maybe I'll try that!
7. Do you go pumpkin picking every year as a tradition?
➽ Sadly no,as these gorgeous looking pumpkin patches that I see online aren't a thing in Germany, or at least where I live 😦 I recently read Pumpkinheads, a graphic novel that is set at a pumpkin patch (with lots of additional cozy fall attractions) and it made me yearn for going to a harvest festival myself! Usually, I just buy the pumpkin – very unglamorously – in the nearest supermarket right before Halloween so it doesn't get bad as quickly and can be carved right in time for spooky night 👻
8. Have you ever carved a pumpkin?
➽ YES!!! Like I just said, I buy a pumpkin a few days before Halloween to carve it and put a tealight into it. My carving skills aren't the most sophisticated so I usually go for the simple 'spooky eyes, nose and mouth' thing instead of ruining my pumpkin with more decorative designs 😂 I might be a writer, but I'm not very crafty otherwise. However, pumpkin carving is both a tradition and lots of fun to do, especially as you can put the finished product outside and light it in the evening. It definitely makes for a nice decoration!
9. What's your favourite colour for Fall?
➽ Probably orange because it's the color of most pumpkins, meaning that I always associate it with Halloween and Autumn in general! It's not my favorite color in general (though orange is a nice color all year round and very vibrant) but in September and October I usually drag out all the autumn decor and a lot of it is colored in orange! That means that my room is significantly more orange during the spooky season than the rest of the year 🧡
10. Number one Must have to get you through Fall.
➽ My warm fuzzy blanket because it makes me feel so warm and cozy when I put it on! I love autumn because it allows me to curl up on my bed with a blanket around me and a good book in hand. The best self-care in the world is getting all cozy and safe, it really helps me relax and wind down after a long day! That's why I personally don't like summer, it's too hot and makes me feel exhausted and uncomfortably sticky. Meanwhile, Fall is cold and cozy for me! 🥰
What do you like best about fall? Are there any traditions you have for the season? I'd love to hear about them!🧡