Hello fellow bookworms 🎄 HAPPY DECEMBER, friends! It's time to get out the advent calendars (if you have one) or otherwise to enjoy the colder weather ❄ The festive season approaching for most of us also means something else … festive or winter-themed Readathons aka my biggest weakness! I never to as many Readathons as I do in December to get in as much festive reading as possible 🎅 Like last year I have selected 3 Readathons with only 1 different Readathon … and there were plenty more I could have done, but that would have been a bit too much, even for me 😂 I'll be rereading plenty of festive books that I have loved over the years as they are amazing, but I'll also be squeezing in new winter YA books as well to mix it up 🥰
Tis the Season Readathon🎄
The Tis the Season Readathon is BACK this year for another round and I couldn#t be more excited! I participated in the Readathon last time and I'm very excited 🥰 The Readathon takes place from December 2nd to December 8th, promising a week full of festive reading!! There are great reading challenges to take part in again and of course several photo challenges I'll be doing again! ⭐ If you want to know more check out the Readathon Twitter or watch the Announcement video that I have linked down! Heather @ bookstables also has some great recommendation posts for the Readathon!
Readathon Hosts
Reading Challenges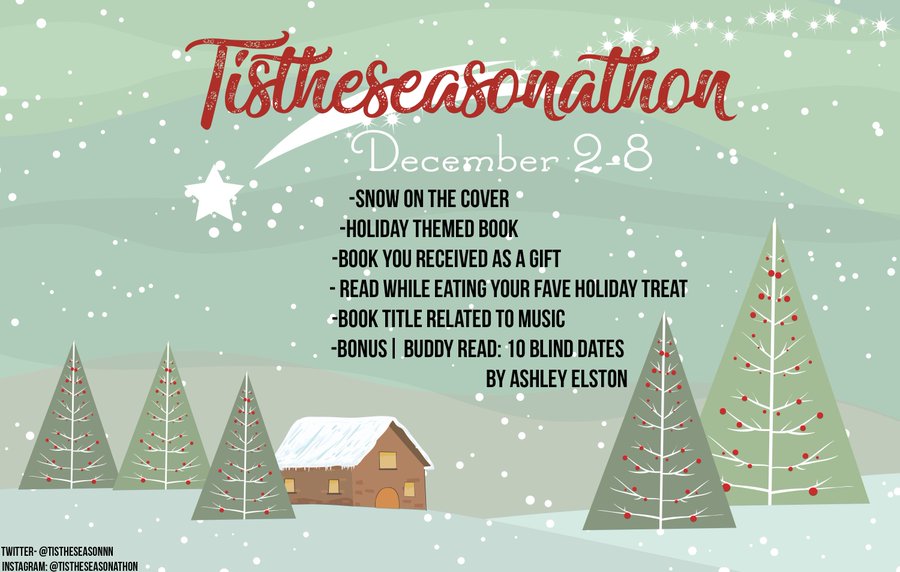 Let it Snow (Green, Johnson, Myracle) 🎄Snow on the Cover, Book Title related to music
10 Blind Dates (Ashley Elston) 🎄Buddy Read🎄 Holiday-Themed Book, Read a book while eating your fave holiday treat
As this is only a week-long Readathon, I'll be aiming to read 2 books because I'm still unsure of what the workload will be for the first week of December as I have an important meeting with my professor. Nevberzjeles, there are two amazing books that I definitely want to get too, though I won't be able to fulfill all the reading challenges even with doubling up 😄 I actually just noticed that I read Let it Snow for the Readathon last year as well 😂 This is my festive reread that I try to do every year, so I shouldn't be too surprised! And now there's even a movie out, yes!! I haven't watched it yet, but will watch it together with my friend Sandra 💕 This is the perfect opportunity to read the book again and then watch the movie! This time I'll also be able to fulfill an extra challenge by reading the Readathon Buddy/Group read that has popped up at my radar several times now as a lot of people have read and loved 10 Blind Dates on my timeline! It sounds so cute, festive and heartwarming, that I absolutely need to read it! 🥰
Oh What Fun Readathon 🎄
This year I'm joining in with the On What Fun Readathon because it sounds really great and has a cool reading prompt system, as it allows you to read from two different prompt lists – titled the Naughty or Nice List! What list you get on depends on how many prompts you read, the list with the most prompts read is your fate 😈 😇 (You can also become the almighty Santa Claus if you read all the prompts for both lists 🎅). I missed the Readathon last year as I did another one, but I'm incredibly excited that there's another round I can join! The Readathon takes place from December 14th to December 21st, meaning that this another week-long Readathon themed all-around Christmas. There's a bit of a gap between the Tistheseasonathon and this one, so I can relax a bit before it gets back to more Readathons y (Last year I had all Readathons back to back 😂) The Readathon was created by Mackenzie 🎄 Mackenzie Lane and there's also a Readathon Twitter that you can check out!
Reading Challenges
Taken from Instagram
A Christmas Carol (Charles Dickens) 🎄 Group Book🎄 Read a book published in December (😇), Read an entire book in Christmas pajamas (😇)
Snow in Love (Anthology) 🎄Read a book set during winter (😇), Start a new book at midnight (😈)
A Court of Wings and Ruin (Sarah J. Maas) 🎄Read the 25th book on your TBR (😇)
Picking out the TBR was so much fun and in the end, I settled on 2 1/2 books. The half book is A Court of Wings and Ruin, my leftover book from Tome Topple Readathon because I completely failed the Readathon as the book was too daunting size-wise at the time 😅 There's no way I'll read it in the week (plus two other books), but I want read a bit every day in order to finish this before the new years starts! Coincidentally the book is the 25th books on my physical TBR, so it perfectly fits one of the Nice prompts! (The 13th book on my physical TBR – for the naughty prompt – was The Broken Eye, an 800+ page adult fantasy … so didn't pick that one 😂) Then, a miracle has happened, as I again am able to tread the group book for the Readathon (like I'm doing with the Tistheseasonathon!) This is surprisingly or me, because I rarely read the group books as I have a) either read them, b) no interest in reading them or c) don't own them. But I have not one, but two copies of A Christmas Carol and as I reread it every year, I'll for sure read it this year as well! 🎄 Then, I'll finally read Snow in Love!!! I didn't get around to reading it last year, but this year it'll happen! I'm a bit nervous about the Anthology as I heard mixed reviews, but I'll read all the festive books I can get! ❄
Winter Magical Readathon 🎄
The Magical Readathon – hosted by the amazing G @ Book Roast – returns with another extra special Readathon event, this time focused all on a choose-your-own-adventure type story inspired by the happenings of the second Harry Potter book! I adore the Magical Readathons, so I'm super excited to learn that there was going to be a special winter version of it! The Readathon takes place all throughout December (and stretches to January 5th. I cannot believe that Readathon will end in the new year 😱), meaning that this is the longest Readathon on this list and also goes way beyond Christmas! It's also not heavily focused on Christmas but does contain some nods to the festive season at times 🎄 The best place to gets updates from is the Readathon Twitter which – like the Readathon – will be pretty lowkey this time, with a focus on chatting and sprints instead of house competition.
There's also a major difference to last year's Readathon in the sense that there isn't a list of reading prompts available in advance (that's why I don't have a TBR yet). Instead, the Readathon operates with 5 Chapters that are unlocked week after week on the official new website for the Readathon! As this is a choose-your-own-adventure story, each chapter will feature a situation and options on how to react. Depending on what you choose you'll get 1-3 reading prompts to complete until the next chapter. That sounds super exciting for me, as it offers so many potential outcomes! The goal is to save Ginny from the Chamber of Secrets and I cannot wait to see what reading prompts I get! Getting the Chapters unlocked each Advent Sunday (1pm UK Time, so 2pm in my timezone) is such a nice idea as it gives me something to look forward to 💕🎅
Chapters are getting unlocked at …
Chapter 1 – 1st of December
Chapter 2 –  8th of December
Chapter 3 – 15th of December
Chapter 4 – 22nd of December
Chapter 5 – 29th of December
Are you participating in any festive Readathons? If so what are you planning on reading? What books are on your December TBR?🎄