Hello fellow bookworms 💕As today is Valentine's Day I thought it would be a great idea to talk about some of my favorite romance tropes and my favorite bookish couples that fall under that trope. I haven't done a post about my favorite romantic relationships in books at all on my blog and I think that I'll have to do a part 2 because there are more amazing shops that I like but couldn't mention as there were already so many couples and the post was getting long 😄 I'm going to talk a little about why I like the tropes featured here and will write a short pitch line for my favorites couples to make you curious about them (and the books they are in) 😈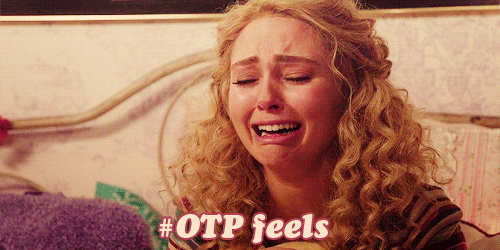 Why I Like It 💗One of my all-time favorite tropes simply because it's not as fast-paced as insta-love and instead builds on the connection between characters. I'm just a sucker for two characters who are clearly attracted to each other (we love mutual pining on this blog) but aren't ready to admit it to each other. Or two characters slowly beginning to fall for each other: it's about the chemistry and yearning between both characters that makes you want to yell 'just kiss already' even though you enjoy the torturous process of watching them get together!
Favorite Couples with this Trope 💕
Iseult & Aeduan (Witchlands) ➽ Really angsty Bloodwitch is threatening to kill a clever Threadwitch, but would actually never do it because he's fascinated by her and finds himself with more feelings than he bargained for 💗
Annith & Balthazar

(Mortal Heart)

➽ Tired of being stuck in her convent, a hard-working assassin sets off to find her own first mission and runs into a mysterious, charming man living on the fringes of society (also forbidden love) 🏹
Enne & Levi

(Ace of Shades)

➽ A proper lady trying to find her missing mother in the self-proclaimed City of Sin needs to enlist the name of a brooding gang boss in deep trouble himself to find her answers 😈
Nova & Adrian

(Renegades)

➽ 'Villanous' girl with the ability to put people to sleep is seeking revenge from the 'heroes' for not helping her family but one of her new superhero teammates is really cute 😉
Scarlet & Wolf (The Lunar Chronicles) ➽ A bold girl living on the farms with her grandmother sets off to rescue her and is forced to work together with a bulky, but a somehow gentle giant who seems to be hiding his own secrets 🐺
Emika & Hideo (Warcross) ➽ A poor talented hacker is given the chance to participate in the championship of her favorite game and is also tasked with a secret mission from the genius (and handsome) creator and billionaire of the game 👀
Etta & Nicholas (Passenger) ➽ A talented violist discovers that she can time travel but is snatched up by a big evil time-traveling family. Accompanied by the black sheep and outcast of the said family she sets off to journey through time and space ⌛
Zoya & Nikolai (King of Scars) ➽  A fierce no-nonsense Grisha is watching over her charming, cocky, king and friend who transforms into a monster at night that is getting more unpredictable. (Zoya for Queen!! 👑)
Why I Like It 💘 Done well (aka not ending in a toxic relationship) this trope has so much appeal because there is tension and so much growth from two people who were opposed to each other but then slowly learn to understand where the other is coming from and develop past their issues. I love when two characters who hate each other are forced to work together (or generally have to undergo some journey) and discover that they might actually enjoy the other's company. The attraction despite both not wanting to admit it and the tension and loaded banter between characters is my kryptonite!
Favorite Couples with this Trope 💕
Penryn & Raffe (Angelfall) ➽ Also falling under the Forbidden Love category, a fallen angel and a feisty human girl trying to save her sister embark on a journey in a post-apocalyptic world destroyed and controlled by … those very angels 😇😈
Gauri & Vikram (A Crown of Wishes) ➽ Feisty Warrior Princess and Cocky, Sly Prince of enemy kingdoms participate in a magical Tournament of Wishes together, meanwhile bantering and growing closer together ✨
Sharzad & Khalid (The Wrath and the Dawn) ➽ Snarky, fierce girl sets out to marry and then kill the caliph who's known for murdering every girl (like one of her friends she wants revenge for) he marries by telling him stories 🔥
Nik & Hanna (Gemina) ➽ Kickass Daughter of the space station commander needs to team up with her dealer and a notorious bad boy when their station is under the attack of a team of assassins set to exterminate them all 😱
Simon & Baz (Carry On) ➽ The chosen one is sure that his roommate – definitely vampire – nemesis is up to something, but then unexpected events unmask a growing attraction that might have always been there 😉
Jules & Mia (Unearthed) ➽ A desperate, bold girl set on plundering a new planet in order to save her sister meets the genius explorer son of the man who tried to discover its secrets … and who despises the ones trying to plunder them 😱
Ismae & Duval (Grave Mercy) ➽ After learning that she's a daughter of death, a girl resistant to poison gets her first assignment at Normandy's court but has to work with a nobleman she despises and doesn't trust 🐍
Sybella and the Beast (Dark Triumph) ➽ A wild, feral rebellious assassin and daughter of death falls for a grumpy, broad warrior who is the mortal enemy of her hated stepfather 🔥
Why I Like It 💖 Forbidden Love is one of my buzzwords in books because it's exciting to see two characters fall in love against the odds, knowing that their relationship is going to be complicated. The pain of dancing around each other always makes for a lot of angst as well. And the relationship often comes to show that two opposing groups have more in common than they do apart.
Favorite Couples with this Trope 💕
Roth & Layla (White Hot Kiss) ➽ An unwanted girl whose kiss can steal a soul lives with those protecting humans from demons. But … she begins falling for a hot demon who she could kiss because he has no soul, to begin with 😈
Isobel & Rook (An Enchantment of Ravens) ➽ Talented Artist gets in trouble with a Fairie Prince who commissioned a painting from her and who has no idea how to deal with Humans. The problem: falling in love for human and fae is forbidden 🧚‍♂️
Ruby & Arcus (Frostblood) ➽ In a world separated by fire and ice powers, an impulsive, temperamental Fireblood running for her life and a withdrawn, stoic Frostblood helping to shelter her begin to grow closer to each other 🔥⛄
Citra & Rowan (Scythe) ➽ Two teens are apprentices to become Scythes – the only ones tasked with killing in their society – but as they're both mentored by the same person only one will be able to be a Scythe … killing the loser 😱
Why I Like It 💌 For a long time I wasn't the biggest fan of this trope (and it's still not one of my ultimate favorites), but I have found certain friends to lovers ships that I really enjoy (and even some occasional childhood friends to lovers romances, who I usually struggle with). It can also be a great slow-burn relationship with two people connecting, becoming friends and eventually also having romantic feelings towards each other. Bonus points if they are allies and then slowly get the romantic tension as well.
Favorite Couples with this Trope 💕
Mallory & Rider (The Problem with Forever) ➽ Selective mute girl meets her childhood best friend and protector again in high school – who used to be in the foster system like her. They reconnect and feelings start to rise up again 💕
Adelina & Magiano (The Rose Society) ➽ Morally Grey Girl with Illusion powers is trying to take over the world after being betrayed and mistreated all her life, but she is soft for her mischevious ally – the one person who's staying by her side 🥺
Emmy & Alfie (The Brightsiders) ➽ The most wholesome romance between a famous singer and her bandmate, who has also been her childhood best friend – always caring for her and being a safe haven from her abusive family. SO MUCH pining and sexual tension 🔥
Bex & Shrupty (Going Off Script) ➽ An incredibly healthy and wholesome f/f romance between an Indian YouTube star and a talented writer who had the chance to get an internship for her favorite TV Show. Good communication and very soft 💗
What are your favorite bookish couples? What romance tropes do you like the most? 💕