Hello fellow bookworms 📗 I often catch myself only thinking about my negative habits or traits, be it in my personal life or when it comes to my bookish one. That's why I think it's such a lovely idea to also reflect on the things you do well and the positive habits that you might not think about as often. Shining light on the good sides of yourself doesn't come naturally to me, but it's so important. That's why I was beyond delighted to discover the Good Reading Habits Tag created by Ally @ allywritesthings, as it's about talking about your positive bookish habits, instead of only bringing out the negatives ones. Thank you so much to the lovely Caitlin @ caitlinalthea who tagged me for this (You should totally go check out her blog and show her all the love!) 💛 I had so much fun writing about my positive habits once I got into it, so this has been a very cathartic experience! 🥰
The Rules 📗
Pingback to the creator!
List some of your good reading habits, the things you think you do well
Nominate some of your blogging friends
I'm nominating … 📗
1). I reread a lot of books 📗
I simply love rereading so I do it a lot. I know we're all struggling with keeping up with the TBR pile, but I can usually make some time for rereading as well. Last year I reread 40 books I think, which is a lot but when the mood strikes me I reread all of my favorites. This year I haven't reread that much as I devoured all the library books before I had to move, but when I need a little comfort I'll always turn back to my favorites. There are some books I literally reread every year (Fangirl, Simon VS, all the Christmas books, A Monster Calls) because I love them so much and am always itching to read them again. There is something so comforting about revisiting a beloved world that I sprinkle in some rereads throughout the year while still reading the books on my TBR. I'd say that I have found a good balance between rereading and TBR reading so that especially my physical TBR doesn't attack me 😄 2). I'm doing well with my own book-buying budget 📗
I'm pretty content with how much I'm spending on books. As I don't have a steady income, I can't buy all the books but I'm making use of gift cards, free trials/online offers, and my library. I'm fortunate that I had a really great library when I got to university as it provided me with so many books to choose from and I'm still really grateful for that time. Currently, I'm making use of the three months online pass some German libraries are currently offering, which gives me access to the famous Overdrive for the first time and made me weep with joy when I saw how many English e-books and audiobooks they have, some of them really new as well. I've also tried out free trials of Scribd or Audible and regularly check Riveted Teen for their Free Reads section. Basically, I try out all the free resources I can get books from 😊 That leaves me more relaxed about my book buying in general. Sometimes – e.g. when I'm on vacation with good bookstores – I'll haul a lot more books and I'll also order most of them online when I have a gift card or want to treat myself. So far it's working out great and my physical TBR is around 40 books, which is a good size for me personally 📚
3). I can maintain my reading motivation.
I usually know how to keep myself from falling into a slump. I haven't been in one since high school when my reading was at its worst, but ever since I have managed to build a healthy reading habit that works for me. I sometimes still feel a bit slumpy but I usually notice when I need a short break from reading, I need to switch up genres or need to do some mood-reading. Participating in a lot of Challenges and Readathons is usually how I keep my reading motivation high as I personally love taking part in something with fellow readers and keep track of everyone's progress. I also love picking out TBRs for different themed challenges and used to do a monthly theme for my reading all of last year. That being said the main reason why I keep being motivated to read is the bookish community right here, be it blogs, Twitter, or on Youtube, I love hear8ing people gush about books or tell me about what releases they are currently excited for. Finding people to connect to is how I got back to reading in the first place and is how I continue to show my love for books 💛
4.) I'm always trying to stay on top of reviews.
I have an RTC list and try to work my way through it. Sometimes this is more difficult, I usually fall behind on reviews a lot when I'm really busy or stressed like during exam season or when I did my Bachelor Thesis. But I always keep track of what reviews have to be written and try to catch up the moment I have some more time again. That was recently the case when I had all but abandoned reviewing most books since fall 2019 when my thesis preparations started getting more intense. When most of the work was done I slowly got back to writing the overdue reviews. I'm still not 100% done with them, but I made it from over 40 reviews to around 10, so that counts for something! I'm trying to get better at reviewing books right after I finish them though, as this is usually when I remember the most about them! On a positive note, I'm usually also good at writing Arc Reviews first so they can be scheduled on my book in advance 😊
5.) I read a lot of backlist books
I usually read a good mix of backlist and new books. Of course, I'm checking out as many new releases as possible, be it in the form of digital Arcs of buying some, but I also read a lot of backlist books as that's what I have on my physical TBR and what I can get from the library. Like I said, getting new releases is definitely great as everyone is talking about them, but my local library doesn't get them, usually I had to wait for the translation into German and hope my library got these editions, as they don't buy that many English Books upfront. (I was still lucky that I had a great library) So that's why I got a lot of backlist books instead and of course, I'm also trying to get some books from my physical TBR read as well! I do buy myself some new releases that I'm really excited for, but there are simply so many that I have to be very selective with what I choose – usually authors I already love, sequels I anticipate, or books with really amazing reviews. All of this makes for a balanced mix of older and newer books 👍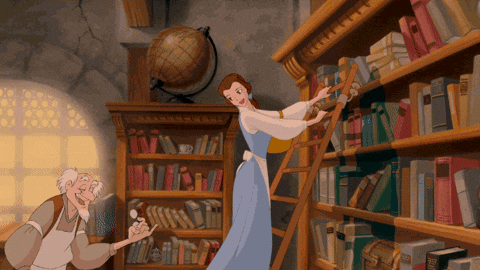 Do we share some of the same reading habits? What are some of your good reading habits? 📗