Hello fellow bookworms 🎃 Throughout the years I've done most of the Fall Tags that already exist, but as it's September (which officially means that it's autumn for me 👻) now, I thought that I would revisit a Tag that I already did! I love the Fall Time, Cozy Time Tag but I last did it in 2017 – right when I started blogging, so the layout is a lot different from the current one – and if I remember correctly it was one of the first Book Tags that I did here on the blog! It has been three years now which is why I wanted to revisit the Tag again, as I'll have a lot of different answers and still love the questions very much ❤ The Tag was originally created by Sam's Nonsense 🍂
Crunching Leaves ➽ The world is full of color 🍂 choose a book that had reds/oranges/yellows on the cover
Felix Ever After (Kacen Callender) 🍂 Felix Ever After honestly has such a nice cover in general, but it's also full of fall color: we have lots of orange and yellow 💛 I just recently read the book after hearing so much praise from my bookish friends and it was absolutely fantastic just like I was hoping! It's all about a trans teen called Felix, who's still trying to find himself and also has to deal with transphobic trolls that keep harassing him. There are some grim scenes, but the book is also full of amazing friendships, passion for art and a super sweet best friends to lovers romance that had my heart melting 🥰 So if you haven't checked this out yet, I highly recommend it!

2017 answer ➽ Thirteen Treasures (Michelle Harrison) 🍂
Cozy Sweater ➽ It's finally cool enough to do warm cozy clothing 👘 What book gives you the warm fuzzies?
Cat's Café (Matt Tarpley) 👘 Time to yell about this book again because it's so adorable and cute 😭 Graphic Novels, in general, make for perfect comfort reads but this one especially has a special place in my heart 💞 It's set in a town full of animals who love meeting up in the Café of the Cat character (hence the name) and have their everyday adventures. I loved all of the animal villagers so much (the graphic novel has a lot of Animal Crossing vibes), especially as we get to see their journeys and friendships, which were so wholesome. The book also discusses mental health, the power of friendship and how to change your perspective: it's simply incredible and makes me feel all warm inside 🥰
2017 answer ➽ Blutbraut (Lynn Raven) 🍂
Fall Storm ➽ The wind is howling & the rain is pounding 💨 Choose a book that you like to read on a stormy day
City of Ghosts (Victoria Schwab) 💨 City of Ghosts may not be my favorite spooky book, but it's got such a fantastic creepy and eerie atmosphere without being too scary (this is a Middle Grade series) which makes it perfect to read to get into the spooky, Halloween mood 👻 The main character Cassidy Blake can literally see ghosts ever since she almost died and together with her ghost best friend and sidekick Jacob and her parents making ghost documentaries (who however don't believe in them) she has a lot of adventures. I really liked following her to Edinborough and Paris (book 2) which was so much fun! The books are atmospheric and easy to read which makes them the perfect books to read during a good, cozy storm 💗
2017 answer ➽ The Raven Boys (Maggie Stiefvater) 🍂
Cool Crisp Air ➽ Makes you breathe freely ☁️ What's the coolest character you'd want to trade places with?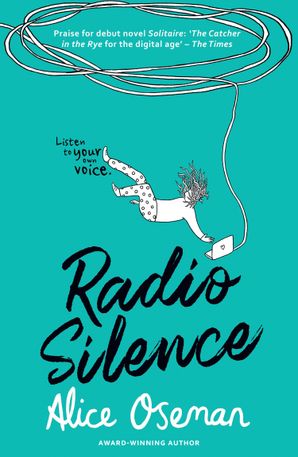 Frances Javier (Radio Silence) ☁️ This is actually a super hard question because, in most sci-fi/fantasy and also lots of contemporary books, the characters are all going through so many horrible things and are constantly in danger 😱 In the end, I settled on Frances from Radio Silence because she has the incredible opportunity to make fan art for her favorite podcast, which is such a fangirl dream! (plus in general, I wish I had her art skills) On top of that, she has this super deep, meaningful friendship with the creator that is difficult at some point at the book but still means so much to her. Frances also has the most amazing mom and makes some other friends, so I would gladly trade places with her for a bit 😊
2017 answer ➽ Miranda (Shadow Falls Series) 🍂
Hot Apple Cider ➽ Warm autumn drink 🍎 What underhyped book do you want to see become the next biggest, hottest thing?
Of Curses and Kisses (Sandhya Menon) 🍎 There were quite a lot of underhyped books that I could choose from but I'm still especially sad that Of Curses and Kisses didn't seem to get the same love than Sandhya Menon's other books 🥺 Of Curses and Kisses just came out at the beginning of the year and I was fortunate enough to get an eArc. I immediately fell in love with the book, it's got a cool boarding school setting, a great enemies to lovers slow burn romance and a super cool twist on the Beauty and the Beast retelling! Especially because of the retelling aspect I wish this was as popular as other retellings, as it definitely deserves the spot! So if you like retelling and/or Sandhya's other books, this is a must-read ❤
2017 answer ➽ The Spinster Club Series (Holly Bourne) 🍂
Coat, Scarves & Mittens ➽ The weather has turned cold & it's time to cover up ☂️ What's the most embarrassing book cover that you like to keep hidden in public? a book cover you don't like?
The Electric Heir (Victoria Lee) ☂️ I have a confession to make: I really really don't like this cover 😅 Don't get me wrong, the book is AMAZING, a fantastic conclusion and a definite must-read. The cover however really didn't appeal to me personally, especially compared to the cover of the first book which I loved. Back when the cover was revealed, a lot of people loved it, but I was a bit disappointed. It's not the worst cover I've seen but I don't like the color scheme, in my opinion, the orange of the background doesn't work well together with the word blue/greenish color of the title. And in general, the cover didn't make an impression on me. However, you definitely should read the Duology!
2017 answer ➽ The Kane Chronicles UK Covers (Rick Riordan) 🍂
Pumpkin Spice ➽ Time for some Starbucks 🎃 What's your favorite Fall time comforts food/foods?
Pumpkin Spice Latte & Brownies & Tea & Hot Chocolate 🎃 I'm SO ready for fall again as it means FINALLY indulging in all the hot drinks again 🥰 I would love to try more things pumpkin (I like pumpkin soup but have never tried pumpkin pie as it's sadly not that popular in Germany) and of course the famous Starbucks Pumpkin Spice Latte!!! It's an acquired taste but I honestly love it and it always puts me in such an autumnal mood 🍂 Sadly it's also expensive so I mostly drink tea (my favorites are peppermint, rooibos vanilla, and caramel apple pie) and hot chocolate at home while huddled under a blanket 💗 The last thing I love to eat is this delicious brownie from a recipe called Brownie Graveyard and it's the best brownie I've ever eaten ❤
2017 answer ➽ Pumpkin Spice Latte, Hot Chocolate & Marshmallows, Tea, Waffles 🍂
Warm, Cozy Bonfire ➽ Spread the cozy warmth 🔥 Who do you tag?
What is your favorite autumnal drink? What's a cliche/trope that you cannot help but love? 🎃