Hello fellow bookworms 📚 I've been going through my TBR list a lot while participating in #goodreadance, both adding new books publishing in 2021 that I want to read and also removing those that I'm no longer interested in anymore. Together with unhauling some books I no longer want to read, it has been a great experience for me and felt so freeing. However, I still have Maybe List on Goodreads, dedicated to all the books that I'm still on the fence about reading. I like having a list full of books I want to keep in mind, but they're not really on my Want to Read list either. Today I'm talking about 6 books I maybe want to read and would love to hear your opinions about them to help me decide which ones I want to officially add to my Want to Read list!! 💕 So if you've read any of the books below, I would love to hear how you liked them in the comments down below! I might even make this into a little feature as I have a lot more books waiting on my Maybe List 😄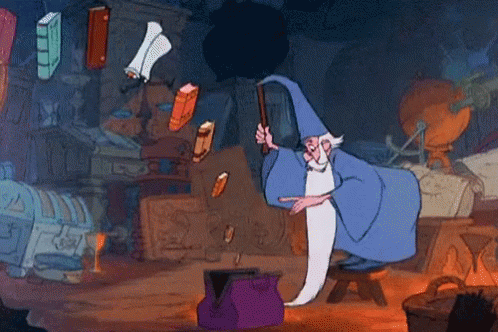 Me trying to decide what books to read
The Long Way to a Small, Angry Planet (Becky Chambers)
Why I want to read it 🔎 I have been wanting to pick up more sci-fi books and generally branch out with my reading this year, so this one sounded intriguing to me. It's about a journey to space with a ragtag crew of explorers and I'm also getting a lot of found family vibes from this book, which is one of my favorite tropes! Also: space is super cool and when I'm in the mood for some sci-fi books this seemed like something I would like to pick up ✨
Why it's on my Maybe List 🔎 I have to admit that the book is a bit intimidating, as it's around 500 pages and also said to be more slow-paced as far as I could tell from reading some reviews. When it comes to slower books – especially ones that are character-driven – I have to be really invested in the characters to enjoy the book. So in the end, it comes down to how I like the characters in this book. If I don't like them, this might drag a bit for me personally 😅
Crier's War (Nina Varela)
Why I want to read it 🔎 I have heard a lot of people incredibly excited for the f/f ship of this book & it also seems to be an angsty enemies to lovers romance, so definitely count me in for that 💘 The concept also sounds super cool: the book is basically set in a world where robots called Automae have assumed control over humanity and humans were forced to serve under them. The idea of a human plotting for revenge and an Automae crossing paths sounds so interesting to me!
Why it's on my Maybe List 🔎 This is one of the candidates on my Maybe List that intrigues me the most, so there's no big reason why I haven't added it to my TBR yet. Rereading the synopsis it sounds even more interesting to me. Back when I looked at it, there was a little something missing to get me invested in the story, but that's why I would love to hear your opinions 🥰
The Shadows Between Us (Tricia Levenseller)
Why I want to read it 🔎 It honestly has so many of my buzzwords and seems to be a twisty romance between two super morally grey characters, which sounds like something I would enjoy to read about! The main character is supposed to be ambitious, cunning, and set on marrying the Demon King, only to kill him later. Their dynamic already sounds full of angst and tension, so I have felt drawn to this book for a while! 😈
Why it's on my Maybe List 🔎 After a lot of the praise, I've also seen some mixed reviews from people who thought the book was a bit weak in general and didn't 100% deliver on the premise. That – paired with the fact that I haven't heard much talk about this book after the initial rush of excitement – makes me a bit hesitant to pick it up. While I always enjoy some good angst, I also hope the resolution to this standalone will not disappoint me.
Tarnished Are the Stars (Rosiee Thor)
Why I want to read it 🔎 The premise for this one sounds cool: it's about clockwork parts that can be used to save humans from dying and honestly this gives off a great steampunk vibe in addition to the sci-fi one ⏰I really appreciate that as I don't read a lot of steampunk books. So, the general idea of this one appeals to me a lot and I've also seen that this has both aroace and lesbian representation, so I would definitely like to support this book!
Why it's on my Maybe List 🔎 This book hasn't caught me attention in a long time, compared to other books that more frequently cross my mind. I have also heard some mixed reviews for this one that mentioned that it didn't really hold their interest and that it didn't set itself apart compared to other sci-fi books they read.
Court of Lions (Somaiya Daud)
Why I want to read it 🔎 I have heard amazing things about this sequel, it feels like a lot of my bookish friends have loved this, so that alone makes me intrigued to also get to this conclusion! I've especially heard a lot of gush about a new f/f ship which has me super excited 👀💕 The more I see this recommended on Twitter, the more I kind of want to pick it up because there has been so much excitement for Court of Lions!
Why it's on my Maybe List 🔎 I read Mirage AGES ago, so I barely have any idea what happened during the first book aka I would have to reread it. Right now, I'm just not sure if I want to do that with so many other books also calling to my attention. I liked Mirage, but I didn't love it, so I'm not sure what to do, as I definitely need a refresher on what happened 😅
A Heart So Fierce and Broken (Brigid Kemmerer)
Why I want to read it 🔎 I really liked the first book A Curse so Dark and Lonely, it was a nice, different twist on the Beauty and the Beast retelling. In my opinion, it could have been a great standalone book, but the ending definitely made me intrigued to read more about what happens to the characters and their world 👀 I especially liked Grey and have heard that this book finally included his perspective, something I wanted to read about!
Why it's on my Maybe List 🔎 I have honestly heard a lot of very mixed reviews from people who loved the first book (even more than I did), so I'm nervous. It seems like this book is pretty different from the first one, with some characters not getting as much page time and others regressing back in their growth, so I'm nervous 😅 I'm usually not a fan of sequels suddenly having a very different vibe than the first book.
Have you read any of the books on my list? Did you like them? Should I add some of them to my Want to Read list? 📚