Hello fellow bookworms 🌈 It's June, which means that Pride Month is happening right now! For today's post I wanted to share my tentative TBR as I plan on reading as many books with LGBTQ representation as possible this month ❤ I have 6 books that I'm most excited to read right now and I cannot wait to talk about them! The covers link back to the Goodreads page and I have tried to include the type of representation as accurately as possible – please let me know if I got anything wrong! I'd also love to hear what books you're planning on reading or what books with LGBTQ representation you'd recommend 🥰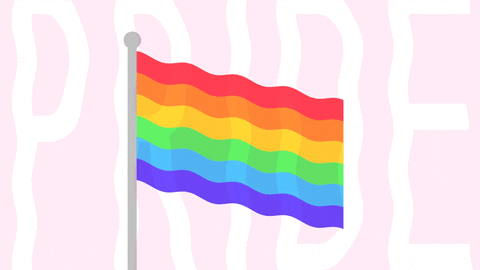 Happy Pride Month 💕
🌈 You Might Also Like 🌈
Books I Plan on Reading for Pride Month
The Dead and the Dark (Courtney Gould) ⌛
🌈 Representation: Lesbian MC
➽ I was fortunate enough to get a digital Arc for The Dead and the Dark and I cannot wait to read this! By the time this post is up I might have already started this as it's on the top of my TBR list 🥰 This book gives me some spooky/fall vibes as it's about a girl and her ghost-hunting Dads who arrive in the mysterious town of Snakebite, Oregon that is plagued by paranormal occurrences and kidnappings 👀 The premise really reminds me of Supernatural, one of my all-time favorite TV Shows, so I'm very excited to read it and get spooked! I keep wanting to read more mystery/thriller books, so this will be perfect! ❤
What We Devour (Linsey Miller) ⌛
🌈 Representation: Asexual MC
➽ I'm so very lucky that I got a digital Arc for this!! I loved Linsey Miller's 2020 release 'Belle Révolte', an unique Fantasy standalone that was a lot of fun to read. I sadly wasn't able to read any other of her books so far and I'm ready to change that now! What We Devour is a darker Fantasy book about a girl hiding the fact that she possesses power of the old gods (called The Noble and the Vile) and being forced to work with the prince of her kingdom, who immediately recognizes what she is. It has a lot of discussion about morality, sacrifice and mysterious dark forces plaguing the world, which I immediately found intriguing 👀 I love me a good darker Fantasy from time to time, so I'm excited to read this 🖤
As Far As You'll Take Me (Phil Stamper) 🎧
🌈 Representation: Gay MC
➽ I loved the author's The Gravity of Us last year and I have been excited to read his newest release ever since it came out at the beginning of the year! As Far As You'll Take Me is about the adventure of Marty who arrives in London and decides to travel through Europe, trying to get closer to his dream job. I love that this seems to be about traveling, trying to be free and also self-exploration, as Marty is questioning what he wants and if he can even achieve it
I got the audiobook from the library and I'm very eager to read this ❤ I did hear that it heavily deals with eating disorders (something that wasn't present in the synopsis at all), so just a heads up, if this is a sensitive topic for anyone!
Let's Talk About Love (Claire Kann) 📚
🌈 Representation: Biromantic Asexual MC
➽ I'm finally picking this up again after putting it down last summer, because I just wasn't in the mood for it back then! I only got about 80 pages into the book and it was too cheesy for me at the time, yet I still want to read this book. I loved Claire Kann's If It Makes You Happy, so I'm eager to check out her debut novel, especially as it has ace rep! 😊 Let's Talk About Love is about a girl called Alice who gets dumped by her girlfriend when she finds out that Alice is asexual. Despite swearing off love for now, our main character falls for a cute guy and all sorts of feelings ensure. I really hope I like this the second time around, as I have high hope for Claire Kann as an author 🙏
Honey Girl (Morgan Rogers) 💌
🌈 Representation: Lesbian MC
➽ My library hold for this book finally came in at the beginning of the month, so just the perfect timing to read it during Pride Month! Honey Girl caught my attention because I saw so much love for it on social media and in the community! It's about a 28-year-old overachiever who feels weighed down by the pressures and expectations of society, something that immediately made me curious about this book. There's also an impulse marriage with another woman involved and almost everyone seems to love the romance, so I have high hopes!
(I did see some more mixed reviews recently, but still hope that I will enjoy the book, especially as I try to adjust my expectations.)
All Boys Aren't Blue (George M. Johnson) 🎧
🌈 Representation: Nonbinary Gay Author (Memoir)
➽ I could luckily get the audiobook from my library for this one! I'm eager to read it, as I've seen a lot of positive reviews and it's a book outside of my comfort zone ❤ All Boys Aren't Blue is a memoir containing George Johnson's personal essays exploring their experience being black and gay in the US. It's about "gender identity, toxic masculinity, brotherhood, family, structural marginalization, consent, and Black joy", so there are a lot of important topics being discussed in this memoir. I think it's also important to read some nonfiction books during Pride Month, so this was the perfect choice for me 😊
Additional Options (if I have the time)
🌈 Questioning (Bi) MC 🌈 Gay MC 🌈 Lesbian MC
Have you read any books on my list? Did you like them? Any books with LGBTQ representation that you can recommend? 🌈