Hello fellow bookworms 📚 What is this??? My first ever (kind of) Discussion Post? 😱 I have always been somewhat intimidated by discussion posts, as I find them difficult to write and there's so much care to needs to be put in the arguments and structure! However, I have been wanting to discuss my changing bookish habits since last November when I first started my Master's Course. So this post has been brewing for a while and I still feel passionate about this topic ☕ I find it fascinating how our habits can change with time and after some reflection I kept seeing the changes in my personal reading habits! That's why I'm sharing 6 ways my bookish habits have changed with you today! I'd also love to hear your experiences! Did you develop any of the same changes as me? What are the biggest ways in which your reading has changed? Let me know down below in the comments and we can chat 🥰
1. Using more audiobooks 🎧
➽ I never used to listen to audiobooks (though I was happy to see them become more popular) as a) I didn't have good access and b) I'm a very visual person. However, I have come to appreciate audiobooks in the past two years and especially at the end of last year, when I started my Master's studies. Audiobooks have become a lifesaver for me!! They are just so practical and I make use of them a lot while doing chores (like washing the dishes, cooking, laundry, cleaning etc.). Not only does it make otherwise menial tasks exciting and easier to do, but I also can get some reading in throughout the day!
➽ Another benefit is that I always have two books to read at once, an audiobook and a physical or e-book. I didn't use to read several books at a time as well, but now I enjoy the variety 🥰 I have also gotten better at listening to Audiobooks (and upping the speed), as practice really makes perfect! My enjoyment really depends on the narrator though, as they can make or break a book!
Favorite Audiobooks
The Murderbot Diaries (Martha Wells) narrated by Kevin R. Free 🎧
Other Words for Home (Jasmine Warga) narrated by Vaneh Assadourian 🎧
Sadie (Courtney Summers) narrated by a Full Cast 🎧
2. Reading primarily e-books instead of physical books
I➽ f you had told me that e-books would be my most read book type in 2020 (and also being in the lead this year) I wouldn't have believed if. 2020 really changed things. Part of it was the pandemic, as e-books became increasingly practical with shipping delays and the closure of libraries. I realized that getting an e-reader (I was gifted a Kindle for my birthday that year) would be super helpful for book buying, especially as there are many good deals online. As an international reader, I'm always on the hunt for a good bargain and recently I noticed some great Kindle Deals for books that just came out recently!
➽ I also found out that I could sign up for a digital library card at the biggest city in my country and that would finally give me access to Overdrive (my previous library and others don't have OverDrive and generally not a good selection of e-books available) 🎉 I'm still in awe and so grateful that I have so much access to e-books and audiobooks now (many of them in English), with new releases coming in regularly!
➽ Both things contributed to me devouring a lot of e-books in 2020! This trend continues this year and I don't mind, as especially reading on my Kindle has been comfortable due to the ability to adjust settings and the low prices allowing me to check out books I'm excited for 🥰
Latest Kindle Purchases
Anna Dressed in Blood (Kendare Blake) 📱
The Boy Who Steals Houses (C.G. Drews) 📱
The Darkness Outside Us (Eliot Schrefer) 📱
3. Reading outside of my comfort zone
➽ I've been hosting my own Reading Challenge about reading outside of your comfort zone since last year! I had been wanting to branch out with my reading and expand my horizon for quite some time and doing my own challenge really helped me achieve that! I've talked about this a couple times already in my Check-In and Wrapup posts for my challenge, but I have a great time reaching for books I wouldn't have touched a couple years back! It's the best feeling to give a book you wouldn't normally read a chance only to find an unexpected new favorite 💗 I've also figured out that I love delving into genres I didn't use to read that often like Nonfiction, Mystery of Sci-Fi!
Favorite Books Outside My Comfort Zone 2020/2021
The Murderbot Diaries (Martha Wells) ~ Adult Sci-Fi 💗
Jackaby Series (William Ritter) ~ YA Mystery/Historical Fantasy 💗
The House in the Cerulean Sea (T.J. Klune) ~ Adult Fantasy 💗
4. Different Book Buying Habits
➽ Lately I have been thinking more about my book buying habits and specifically what books I want to display on my physical shelves. I want to curate my personal library more and focus on buying physical copies of favorite books that I don't own yet but would like to reread and add to my collection ❤ I want my shelves to reflect what books I love/are my favorites and get rid of any books that no longer spark any joy ~ so that I can be proud of my collection!
➽ I also have the bad habit of not reading books on my shelves because I'm afraid of not liking them and then not knowing what do do with them. I do unhauls periodically and I'm happy to give away books to my bookish friends (I'd also like to branch out and maybe look into shipping them to readers outside of Germany ~ any tips?). However, donating to the library isn't much of an option here (as almost all books are in English and they are more interested in German ones). Selling them on other channels usually means barely getting anything of value for them – which makes me sad 🥺 That's why I want to switch to buying more e-books and reserving buying physical books for certain occasions ~ mostly this will be preorders of fave ongoing series, books by my favorite author and books I REALLY feel in the mood for. To sum it up: I feel more comfortable buying books from my TBR as an e-book, as it's cheaper and doesn't take up space on my shelves if I don't like a book! There are also great deals on Kindle and if I love a book I can still buy it in physical later 🥰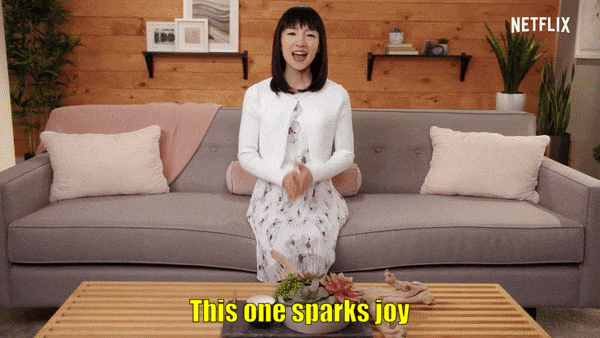 My motto for what books to show on my shelves 💕
5. Becoming a mix of mood reader & TBR lover
➽ I used to be a HUGE TBR Lover who always had intricate 10+ books TBR's planned 😅 Back in the day that worked for me, but as the years went on, I felt increasingly hindered by these long TBR's and they began to stress me instead of helping me plan for the month. Over the years I have also become a bit of a mood reader. I tend to pay attention to what kinds of books I'm feeling like reading instead of feeling stuck by a TBR, which has been super helpful! I love the feeling of reading a book you're incredibly excited about right this moment and it's a great way to reaffirm my love for reading ❤ It also means that I can give books a fair chance, as sometimes my mood determines if I like a certain type of book.
➽ In times of stress, I tend to like more light-hearted books and am less in the mood for Fantasy books, as I have to keep track of (sometimes very complex) worldbuilding. However, I still have a rough TBR of the month with books I want to prioritize, though it's a lot shorter and subject to mood changes! I also have a list of book options for certain moods that I can rely on when I'm not sure what book to read next (one of my least favorite bookish feelings)!
My Notion TBR Page (for September)
Here you can see what my Reading Month looked like at the time I was writing this post (feat. my Magical Readathon TBR)! 🥰
The icons before the title stand for the source (✨ ~ Owned, 💌 ~ Library // 🔄 ~ simply means reread and 🎧 ~ audiobook) & I usually include what challenges the books apply to, as well as if they have any kind of representation!
6. Reading more Graphic Novels
➽ I didn't use to read any graphic novels/comics/manga, which is so strange to think about now! The biggest reason was that I didn't have good access to them and buying them seemed pricey as most volumes are short and so quick to read 😅 However, ever since getting better library access and getting an Overdrive Account last year, I have been delving into the world of graphic novels head first 💗 I LOVE graphic novels now that I can pick them up on a whim and know more about what books are up to my tastes! (Doing the GraphicsAThon this year has been so much fun!) It's great to switch things up and reach for a graphic novel ~ they can stave off reading slumps and I find it so relaxing to try out a different, more visual medium of reading 🥰 Over the years I have found many great books to love and I'd definitely like to do a more in-depth recommendation post in the future!
Favorite Graphic Novels
Cat's Café (Matt Tarpley) 💕
Fence Vol 1-4. (C. S. Pacat) 💕
Heartstopper Vol 1-4. (Alice Oseman) 💕
How have your bookish habits changed over the years? What book format do you reach for most often? Are you a mood reader of TBR lover? 📚