This is a Series Review for all the Nevermoor books currently out! There will be NO spoilers in the individual Reviews. However, if you haven't read past a certain book, better not check out the review of the next installment!
CW's: Past Child Abuse/Neglect, Bullying, Death
Nevermoor: The Trials of Morrigan Crow (Nevermoor #1)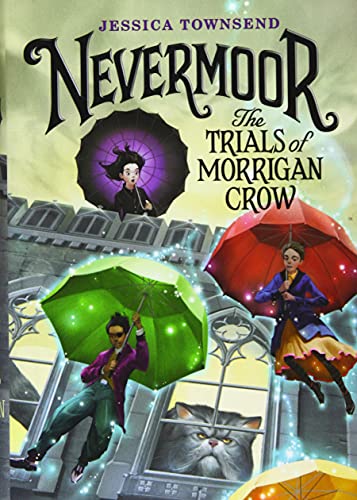 Published: October 12th 2017 by Little Brown Books for Young Readers
Morrigan Crow is cursed. Having been born on Eventide, the unluckiest day for any child to be born, she's blamed for all local misfortunes, from hailstorms to heart attacks–and, worst of all, the curse means that Morrigan is doomed to die at midnight on her eleventh birthday. But as Morrigan awaits her fate, a strange and remarkable man named Jupiter North appears. Chased by black-smoke hounds and shadowy hunters on horseback, he whisks her away into the safety of a secret, magical city called Nevermoor.
It's then that Morrigan discovers Jupiter has chosen her to contend for a place in the city's most prestigious organization: the Wundrous Society. In order to join, she must compete in four difficult and dangerous trials against hundreds of other children, each boasting an extraordinary talent that sets them apart – an extraordinary talent that Morrigan insists she does not have. To stay in the safety of Nevermoor for good, Morrigan will need to find a way to pass the tests – or she'll have to leave the city to confront her deadly fate.
"The point is—as far as the Society is concerned—if you are not honest, and determined, and brave, then it doesn't matter how talented you are."
➽ This was such a magical and whimsical story! 🥰 The Trials of Morrigan Crow has such a wonderful world and though there is much left to be explored you can tell how complex it is. The story starts with young Morrigan Crow who is one of the cursed children born on Eventide. She's supposed to die on her eleventh birthday and has already endured a life full of being blamed for everything that goes wrong. Her family is neglectful and glad to be rid of her, so Morrigan never dreamt of any future. But when someone – none other than the eccentric Jupiter North – offers her a chance to escape her fate, it seems like there might be hope after all!
➽ I loved Nevermoor and the Wondrous Society trials. Morrigan finds herself in the country of Nevermoor where she is safe from her curse and has the chance to join the prestigious Wondrous Society: if she successfully completes all trials, she will find a new family and great influence. There is so much whimsy and love in the worldbuilding, there are several different species (e.g. dragons, witches, and people with near-magical abilities), concepts like 'Wunder' as a source, and even magical animals. I loved following along the trials Morrigan undergoes and also hearing about her life at Jupiter's hotel. There were many great secondary characters like Fenestra, the magical cat or Hawthorne., Morrigan's first and best friend who is also competing at the Trials. This has such nice found family elements!
➽ I was especially intrigued by the mysterious Jupiter North! He is a member of the Wondrous Society and Morrigan's sponsor, in fact, she's the first child he is mentoring for the trials. I was all here for Jupiter basically becoming a parental figure for her and opening up a whole new world Morrigan never knew existed or could be for her. However, he's also evasive with his answers, always busy and not telling her everything that's going on – of course, we later find out what his reasons are. Jupiter is eccentric, well-beloved by many, and was always such a fun presence whenever he appeared in the book!
Wundersmith: The Calling of Morrigan Crow (Nevermoor #2)
Published: November 13th 2018 by Little Brown Books for Young Readers
Morrigan Crow may have defeated her deadly curse, passed the dangerous trials and joined the mystical Wundrous Society, but her journey into Nevermoor and all its secrets has only just begun. And she is fast learning that not all magic is used for good.
Morrigan Crow has been invited to join the prestigious Wundrous Society, a place that promised her friendship, protection and belonging for life. She's hoping for an education full of wunder, imagination and discovery – but all the Society wants to teach her is how evil Wundersmiths are. And someone is blackmailing Morrigan's unit, turning her last few loyal friends against her. Has Morrigan escaped from being the cursed child of Wintersea only to become the most hated figure in Nevermoor? Worst of all, people have started to go missing. The fantastical city of Nevermoor, once a place of magic and safety, is now riddled with fear and suspicion…
"Morrigan frowned. She sometimes felt that her true knack had nothing to do with being a Wundersmith. That it was, in fact, her remarkable ability to assume the worst. It came, of course, from a lifetime of believing she was cursed, and it seemed to be stitched into the very fabric of her being, even now. Telling her not to worry about bad things happening around her was like telling Hawthorne not to get excited about dragons, or Jupiter not to be ginger."
➽ Now that Morrigan is a part of the Society we get to see her Unit!! I was curious about the 8 other kids that won the Trials and that are supposed to become a family for Morrigan. Of course we already know Hawthorne, since he's Mog's best friend and remains her biggest advocate – their friendship is just too precious, it never fails to warm my heart 🥺 Then there's Cadence, the mesmerist that we already meet in the first book. I loved that we got to see more of her in this book,as she's such an intriguing character. She's got snark and ambition, that is however also hiding some vulnerability. Everyone forgetting her as a side effect of her powers really takes a toll. Morrigan has always been able to remember her and I love that they slowly became friends, so now we've got a Golden Trio (Morrigan, Hawthrone, Cadence). I also liked getting to know the other kids, though most of them are wary and some downright antagonistic to Mog when they find out she is a Wundersmith.
➽ Morrigan grapples with her identity as a Wundersmith and what that says about her morality. Wundersmiths are the sinister specter haunting Nevermoor and the few people at the Society that know about her true nature are wary and paranoid about her powers. It really broke my heart as Morrigan was so hopeful she would finally get her own family at the Society and leave behind her identity of the Cursed Child. However, once again she is different from the others and her powers are associated with evil and feared. Few of her supposed new team and family members trust her and her class schedule is largely empty. While everyone else has so many cool classes she is forced to relieve the supposed evils of the Wundersmiths of the past, prompting her to wonder if there is something evil and rotten inside her after all. No one is willing to teach her more about her powers and the only other Wundersmith is the murderous, hated Ezra Squall.
➽ However there are so many wonderful, lighthearted moments! Morrigan has her family at the Deucalion Hotel that always has her back even when things are difficult with the Society. Jupiter remains one of my favorite characters. He is sadly away often and not able to help Mog as much as he'd like, but it's clear that he cares so much about her. He's basically her surrogate father at this point. Of course, there is also Fenestra the Magnificat and as a fellow cat lover I adore the idea of a giant, magical cat 🥺
Hollowpox: The Hunt for Morrigan Crow (Nevermoor #3)
Published: October 27th 2020 by Little Brown Books for Young Readers
Morrigan Crow and her friends have survived their first year as proud scholars of the elite Wundrous Society, helped bring down the nefarious Ghastly Market, and proven themselves loyal to Unit 919. Now Morrigan faces a new, exciting challenge: to master the mysterious Wretched Arts, and control the power that threatens to consume her.
But a strange and frightening illness has taken hold of Nevermoor, turning infected Wunimals into mindless, vicious Unnimals on the hunt. As victims of the Hollowpox multiply, panic spreads. And with the city she loves in a state of fear, Morrigan quickly realizes it's up to her to find a cure for the Hollowpox, even if it will put her – and everyone in Nevermoor – in more danger than she ever imagined.
"Morrigan turned to her friends, nonplussed. 'What's wrong with being respectful?'
'Obviously takes more than two brain cells,' Jack muttered.
'Yeah, and they've only got one between them,' added Cadence with a snort of laughter."
➽ Morrigan uncovers more about her powers and what it means to be a Wundersmith. She finally gets admitted to the School of Wundrous Arts within the Society, a part that has been kept hidden since the last Wundersmiths died. Through the memories of past lessons, Morrigan can at least learn to control her powers even though there is no one in person to teach her. She also meets the academic group studying Wundersmiths who welcome her with open arms, but despite their efforts aren't able to 100% understand her. Morrigan gets caught up in her new shiny lessons and it breaks my heart to still see her feel so alone in this, miles behind where she should be as a Wundersmith right now with only long-dead Wundersmiths as company. The only person alive able to teach her is still the evilest man who ever lived – Ezra Squall – and Morrigan refuses to have anything to do with him. Even worse is the Society not knowing if they want to keep Morrigan hidden or use her for their own good. Jupiter, the people at the Deucalion and her friends from Unit 919 have her back, but not everyone else has her best interests at heart.
➽ Meanwhile, a grave disease is troubling Nevermoor. It only affects Wunimals (sentient people with animal features) and turns them into ravaging beasts, before landing them in a coma. Given current events, this hit a bit close to home. Morrigan and her friends are feeling increasingly uneasy about the rate of infection and how it brings out the worst in people. Hollowpox explores the prejudice against Wunimals and how it's weaponized against them, turning them into a scapegoat instead of acknowledging them as victims. I thought that this was really well done and the turns the story took kept me hooked. By the end, I had to keep reading as there was twist after twist and some new revelations about the relations between the Wintersea Republic and Nevermoor. I honestly cannot wait for the next book, because there seems to be a bigger villain in the series and there is still so much we don't know about the Courage Square Massacre and the foundation of the Wintersea Republic 👀
➽ This book also managed to give us more background on Ezra Squall. I still think that he is a great villain and his dynamic with Morrigan is so interesting. Squall has done reprehensible things and is only interested in using his abilities as a Wundersmith for power and control over others. However, he is the only person able to understand Morrigan, her powers, and what she's struggling with. He's the only one left who could teach her how to control her abilities, yet Squall is still cruel and selfish. I liked that we got to see some glimpses behind his facade and saw him through the memories as a younger boy. Morrigan sees two sides to him: the boy and the monster. It's clear that he's got some hidden pain, but he's quick to get angry and intimidating when pushed. I need to know so much more about his motivations and cannot wait for the next books!
Have you read the Nevermoor Series? What is your favorite Middle Grade Fantasy book or book series? 💖