Hello fellow bookworms ☀️ We've officially reached the halfway point of the year 😱 June went by much quicker compared to May and didn't feel as eventful, as I was mostly focused on my master thesis topic. We got some sunny weather after all, so I spend time outside and finally ate some ice cream 🍦
Important Resources
🔁 = Reread 💌 = Library Books ⌛ = Digital Arc
📚 = #TackleYourTBR 📖 = #DevourYourTBR 😊 = Buddy Read 💕 = 12 Book Recs by Friends
I read 15 books in June – it was a really good reading month!! 🥳 I participated in #ClearUrSht, a month-long Readathon dedicated to reading your owned books and it was a lot of fun 💕 One of my goals this year was to get down my Owned TBR and this Readathon helped me give an extra push! I mostly read books I hauled this year, but that means that I have read around 70% of the books I got in 2022!! 😎 I also tackled two books that I have been putting of for years and I'm close to finishing the Shadow Game series. In total, I read 12 of my owned books! The rest were 2 library books and 1 reread. Audiobooks and lots of reading motivation helped me tackle many amazing books. I had 3 new 5-star reads this month!! 🥰
I read 9 books out of my comfort zone this month! I found books that I really enjoyed (including 2 nonfiction books) and 4 books that didn't 100% convince me. Ace and The Quiet at the End of the World were definitely the highlights of this month 💕
Ace (Angela Chen) ⭐⭐⭐⭐.5 📖💌🎧
A Court of Wings and Ruin (Sarah J. Maas) ⭐⭐⭐⭐.5📚🎧
The Sun Down Motel (Simone St. James) ⭐⭐⭐⭐ 📚
Mediocre (Ijeoma Oluo) ⭐⭐⭐⭐ 📚
The Quiet at the End of the World (Lauren James) ⭐⭐⭐⭐.5 📚📖
A Gathering of Shadows (V.E. Schwab) ⭐⭐⭐.5 📚📖🎧
A Conjuring of Light (V.E. Schwab) ⭐⭐⭐.5 📚📖🎧
Love & Other Disasters (Anita Kelly) ⭐⭐.5 📚📖
Across a Field of Starlight (Blue Delliquanti) ⭐⭐.5 📖💌
1. What's Not to Love (Wibberley & Siegemund-Broka) ⭐⭐⭐⭐⭐📚
2. Between You, Me and the Honeybees (Amelia Diane Coombs) ⭐⭐⭐⭐⭐📚💕 {Recommended by Marie}
3. King of Fools (Amanda Foody) ⭐⭐⭐⭐⭐📚📖
4. A Court of Wings and Ruin (Sarah J. Maas) ⭐⭐⭐⭐.5📚🎧
5. Tokyo Ever After (Emiko Jean) ⭐⭐⭐⭐.5📚🎧
6. The Quiet at the End of the World (Lauren James) ⭐⭐⭐⭐.5 📚📖
7. The Sun Down Motel (Simone St. James) ⭐⭐⭐⭐ 📚
8. Mediocre (Ijeoma Oluo) ⭐⭐⭐⭐ 📚
9. The Strangeworlds Travel Agency (L.D. Lapinski) ⭐⭐⭐⭐ 📚
10. A Gathering of Shadows (V.E. Schwab) ⭐⭐⭐.5 📚📖🎧
11. A Conjuring of Light (V.E. Schwab) ⭐⭐⭐.5 📚📖🎧
12. Love & Other Disasters (Anita Kelly) ⭐⭐.5 📚📖
13. Ace of Shades (Amanda Foody) ⭐⭐⭐⭐⭐ 🔁
14. Ace (Angela Chen) ⭐⭐⭐⭐.5 📖💌🎧
15. Across a Field of Starlight (Blue Delliquanti) ⭐⭐.5 📖💌
Favorite Books 💕
📚 Bingo Board Update 📚
I participated in the Books out of the Blue Bingo (a 2-month-long Discord server challenge by Destiny) this month and here is my filled-out board! 🥰
What I've been up to in May 🌸 Internship, Thesis & Lots of Books ~ Recommendations for Pride Month 🌈 Romance, Fantasy & More 
Get to Know the Fantasy Reader Tag ✨ Recs & Origin Story ~ My Favorite Mangas 💕 feat. What's On My TBR ~ Mid Year Book Freakout Tag ⭐ 2022 Edition
For this section of my wrapup I'm linking up with the Favorite Blog Posts of the Month Meme that has been created by Kristin @ kristinkravesbooks to showcase our favorite blogs of the month! 💗
June went by so fast. It was mostly focused on getting my Master's thesis topic, something that started last month and took literal ages 🙈 That made it a stressful experience, as I had different interviews and every department had different deadlines. The responsibility to find a topic was all on me and in the middle of the month, I finally got a concrete offer! It's going to be an online study about movement and health, but I still don't know the details. You work on the topics in small groups and since everyone else is still searching for topics (and hasn't committed yet), I don't know my teammates. A lot is up in the air, but I'll probably know more in the coming months. It was a relief to finally have a topic and not have to worry! This was pretty much my focus this month 😅 I did some nice things like meeting friends, having a picnic, and spending some time outside though!
💫 What I Watched in June 💫
Stranger Things (S4.1) ~ This might be an unpopular opinion, but I like the later seasons a lot more than the first one 😂 I really

had a good time with the first part of season 4

and I cannot wait for the second part to come out tomorrow 🥳
First Kill (S1) ~

Forbidden Love between a vampire and a vampire hunter

– but make it sapphic!! This is a fantastic teen drama with lots of heart and I had such a good time watching it! It was well-written and I'm always here for more vampire content (especially with LGBTQ rep= 🥰
As the Crow Flies (S1) ~ A Turkish Netflix Original about an

intern at a newsroom who wants to take over the show and become famous

. This was such an interesting drama full of twists and intrigue – nothing groundbreaking but fun to watch 😄
I cannot believe it's already July! My internship will be ending soon and after that, it's time to take some time off and relax 😊 I'll be taking a week completely for myself and also have a short 4-day trip planned (visiting a German city at a lake) 🛍️ Apart from that I don't have any big plans, there's still more planning to be done for my thesis but idk when we'll start with that, it depends on a lot of factors! Regardless, I'll be making some use of the summer days ahead and of course read lots 😄
📚 #DevourYourTBR 📚
This month's challenge is to read books about "journeys and adventures, vacations, and books that take place outside of your country".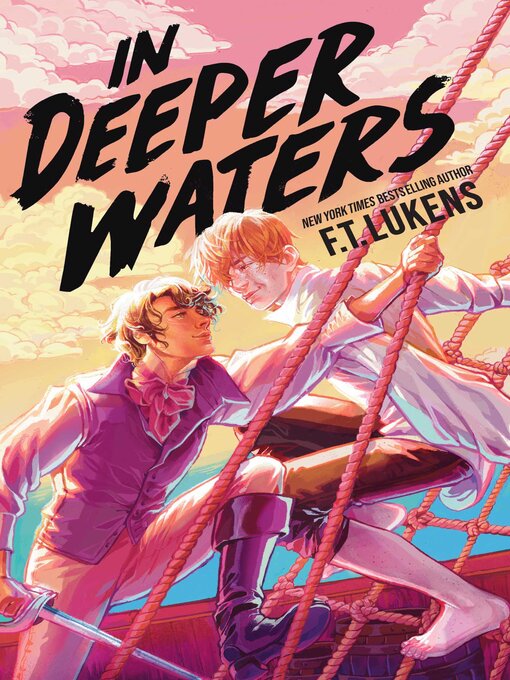 The Roughest Draft (Wibberley & Siegemund-Broka) 📚
Beach Read (Emily Henry) 💌🎧
In Deeper Waters (F.T. Lukens) 💌
📚 Some Leftover June Reads 📚
You'd Be Home Now (Kathleen Glasgow) 📚
The Library of the Unwritten (A.J. Hackwith) 📚
Finlay Donovan Is Killing It (Elle Cosimano) 📚
What were you up to in June? What was your favorite book? How are you doing? 📚