Hello fellow bookworms 🌻 I cannot believe how quickly the months fly by! When I was doing my internship the weeks felt a lot slower, but now that I'm done so much time has passed already. August wasn't too exciting tbh, as I'm mostly waiting to hear back about my Master thesis and everyone is either on vacation or doing something else. At least I had the Magical Readathon to keep my company and I could dedicate a lot of time to reading 🥳
Important Resources
🔁 = Reread 💌 = Library Books ⌛ = Digital Arc
📚 = #TackleYourTBR 📖 = #DevourYourTBR 😊 = Buddy Read 💕 = 12 Book Recs by Friends
I read 15 books in August! Most of them (except for 3 rereads) were for the Magical Readathon. I read 8 books for my character's career and then 4 extra books for Adventure Quests 😊 Rating-wise this was a fantastic month, I only had one 3-star book, everything else was even higher rated! I found two new favorite books (See You Yesterday & Empty Smiles) to add to my best of 2022 shelf and loved the rest of my books as well 🥰 I tackled a 800-paged tome (House of Earth and Blood) with Destiny & Malli which was great ❤️ You can also tell that I'm currently at home because I barely used any audiobooks 🙈
I read 6 books out of my comfort zone this month! I loved almost all of the books I read (TWO 5-star and TWO 4.5 star reads 🥳), so I'd say that it was a successful month! I didn't read any nonfiction this month, but I hope to read Jenette McCurdy's book next month because everyone has been raving about it! My hold for the audiobook should come in soon 😊
Empty Smiles (Katherine Arden) ⭐⭐⭐⭐⭐💌
House of Earth and Blood (Sarah J. Maas) ⭐⭐⭐⭐.5 📚📖😊
Book Lovers (Emily Henry) ⭐⭐⭐⭐.5 📚
Captured (M.N. Jolley) ⭐⭐⭐⭐ 📚 📖
Descender Vol 1: Tin Stars (Jeff Lemire & Dustin Nguyen) 💌
A Prayer for the Crown-Shy (Becky Chambers) ⭐⭐⭐.5 💌🎧
💫 Magical Readathon Wrapup 💫
1. See You Yesterday (Rachel Lynn Solomon) ⭐⭐⭐⭐⭐ 💌📖
2. Book Lovers (Emily Henry) ⭐⭐⭐⭐.5 📚
3. The Queen's Rising (Rebecca Ross) ⭐⭐⭐⭐ 📚
4. Fat Chance, Charlie Vega (Crystal Maldonado) ⭐⭐⭐⭐ 📚 📖
5. Captured (M.N. Jolley) ⭐⭐⭐⭐ 📚 📖
6. Reckless: Silver Tracks (Cornelia Funke) ⭐⭐⭐⭐ 💌
7. Crumbs (Danie Stirling) ⭐⭐⭐⭐ [webtoon]
8. Descender Vol 1: Tin Stars (Jeff Lemire & Dustin Nguyen) 💌
9. Empty Smiles (Katherine Arden) ⭐⭐⭐⭐⭐💌
10. House of Earth and Blood (Sarah J. Maas) ⭐⭐⭐⭐.5 📚📖
11. Ravenfall (Kalyn Josephson) ⭐⭐⭐⭐ ⏳
12. A Prayer for the Crown-Shy (Becky Chambers) ⭐⭐⭐.5 💌🎧
13. Small Spaces (Katherine Arden) ⭐⭐⭐⭐⭐🔁
14. Dead Voices (Katherine Arden) ⭐⭐⭐⭐⭐🔁
15. Dark Waters (Katherine Arden) ⭐⭐⭐⭐⭐🔁
Favorite Books 💕
2022 Out of Comfort Zone Reading Challenge 💗 Mid-Year Checkin ~ The Oldest Books on my TBR 📚 To All the Books I haven't read yet 👀
Blog Tour: 5 Reasons to Read These Fleeting Shadows by Kate Alice Marshall 👻 ~ The Trope Book Tag 💖 Enemies to Lovers, Found Family & More!
Reading for 24 Hours 💫 feat. Book Lovers & Crumbs #magicalallnighter ~ Joining the #Bookoplathon for the first time 🎲 feat. Finlay Donovan, The Sunbearer Trials & More
For this section I'm sharing my Favorite Blog Posts of the Month 💗
August wasn't that exciting tbh. I thought that I'd already been working on my Master's thesis and getting to know the people in my research team. However, it turned out that my thesis supervisor is on holiday until the beginning of September 🙈 I admit, I felt a bit annoyed as they had suggested we'd get started in August and made me think we'd have the first meeting with everyone … with no mention that they'd be away for all of August. I have my spot in the department, but I don't know who I'm working with and what exactly we'll do. It's going to be an online study, so I thought we'd be preparing the questionnaire and recruiting in September. I hate not knowing what the plan is, especially as I have a time constraint as well. I'm planning on finishing the thesis within the next semester (so I don't need to do another extra semester), but also have to keep in mind that it's supposed to be a 6-month duration. I wanted to officially apply in October, but with everything being delayed I'm getting a bit nervous. I wanted to take August to relax, but it's a bit hard when the thesis is in the back of my mind. I'm hoping September will get me some answers 🙏🏻
💫 What I Watched in August 💫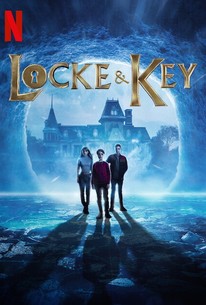 Money Heist: Korea (S1) ~ Unpopular opinion coming in, but

I loved this more than the original Money Heist

😄 The storylines are very close to each other, but the Korean version (and especially the characters) felt more intriguing to me and I hope we get more seasons in the future!
Never Have I Ever (S3) ~ This

show is still so much fun

!! I loved getting to see different relationships this season and I'm just so hooked on the story. There are a bit too many love interests for me personally, but I'm still invested! 👀
Locke & Key (S3) ~ I have to say that this is

probably the weakest season

, because the antagonist isn't very exciting or complex. Nevertheless, I still had fun with the characters and though that this

gave us a great, satisfying ending

😊
September means Autumn & Halloween coming closer 👀 With how the weather's looking, we'll have to wait a bit more for the autumn vibes, but I'm SO ready for summer to be over tbh. I'm still not sure what September will bring exactly, but I hope I get a more concrete plan for my Master thesis, so I know how the workload will be 🙏🏻 Other than that I'm technically still on my semester break and I'll be doing another Readathon 😊 I'm finally joining the Bookoplathon and I'm ready for have a lot of fun with this Readathon throughout the month!
📚 #DevourYourTBR 📚
This month's challenge is to read books "recommended by other readers".
Finlay Donovan Is Killing It (Elle Cosimano) 📚
Long Story Short (Serena Kaylor) 💌
The Sunbearer Trials (Aiden Thomas) ~ preorder
🎲 I'm participating in Bookoplathon for the first time! 🎲
Check out my TBR in my signup post!! 🥰
What were you up to in August What was your favorite book? How are you doing? 🌻