Hello fellow bookworms 👻 I'm a huge scaredy cat, but I love watching spooky shows and movies during October. I don't do 'real' horror movies, as my anxiety cannot handle them, but I've tested out some scarier and more atmospheric content in the past years. Today I'm recommending 5 movies and 5 shows that are spooky, but not downright terrifying – perfect for any fellow scaredy cats! 3 years ago I made a similar post called Spooky Content for Scaredy Cats 👻🐱 that you can also check out for even more recommendations!!
I did my own SPOOKmeter to denote how scary they are and also included content warnings, as far as I can recall. Some of these are even based on books, which I'll also include 👀 The short synopsis are all taken from IMBD!
SPOOKmeter
👻 = spooky atmosphere, but not really scary
👻👻 = has its spooky moments, but overall not really scary
👻👻👻 = unsettling & ominous vibes
👻👻👻👻 = some jumpscares and chilling moments
👻👻👻👻👻 = Jumpscares Galore, Legitimally gave me chills
A Monster Calls
SPOOKmeter: 👻
CWs: Grief & Parent with Cancer, Bullying, Divorced Parents
"Twelve-year-old Conor O'Malley must face his mother's terminal cancer, his strict grandmother, his estranged father, and the school bully,. One night at 12:07 a.m., Conor is visited by the tree-like Monster, who tells Conor it has to come to tell him three true stories, after which Conor must tell the Monster his own story: the truth behind his nightmare."
➽ This is an adaptation of one of my favorite books. If you've read the illustrated edition – which I highly recommend – you see how the movie brings to light the 'monster' and its stories. The atmosphere and emotions were well transported into the movie, but I still liked the book a lot better and felt like the adaptation itself missed the spark that made me love the source material so much. Still a good movie that does the book justice!
The Curse of Bridge Hollow
SPOOKmeter: 👻👻
CWs: Features Clowns, Zombies & Skeletons, Arachnophobia (Giant spiders)
"A teenage girl, who accidentally releases an ancient and mischievous spirit on Halloween which causes decorations to come alive and wreak havoc, must team up with the last person she'd want to in order to save their town – her father!"
➽ One of Netflix's newest Halloween movies. I watched this one right when it came out and it's certainly entertaining. The father-daughter team-up was fun to watch, especially as the father is such a skeptic and trying to find a logical explanation for what's going on. The visuals are nice and since Bridge Hollow is all about Halloween decorations, you'll get great spooky vibes! I also liked the nods to other movies like Hocus Pocus.
Miss Peregrine's Home for Peculiar Children
SPOOKmeter: 👻👻👻
CWs: Loss of a Loved One & Grief, PTSD/Trauma, Violence, Death
"When Jacob Portman discovers clues to a mystery that stretches across time, he finds Miss Peregrine's Home for Peculiar Children. But the danger deepens after he gets to know the residents and learns about their special powers."
➽ I have to admit that the book series this is based on is much better. As a movie adaptation, this wasn't the best (the ending was so far removed from the book) and I wish this franchise would get a second chance as a TV series. However, if you ignore this, I feel like the movie itself was entertaining enough and had an unsettling and haunting atmosphere. That's the thing it managed to get right: the feeling of unease as Jacob travels to a deserted island in order to uncover his grandfather's secrets.
Nightbooks
SPOOKmeter: 👻👻👻
CWs: Kidnapping, Violence, Mentions of Bullying
"A young boy named Alex becomes the prisoner of a witch. To avoid certain death, he convinces her to let him tell her a scary story every night. Upon meeting the witch's servant, Yazmin, the two must use their wits to escape her apartment, a magical labyrinth filled with various dangers, before the witch kills them both."
➽ I haven't yet read the movie this is based on, but I hope to do so next year! I had zero expectations for Nightbooks and was pleasantly surprised by how much fun I had with it. Alex and Yas are great characters and their actors really brought out their personalities and friendship. I also loved the apartment setting and the element of the nightly stories. The ending had some nice twists and turns that kept me engaged!
There's Someone Inside Your House
SPOOKmeter: 👻👻👻👻
CWs: Stalking, Invasion of Privacy, Fire/Burning, Death/Murder, Violence
"Makani Young has moved to quiet, small-town Nebraska, but as the countdown to graduation begins, her classmates are stalked by a killer intent on exposing their darkest secrets, terrorizing victims while wearing a life-like mask of their own face."
➽ I watched the movie first, but also read the book this year! There are a lot of mixed reviews for both of them, but I found them entertaining and fast-paced. The movie is a fun Slasher with great suspense and as I'm still pretty new to the horror genre, I'm probably easier to impress. The only thing I wish had been better developed was the actual villain, the reveal was a bit underwhelming.
Locke & Key (S1-3)
SPOOKmeter: 👻👻
CWs: Loss of a Loved One & Grief, Death/Murder, Alcoholism (of a parent), Manipulation
"After their father is murdered under mysterious circumstances, the three Locke siblings and their mother move into their ancestral home, Keyhouse, which they discover is full of magical keys that may be connected to their father's death."
➽ This is based on a graphic novel series by the same name, which I'm not planning on reading as the art style isn't what I personally like. However, I still got to experience the story through three seasons and the show is now complete, so you can binge all of it. I LOVE the idea of different keys holding special powers and liked following around the Locke siblings as they uncover the secrets of their new home with all the dangers that brings.
The Sandman (S1)
SPOOKmeter: 👻👻👻
CWs: Captivity, Death/Murder, Child Abuse, Graphic Gore, Eye Trauma, Suicide & Violence (EP 5), Abuse, Kidnapping & Animal Death (EP 11)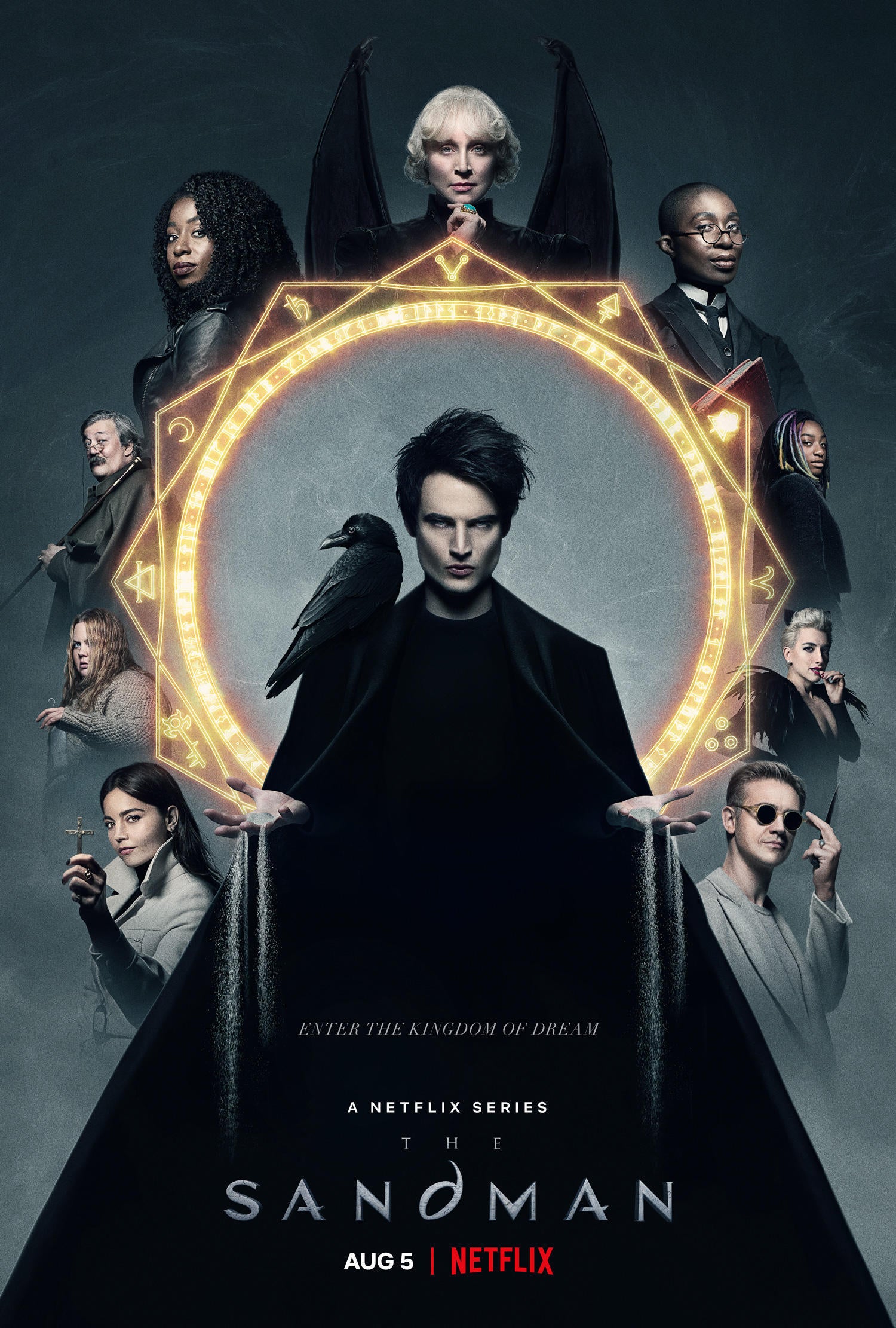 "A wizard attempting to capture Death to bargain for eternal life traps her younger brother Dream instead. Fearful for his safety, the wizard kept him imprisoned in a glass bottle for decades. After his escape, Dream, also known as Morpheus, goes on a quest for his lost objects of power."
➽ My absolute favorite show of the year!!!! I hadn't read the graphic novels before – I'm still waiting for my library hold to come in – but once again show based on Neil Gaiman's work drew me in immediately. (The other show was Good Omens) I had zero expectations and ended up becoming obsessed with The Sandman. I LOVED it all: the characters, the cinematography, the storylines, and the lore behind the Endless. I'm praying that we get a second season because I need more of the graphic novel to be adapted!!
Archive 81 (S1)
SPOOKmeter: 👻👻👻👻
CWs: Cults & Rituals, Gaslighting, Surveillance/Lack of Privacy, Violence
"When archivist Dan Turner takes a mysterious job restoring a collection of damaged videotapes from 1994, he finds himself reconstructing the work of documentary filmmaker Melody Pendras and her investigation into a dangerous cult."
➽ Forever bitter that Netflix canceled this after the first season because it was SO good!! Archive 81 is based on the podcast by the same name, which I hadn't listened to before. It's got a downright creepy atmosphere and perfectly unites two stories in one show. In the present day, we focus on Dan as he restores the tape and uncovers the sinister secret of Melody and her investigation. There was so much suspense and the show was well-crafted, so it ended up being one of my favorites this year!
The Haunting of Bly Manor (S1)
SPOOKmeter: 👻👻👻👻👻
CWs: Loss of a Loved One & Grief, Death/Murder, Toxic relationship, Manipulation, Cheating, Mentions of Homophobia
"A young governess is hired by a man to look after his niece and nephew at their family country house after they fall into his care. Soon after arriving at the Bly estate, she begins to experience strange occurrences and a grim history starts to unravel."
➽ I finally finished The Haunting of Bly Manor this year and while I didn't like it quite as much as Hill House, it was still engaging and creepy. The pace is a bit slower and there are fewer jumpscares compared to its predecessor, but that suited me just fine. I loved the sapphic relationship between Dani and Jamie & grew quite attached to Hannah and Owen as well. Apart from the last two episodes being the weakest, I quite enjoyed this!
The Haunting of Hill House (S1)
SPOOKmeter: 👻👻👻👻👻
CWs: Death/Murder, Graphic Suicide, Addiction, PTSD/Trauma, Loss of a Loved One
"Explores a group of siblings who, as children, grew up in what would go on to become the most famous haunted house in the country. Now adults, and forced back together in the face of tragedy, the family must finally confront the ghosts of their past."
➽ Based on the classic story by Shirley Jackson, this is one of the scariest shows I watched! The Haunting of Hill House is full of ghosts and jumpscares. It switches between past and present, telling the story of the family at Hill House and how they are doing years later in the aftermath. The storytelling and visuals were amazing and despite being a bit scared at times, I was really hooked by the story and its characters!
Have you watched any of these shows/movies? What are your favorite spooky things to watch? 👻