Hello fellow bookworms ☀ I was fortunate enough to receive a digital copy of If It Makes You Happy through participating in the Xpresso book tour! This book sounded really good and I'm happy to report back that I had a great time reading If It Makes You Happy, I highly recommend it and will be going in the details later! For now, let's get into what this book is about 😊 If you click on the image down below you are redirected to the blog tour schedule, so you can check out all the other amazing posts!
CW's: Emotional Abuse, Fatphobia
Representation 🌷 Queer Black Fat MC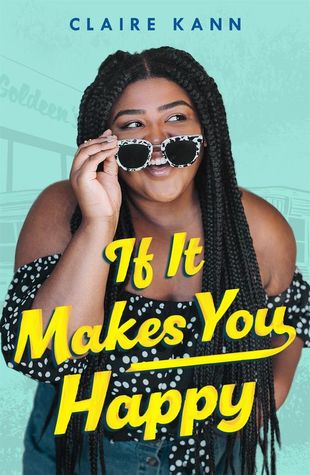 High school finally behind her, Winnie is all set to attend college in the fall. But first she's spending her summer days working at her granny's diner and begins spending her midnights with Dallas—the boy she loves to hate and hates that she likes. Winnie lives in Misty Haven, a small town where secrets are impossible to keep—like when Winnie allegedly snaps on Dr. Skinner, which results in everyone feeling compelled to give her weight loss advice for her own good. Because they care that's she's "too fat."
Winnie dreams of someday inheriting the diner—but it'll go away if they can't make money, and fast. Winnie has a solution—win a televised cooking competition and make bank. But Granny doesn't want her to enter—so Winnie has to find a way around her formidable grandmother. Can she come out on top?
Get the Book Here!
About the Author
Claire Kann is the author of LET'S TALK ABOUT LOVE and an award-winning online storyteller. In her other life, she works for a nonprofit that you may have heard of where she daydreams like she's paid to do it. Find out more by visiting her website: www.clairekann.com (and while you're there, tell her about your cats. She loves cats. A lot.)
➡ Website
➡ Facebook
➡ Twitter
Why You Should read If It Makes You Happy
Thank you to Swoon Reads, Xpresso Book Tour and Netgalley for providing me with a digital Arc in exchange for an honest Review!
The main character Winnie ☀ Now she is a force to behold and I can happily say that I immediately liked Winnie. She is a queer black fat girl and has often experienced a number of hate against her on ground of her sexuality, size and skin color. The book mainly tackles how she combats fatphobia and promotes body positivity, as Winnie feels comfortable in her body and does not want to lose weight. I liked that the author confronted fatphobia head on. Winnie is such a kind person; she is always there for everyone and often takes care of everyone but herself. She is constantly trying to fix things and be there for her friends, that she is incredibly loyal to. However, she is also someone not to be messed with. Winnie speaks her mind and stands up to herself, even when it's hard and you should better not hurt her friends. In contrast, I liked that the book explored how she did have troubles with public speaking and being the center of attention, it was very relatable to me. All in all, Winnie has a good heart and even when she makes mistakes is very big on communication and working through problems.
The supporting characters & the amazing friendships ☀ Literally every character has their own story and personality and shines a new light on the story. I immediately liked Winston, Winnie's brother and aspiring chef, because he has such a strong, but also realistic relationship with his sister. He's 14 years old and therefore also prone to being annoyed by Winnie, but he'll always stick with her, as she has always protected him in turn. This is one of the best sibling relationships I have read about because it feels so real and genuine: the author explores both the ups and downs. Winnie's cousin Sam is also part of the family and though it took me a while, she grew on me as well. Sam is spoilt as Winnie is always cleaning up her mess due to being soft on her. Despite being a bit naive, Sam generally means well and is pretty much the peacemaker in the family. I also liked Winnie's – let's be real – soulmate Kara, who she's in a queerplatonic relationship with. Both are very committed to each other and take their relationship seriously. I liked seeing how much they meant to each other and set out to support the other whenever possible. However, things aren't always perfect e.g. when Kara makes a big mistake and doesn't handle it very well. I liked that the book was very big on communication, but in a totally realistic way. I think that talking is vital in addressing problems and maintaining healthy bonds with people, but I liked that the book also highlighted that sometimes people need to be left alone, before they are ready to open up.
Toxic family relationships handled well ☀ This one concerns Winnie's grandmother. In the beginning I wasn't sure about her, as she seemed to be this stricter and slightly bossy grandma, that however would fight for her family. The book takes us on a journey by watching Winnie realize a lot about her grandma and her relationship with her. It's a very messy and toxic one, that Winnie never really questioned, until it becomes too much for her. Her grandmother is very manipulative, and I would also say emotionally abusive, as she constantly pushed Winnie to do what she wants, punishing her when she goes off script and never offers her an explanation. In the end Winnie has to always apologize to 'smooth things over' and even has been thrown out of the diner. It's clear that her grandmother isn't listening to anything she says and probably won't change her problematic pattern, of never admitting her own mistakes. The story never vilified her and instead showed both the good and the bad sides and how Winnie figures out that this isn't a healthy relationship with her anymore.
Slowburn romance & smalltown fun ☀ A main part of the book is Winnie working in her grandmother's diner and generally spending her summer in the small town of Misty Haven, where she is surprisingly crowned Summer 'Queen' and must represent the city with her suitor Dallas. Now Dallas is also a supporting character that I loved so much! It took him a while to open up, but he is generally a good guy who has a gentle heart. He's a bit secretive at first, but he's got a huge crush on Winnie and you can see how they are drawn to each other. I really liked their relationship, it was defined by honesty, getting to know the other person and a lot of great chemistry. Winnie likes him against her better judgment in the beginning, but the good news is that he is an honorable boy who is genuinely interested in her. He's respectful and trying to fit into Winnie's world. As she's in a queerplatonic relationship with Kara, dating someone else is an option, but she makes clear to Dallas, that Kara is a part of her and will not become second choice in the end. Of course, there are struggles trying to make it work, but they were very realistic and in the end Dallas and Winnie had such a beautiful slow burn romance that was entirely realistic!
Are you going to read If It Makes You Happy? What is your favorite book set in a small town? ☀