Hello fellow bookworms ✨ Remember when I participated in the NEWT's in August? There is exciting news: the creator BookRoast is making an extra round of the Readathon, more specifically 1 week Readathon you can technically participate in no matter if you have done the OWL's or NEWT's! However, it will help you if you want to participate in the next OWL's which will be in April 👍
The Readathon is called the Charms Extra Credit and is taking place from October 8th to October 14th! The idea behind it is that it's an extra course you can take that gives you an advantage for the next OWL's Readathon – however, this only applies to the subject Charms! You can technically do this Readathon if you have done the previous ones or none at all, but the reward is that you will be able to start early for the OWL Readathon next year! There are 5 challenges and by completing a challenge you are allowed to start one day early, meaning that if you complete all challenges yo are allowed to start 5 days before the official OWl Readathon. Again this only works if you are doing an OWL in Charms!
I only did the NEWT's and I'm planing to do the OWL's next year (super excited for that!) 😄 As I did Charms for my NEWT's + got an O, so I will have to do my OWL in Charms anyway, which is why this Readathon works perfectly for me!
Here are the challenges (each based off a spell!)
Alohomora ✨ read a book that's first in a series
Accio ✨ book that's top of your TBR
Incendio ✨ words 'fire' or 'flame' in the title/series name, or flame picture on the cover
Rictusempra ✨ book that 'tickles you the right way' (exciting trope/theme/genre)
Lumos ✨ book with a light cover
Announcement Sheet ✨ Instagram Challenges
My Charms Extra Credit TBR✨
I will actually be on vacation from October 9th to 13th, but I still wanted to participate, as I love these Magical Readathons! I'll have the day before and after my vacation for lots of reading and I'm taking a longer train journey, so I should be able to get lots of stuff read! I will probably post some updates on my Twitter Account whenever I have the time! I'm aiming for 3 challenges (= 3 days head start in April) and since one of the books is a graphic novel I should be able to do it! 😄 I'm honestly impressed with the people I've seen on Twitter aiming to complete all challenges, you go!!!
Alohomora ✨ read a book that's first in a series
➡ Want (Cindy Pon)
You cannot believe for how long I've wanted to read this book, but I never got around to getting myself a copy. Luckily for me, Scribd has the book so I can read it now! I'm very excited to read Want as I have heard nothing but glowing Reviews and I'm really in the mood for some sci-fi lately, so this is the perfect book! The Book also fits the prompt as it's the first book in a Duology (?) I think, to be honest I have no idea how many books there are going to be, but the next book will be out in 2019! Another reason why I choose this book is because it's not too long, so I should be able to get through it pretty quickly!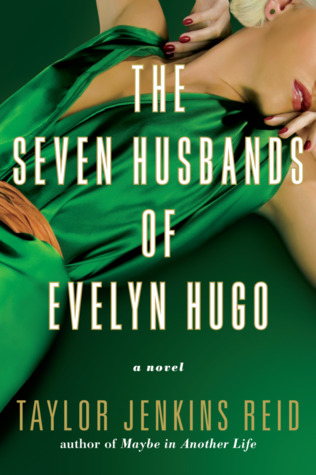 Accio ✨ book that's top of your TBR
➡ The Seven Husbands of Evelyn Hugo (Taylor Jenkins Reid)
Much like Want, I have een hearing a lot about this book, maybe even more. Everyone seems to adore this book and think that it's lifechanging so I had to choose it for this prompt. There are a lot of books on the top fo my TBR, but Evelyn Hugo has also joined the ranks, as I really want to see what all the hype is about. This is also way out of my comfort zone, but as I want to do this more often, I'm actually very excited. I'm also generally a fan of historical fiction, so this should work, even though I rarely reach for adult books in general. This is also said to be a very emotional and heartwrenching book, so I'm taking lots of tissues with me!
Rictusempra ✨ book that 'tickles you the right way' (exciting trope/theme/genre)
➡ Giant Days Vol 1 (Allison, Treiman, Cogar)
I really wanted to choose a graphic novel as my third read, so I wouldn't have too much pressure on myself and could maybe even read more if I really get into the Series. I had only heard of Giant Days in passing, but after reading the synopsis I realized that it fit this prompt really well. Giant Days is about settling into college and that totally is a topic that excites me and that I would love to read about! If I want to I can read the other volumes (I think there are 7 or 8 in total) as well, so hopefully I'll enjoy this first one and then dive straight into the rest of the Series!
Do you like Harry Potter? What would your favorite subject be at Hogwarts ?✨