Hello fellow bookworms 🏆 It's time to talk about my favorite books of 2021 again! Once again it has been a rough year, so it's nice to look back at what books I have loved and how they have made the year better! Compared to all other years' Best Of Lists (starting in 2016 when I got Goodreads), it's the least amount of favorite books, as usually I have a lot more 5-star reads and every 5-star book automatically gets on the list. Nevertheless, I'm grateful that there are still so many books I loved! In total, I have 15 Favorite Books favorite books to talk about today and I'm so excited to share my love for them! Like the last years, all covers link to the respective Reviews (except for the last book as I haven't gotten around to writing a review)! I'm also happy to report that 5 books on my list are Adult and I have been reading from much more genres compared to previous years 🥰
Fence Vol 1-4. (C.S. Pacat, Johanna the Mad, Joana Lafuente) 💕
🏆 MOST ADDICTIVE 🏆
➽ Fence was a surprise favorite of the year, as I never expected to get as invested in this graphic novel series about fencing. However, I got really attached to the characters, which is always most important to me when I read a book. Fence has a few of my all-time favorite romantic tropes: rivals to friends to lovers, omg they were roommates, lots of slow born and yearning, plus characters who are oblivious to their feelings 🥺 It looks like Nick and Seiji's relationship will be slowly evolving throughout future volumes (so far we're still at the very beginning), but I really like their dynamic and got really invested in it! Nicholas is so obsessed with Seiji and committed to beating 'his ultimate rival', it's kind of funny, especially as they are forced to be roommates and constantly bickering 😂 I cannot wait to see more of this dynamic in the next volumes!
Network Effect & Fugitive Telemetry (Martha Wells) 💕
🏆 BEST SERIES 🏆
"Just remember you're not alone here." I never know what to say to that. I am actually alone in my head, and that's where 90 plus percent of my problems are."
➽ Network Effect is a fantastic installment of the Murderbot Diaries and as a full-length novel it gives us so much more time to explore Murderbot and its relationship with its humanity. I loved seeing some of the old characters again (especially ART) but also appreciated the expansion of the world and exclusion of new characters! Fugitive Telemetry was a great bridge between Rogue Protocol and Network Effect, exploring Murderbot's relationship with Preservation, its work with Station Security and a suspenseful Murder Mystery. Like every novella in the series, it was amazing and I had a great time reading it! I'm still in love with the Murderbot Series and I'm so happy that this year it was announced that there will be more books after Fugitive Telemetry (#6), so in the future I will get even more of Murderbot 🥰
Today Tonight Tomorrow (Rachel Lynn Solomon) 💕
🏆 BEST CONTEMPORARY 🏆
"Maybe that's the definition of nostalgia: getting sappy about things that are supposed to be insignificant."
➽ Today Tonight Tomorrow was an excellent rivals to lovers romance set within 24 hours full of tension, feelings and fears of the future. Rowan and Neil have been rivals all of high school, they are the two top students who are always competing with each other. The tension and history between them was so well conveyed by the book and I loved their verbal spars and banter so much! 🥰 Despite being rivals for so long, I liked them truly getting to know each other and sharing deep truths about their fears and insecurities. The romantic tension and clearly repressed feeling added another layer of angst to the book that I really enjoyed! This is set during the very last days of senior year. Rowan and her classmates are about to graduate and there are a lot of mixed feelings that come with a new stage of life about to begin. I always appreciate stories that talk about college or the summer before college, as it's a defining moment in life. I cannot wait to read more books by this author because I was engaged in the story and had such a good time reading it ❤
The House in the Cerulean Sea (T.J. Klune) 💕
🏆 MOST COMFORTING 🏆
"There are moments in your life, moments when chances have to be taken. It's scary because there is always the possibility of failure. I know that. I KNOW that. Because once upon a time, I took a chance on a man that I had failed before. I was SCARED. I was TERRIFIED. I thought I might lose everything. But I wasn't living, then. The life I had before wasn't LIVING. It was getting by. And I will never regret the chances I took."
➽ The House in the Cerulean Sea became an instant all-time favorite book and I'm happy that I gave this one a try after seeing so many people in the community love it! If you love stories that have found family, slowburn mutual pining, a magical atmosphere and wholesomeness, then this is the perfect book for you! ❤ There was something so wholesome and positive about the story. I had such a good time reading this book as it put a smile on my face whenever I picked it up 🥺 The House in the Cerulean Sea is definitely a character-driven story that focuses on the found family dynamics and the pining, which worked so well for me. It was like I was spending time with the little family and their interactions really drove the book. It didn't need a grand, huge plotline, though I lowkey wish there was a second book if only to see the children, Arthur and Linus again 😭 There are tough topics discusssed in the book like child abuse and prejudice, yet the book always provides a glimmer of hope and highlights how important support and love is for children to grow. This is definitely the ultimate comfort read if you need some wholesomness in your life. No matter if you want some slowburn gay pining, found family or simply the magical atmosphere, this book has so much to offer and made me feel so cozy inside 🥰
You Will Get Through This Night (Daniel Howell) 💕
🏆 MOST HELPFUL 🏆
"You are never alone. You are in control of your mental health and you can make a change. No matter how dark it may get, if I can do it, so can you. You will get through this night."
➽ You Will Get Through This Night is a great Practical Mental Health Guide that explains the basics of our Mental Health and Psychology, but also provides helpful exercises to cope with our struggles! It's structured in three parts and themed around the kind of help that is needed in a crisis, short-term and long-term. This is a valuable book and great introduction into Mental Health. It was a good idea to pair a popular YouTuber who has experienced Mental Health Struggles and a licensed psychiatrist as consultation. Especially for a practical guide, I think it's great that we get the insight of someone dealing with Mental Health, who knows what it's like. At the same time, having an expert in the field was also important to fact check for errors and make sure that this book is accurate! I personally loved Dan's videos in high school, they have been a great source of comfort for me. Therefore, I was very excited to see that Dan had a book coming out and was eager to support him, especially as I love his humor and how he uses it to talk about Mental Health 🥰
The Desolations of Devil's Acre (Ransom Riggs) 💕
🏆 BEST SERIES FINALE 🏆
"Sometimes an old photograph, an old friend, an old letter will remind you that you are not who you once were, for the person who dwelt among them, valued this, chose that, wrote thus, no longer exists. Without noticing it you have traversed a great distance; the strange has become familiar and the familiar if not strange at least awkward or uncomfortable."
➽ The Desolations of Devil's Acre has the characters gear up for a final fight and deal with the revelations of the past books. With the villain on the rise the prophecy that concerns Noor is finally coming into play and we explore what it truly means for her. Meanwhile we see the villain trying to destroy Peculiardom from the inside out, sowing mistrust and jealousy between the Peculiars in order to turn them again the Ymbrynes. We see Jacob and his friends take on their biggest challenge yet. I liked seeing both our old beloved characters and exploring some new faces. I especially liked revisiting the American Clans and how they involve themselves in this issue when they usually do their own thing. There were a lot of great plotlines and twists all coming together! This was a solid finale with a great end to the series, but the ending also felt rushed. When it comes to action and suspense, The Desolations of Devil's Acre definitely delivered, as there is a lot at stake for the characters. Despite being on the longer side, there is never a dull moment as the author tries to tie up all his plotlines 👀
Here the Whole Time (Vitor Martins) 💕
🏆 BEST BANTER/CHARACTER VOICE 🏆
"Caio hangs up and hands me a piece of paper. 'I circled my favorites.' It's the list of cat names that I left on my desk. I let out a sigh of relief, because on the top of the list I wrote only Possible Cat Names and not Possible Cat Names for the Cat Caio and I Will Adopt in Our First Year of Marriage."
➽ Here the Whole Time was a fantastic book discussing fatphobia, homophobia and dealing with anxiety. Though it had many tough topics there was a wholesome romance full of pining and many awkward, but sometimes hilarious moments to balance this out! The funny, engaging writing style made this really quick to read, so I highly recommend you give this one a chance! ✨I was rooting for the main character Felipe so much! He's a fat, gay teen living in Brazil and excited about his school break, as it means finally being away from the fatphobic bullying he endures daily. Felipe doesn't really have any friends and doesn't feel accepted in his small town, so he mostly plans on staying home and relaxing. These plans are disrupted when his cute neighbor (that he's got a big crush on) needs to stay with them during break and Felipe is immediately filled with anxiety. This book was written with so much heart and I appreciated how it discussed fatphobia, homophobia and dealing with anxiety! There were many serious discussions but also some hilarious and awkward scenes that perfectly balanced each other out! 💕
Nevermoor: Trials of Morrigan Crow (Jessica Townsend) 💕
🏆 BEST WORLDBUILDING 🏆
"The point is—as far as the Society is concerned—if you are not honest, and determined, and brave, then it doesn't matter how talented you are."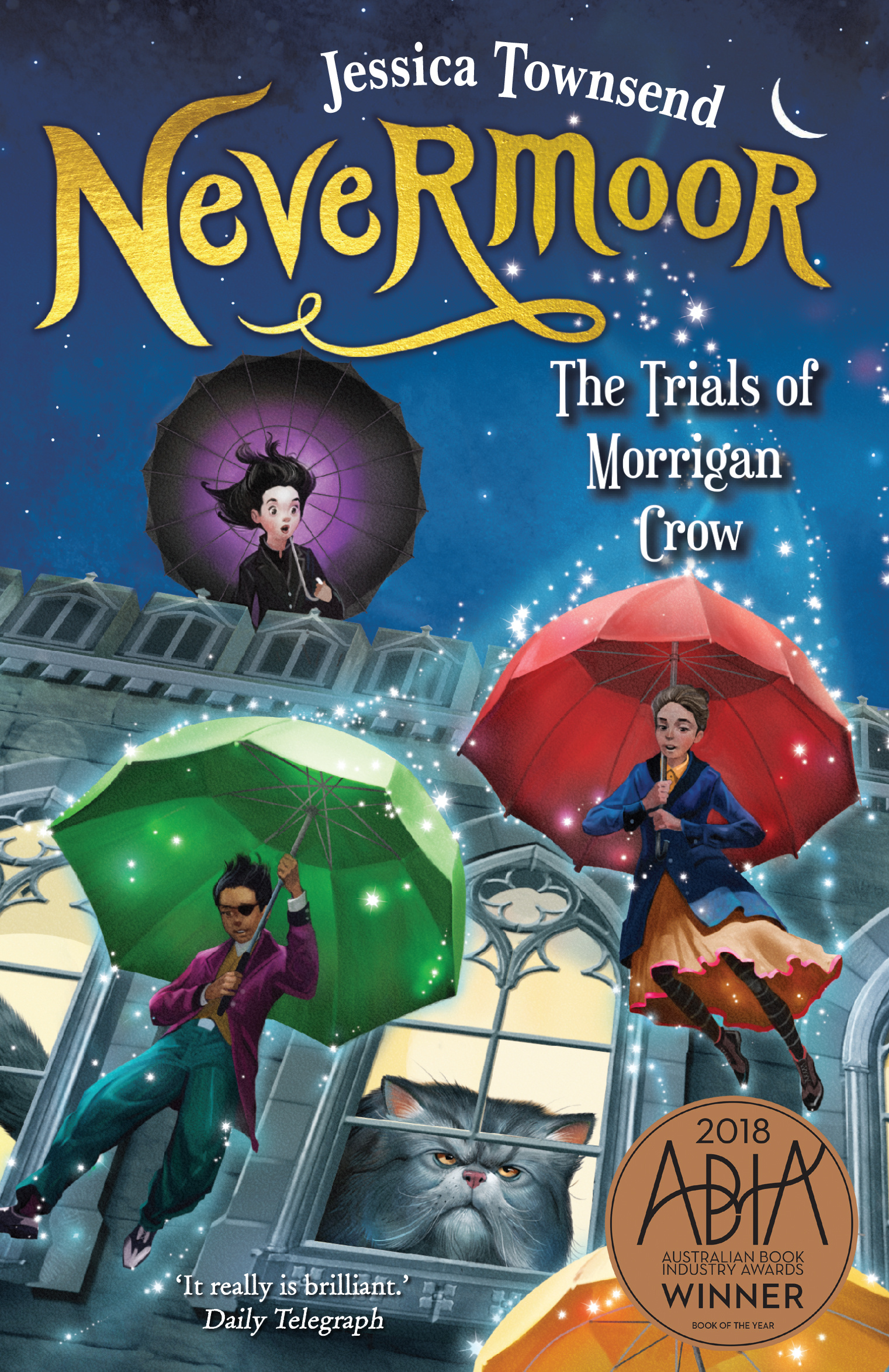 ➽ Nevermor: The Trials of Morrigan Crow is such a magical and whimsical story! 🥰 It has such a wonderful world and though there is much left to be explored you can tell how complex it is. The story starts with young Morrigan Crow who is one of the cursed children born on Eventide. She's supposed to die on her eleventh birthday and has already endured a life full of being blamed for everything that goes wrong. But when someone – none other than the eccentric Jupiter North – offers her a chance to escape her fate, it seems like there might be hope after all! I loved Nevermoor and the Wondrous Society trials. Morrigan finds herself in the country of Nevermoor where she is safe from her curse and has the chance to join the prestigious Wondrous Society: if she successfully completes all trials, she will find a new family and great influence. There is so much whimsy and love in the worldbuilding, there are several different species (e.g. dragons, witches, and people with near-magical abilities), concepts like 'Wunder' as a source, and even magical animals ❤️
Starsight (Brandon Sanderson) 💕
🏆 BEST SEQUEL/SCI-FI 🏆
"A hero does not choose her trials. She steps into the darkness, then she faces what comes next."
➽ Starsight follows Spensa as she attempts a daring heist to save her people! Her people back home are running out of time with no way to escape the planet and their enemies sending in increasingly more fighters. Spensa's still just figuring out more of herself but when a chance encounter with an alien gives her a way into her enemies headquarters called Starsight, she embarks on a secret mission! I loved seeing the world expand as we finally get a glimpse outside Spensa's planet and see how the rest of the galaxy lives like. There's a lot of new alien species Spensa encounters, as well as a world that prides itself on being peaceful and non-aggressive. I liked the political intrigue, as Spensa gets caught between two powerful people and tries to find out what else the enemy is hiding. We learned a lot more about the mysterious eyes watching Spensa (👁👁👁) and how most of the galaxy operates!
The Comfort Book (Matt Haig) 💕
🏆 MOST EMOTIONAL/RELATABLE 🏆
"You have survived everything you have been through, and you will survive this too. Stay for the person you will become. You are more than a bad day, or week, or month, or year, or even a decade. You are a future of multifarious possibility. You are another self at a point in future time looking back in gratitude that this lost and former you held on. Stay."
➽ The Comfort Book perfectly managed to embody its name and was a big source of comfort for me. It's a mix of nonfiction, self-help and memoir that comes together to create a book that emphasises hope and going forward in the uncertain times we live in. Once again Matt Haig has done it and created an impactful, relatable nonfiction/memoir book that moved me to tears 🥺 I adored his other books Notes on a Nervous Planet, which I read at the end of 2019, right before the pandemic hit. So in a way we've come full circle as The Comfort Book just released this July. It's a book dedicated to giving some comfort and hope in difficult times, which apply now especially, as I feel we're all struggling with something. The way it's talking about these topics won't appeal to everyone, but I have found that I really connect to Matt Haig's writing and way of talking about Mental Health and reflecting on yourself!
Under the Whispering Door (T.J. Klune) 💕
🏆 BEST ROMANCE 🏆
"Why don't you just heat the water in the microwave?" he asked, pouring the water into a ceramic teapot. "Oh my god," Mei said. "Don't ever let Hugo hear you say that. No, you know what? I changed my mind. Tell him, but make sure I'm there when you do. I want to see the expression on his face."
➽ Under the Whispering Door is the second book by T.J. Klune on this list, as his Adult Fantasy books are so comforting to me 🥺 This one is much darker compared to The House in the Cerulean Sea, as it heavily deals with death and grief. Nevertheless, we once again have a fantastic found family dynamic developing between Wallace – recently deceased and now a new ghost, Hugo – a ferryman tasked with helping people move on, Mei – a young reaper tasked with her first big solo case, Nelson – Hugo's deceased grandfather who never moved on and Apollo – the best boy 🐶. I especially loved the banter and the forbidden slow-burn romance between Wallace and Hugo ❤️ Generally, the book discussed the heavy topic of grief and moving on, but also has some heartwarming moments between the characters, especially as these happen in the face of death!
Have you read any books on my list? What are your Favorite Reads of 2021? 🏆