Hello fellow bookworms ⭐For today I'll be talking about the three ingredients, that for me, make a perfect Dystopian book! After Fantasy, books set in the future are probably my favorites and it was the right time to showcase what aspects I value in the genre! The two books I choose as examples are Scythe and Wildcard, because they are one of my favorite futuristic/dystopian reads and I hadn't written a Review for them yet, so this was the perfect opportunity.  I will be listing how they fit my three criteria separately as Wildcard is a sequel and therefore I'll talk about spoilers from Warcross! So if you've not read Warcross, you best skip Example 2!! Scythe's Review is of course spoiler free.
All my Blogmas Posts
The Ingredients for a perfect Dystopian are
… a vivid, terrifying world you wouldn't want to live in.
… characters struggling between good and evil, right and wrong.
… high stakes plot that leaves you breathless.
Example 1: Scythe
"My greatest wish for humanity is not for peace or comfort or joy. It is that we all still die a little inside every time we witness the death of another. For only the pain of empathy will keep us human. There's no version of God that can help us if we ever lose that."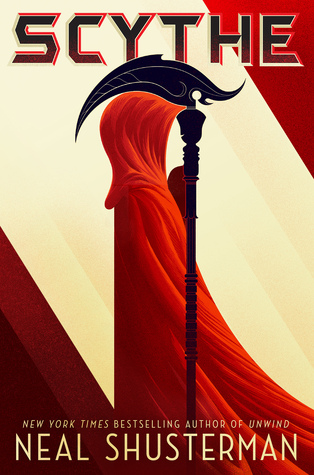 CW's: Death, Murder, Violence, Gore
… a vivid, terrifying world you wouldn't want to live in. At first Scythe seems like a utopia: death and all sickness has been defeated (thanks to the Thunderhead, an … artificial intelligent of some sort (?), who I don't trust by the way, even though it seems nice it will probably turn out to be the bad guy), which seems pretty great at first. If people die they get revived at a centre and there is the potential for people to live long lives. BUT there is no immortality. The only ones who can permanently kill (called glean) people now are the Scythes, tasked with killing so there is no overpopulation. The Scythes are feared and respected alike, as offending them is an easy way to find death, even though they have to obey by laws. Because of that Scythes often live isolated. The Scythedom is all about those rules and codes. The really terryfing element of the story is those Scythes who bend the rules and actually enjoy killing. Those who want to be allowed to kill unlimited and those who delight in making those to be gleaned suffer as much as possible. These abuses of their powers were horrifying to see.
… characters struggling between good and evil, right and wrong. We follow two Scythe's apprentices through their training. There is Citra who stubborn, dedicated and generally a likable character, because she has a fierceness about her and a strong will that keeps her fighting and seem unafraid. Her path is very different from her apprentice partner's, going towards being a good Scythe like her mentor, someone who does not delight in killing and therefore is the best person to be allowed to glean others. Her counterpart is Rowan, a charismatic person, who is however going down a very dark path when he is forced into to bend the rules of Scythedom, making him more of someone who delights in slaughtering others. There is a lot of discussion about right and wrong, good and evil with him, as he is coming to enjoy killing, but also sees how what some Scythes are doing is wrong. We see all sorts of different scythes with different approaches to killing and what is good and what is bad, which was very fascinating to watch.
… high stakes plot that leaves you breathless. The plot was fast-paced and action packed, leaving you breathless and fearing for everyone all the time. There are a lot of stakes that the story raises, especially as only one of the main characters is allowed to survive. Either Citra or Rowan will become a real Scythe and the winner will glean the loser. That alone sets up a lot of suspense, as we come to love both characters and know that at the end only one of them will be left standing. There are a lot of twists and turns in the plot, a well as many truly chilling scenes that knocked the breath out of me.
IN CONCLUSION: Scythe is a fantastic Dystopian because it has such a complex world which seems nice at first, but quickly delves into horrific. The author managed to perfectly explore the conflict between doing right and wrong, between the meaning of death in the hands of humans. It was a thrilling ride with many twists and turns.
Example 2: Wildcard
"Every problem has a solution. But after every solution, there's a new problem to tackle, some new challenge to take on. You don't stop after you solve one thing You keep going, you find a new way and a new path, try to do better and create better. tearing something down isn't the end; doing something great, or better, something right, is. Or maybe there isn't such a thing as an end goal at all. You accomplish something, and then you shift, ready to accomplish the next. You keep solving one problem after another until you change the world." 
CW's: Kidnapping, Abuse
… a vivid, terrifying world you wouldn't want to live in. The world of Warcross looked to be pretty bright, happy and perfect for the most part of the first book. The NeuroLink invented by Hideo has made virtual reality of the best kind possible: not only do they enable his game Warcross, but also allow people to alter their appearance, speak easily to others etc. This is literally a world you want to live in … but then at the end comes the twist, which is the main focus of this book: Hideo abuses his NeuroLink to control others, in order to prohibit crime, ever since his brother was kidnapped. He literally strips away free will and controls everyone who doesn't have the old lenses, prompting criminals to turn themselves in … but not only the bad guys, also everyone who has ever done something slightly against the law. Not to mention people who are about to do something. The future of free will is literally at stake and there are even worse topics lurking in this book that I cannot talk about without naming spoilers. I did like how the book discussed technology in the end: even after everything the NeuroLink is not demonized and instead it's said how much good it did and that it has rthe capacity to be improved.
… characters struggling between good and evil, right and wrong. This is especially true for Hideo, who we have loved in the last book right until he revealed his plans to take control of everyone's minds. Emika is now the one opposing him with the help of her former Warcross Team & friends. She still loves him, but is willing to stop Hideo to save free will. She digs deep into some bad stuff and discovers a lot more than she bargained for. Things are very hard for her, as she not only has to take down the man she loves, but also doesn't know who to trust as there are lots of players in this game. I especially liked seeing Hideo's character progression and the big question of if he would be able to freedom himself in the face of another threat and different teams, who interfere throughout the book. I definitely think it was well handled, especially th end: it all added up with how he acted and what he had done. We also see Zero and what his goals in all of this are, as there is so much more to discover.
… high stakes plot that leaves you breathless. This definitely wasn't the pot I was expecting (which is why I think some readers have not enjoyed this conclusion as much), but it was still very good and had high stakes. I wish we had gotten a longer book or even a third book (why didn't we? All her other books have trilogies …), but I did like how the plot progressed anyway. It was very driven by Zero and his team, that we got to explore. We see a vastly different side to the story of the Tanaka boys and I liked that we saw what we had previously been denied, as we only ever got Hideo's perspective. I also liked the deadline that the update of Hideo's NeuroLink provided: those unaffected of his algorithm because they own old lenses, would be controlled with his new update. There are a lot of different sides at play and I love that we ger to see an even bigger picture of the entire story now. Like I mentioned, I also thought that the ending was fantastic and the perfect balance between hopeful and realistic!
IN CONCLUSION: Wildcard was a great conclusion to Warcross, even though I wish we had gotten a third book. I liked that we saw so much development in the story, from the exploration of the future of free will to the many different sides of the story and the struggles of the characters! The ending left us satisfied between realistic and hopeful.
Have you read Scythe or Wildcard? What is your favorite dystopian book?