Hello fellow bookworms 🎄 You might remember that I did a similar post for Fall where I shared my favorite Things to do in Fall and as Winter is my absolute favorite Season I couldn't resist sharing my favorite festive Activities for Blogmas – 8 activities to be exact! Like last time I included a few recommendations that went along with the activity, as I really liked doing that the last time 💕
It so turned out that Swetlana  (@ thecaffeinatedbookwormlife) and I both wanted to share our favorite festive activities, so we decided that it would be super fun to do a collab post together! I'm very much excited, as I love Swetlana's blog so much, she is one of my favorite bloggers and a dear friend 💗 Therefore, make sure to head over to Swetlana's Post where she shares 8 of her favorite wintery activities!! In total you get 16 activities to do in Winter, so lots of things to do – I hope you enjoy!! 🎄
All my Blogmas Posts
Have a festive hot drink (e.g. Gingerbread Latte …) ☕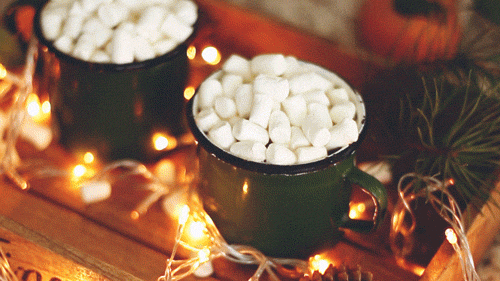 I'm always a huge fan of any hot drinks throughout the year, but I'm especially excited for all the great festive drinks that are coming up in winter 😍 I make myself the usual hot drinks I have in autumn like hot chocolate or tea, but I also buy the special winter teas that tastes of cinnamon, baked apples or almond! I love these teas as they get me to feel all christmassy inside! You should see me in the store, sorting through all the festive teas that they are now putting on the shelves, I look like a goblin trying to hoard it all as I can never go with just one flavour 😂 However, I really enjoy some typical festive drinks (that I cannot really make as easily at home) whenever I can! my absolute favorite is the Gingerbread Latte from Starbucks as it tastes amazing (and basically like Christmas) 😍 I rally should try out a homemade recipe as the drink is pricey (even in the other coffee shops), but it's worth it for me! Apart from that I also drink the non alcoholic version of mulled wine as I don't drink alcohol, we call it "Kinderpunsch" here but idk how that translates into English, but it's very good! I think Starbucks also has a special festive hot chocolate that I had last year, the only drink I don't like is eggnog. Apart from that: give me all the festive drinks! I'm craving them just writing about them now!
The perfect book to read in a cozy coffee shop 
☕ A Christmas Carol (Charles Dickens)
I already took this book to a coffee shop last year when I was sitting in Starbucks sipping my Gingerbread Latte 😍 As A Christmas Carol is my favorite classic and Christmas read, I cannot resist to reread it every year! It's quite short, so very practical and handy to bring along to a trip to my local Starbucks, where I treat myself to the occasional Christmassy goodness!
Listen to lots of Christmas Music 🎧
Having christmas music on in the background is especially great around the festive Season to put yourself in the mood! We usually have a CD at home with the best Christmas songs that we put on during the holidays in the background. It's feels very cozy to be spending time with your family, playing some board games or talking and having soft, low Christmas music on as a background sound 💕 I also like listening to it daily when I'm commuting to Uni (and school back then)! The commute isn't very long as of this December (15 minutes), but a bit longer than before, so now I have a great opportunity to listen to a few songs while going to and from Uni. I think it's such a great way to start the day and get yourself a bit more motivated to actually get to lectures 😄 I would also highly recommend listening to instrumental christmas music when you're working. I cannot have music on with lyrics, so instrumental music is perfect for when I'm doing Uni stuff or writing a blog post – it's also just very nice to be able to feel a bit festive even when you're working! I cannot even tell you what is my favorite Christmas song, because I couldn't possible choose 😂
A Christmas Playlist for you  🎧
Visit a Christmas Market 🎄
I think the Christmas Markets have also become a thing outside of Europe, so I hope you know what I'm talking about, because I adore visiting as many Christmas Markets as I can every year 😍 There is just something very festive about them that gets me every year, I mean the amazing lights that are hung up everywhere and look especially lovely in the evening, the smell of mulled wine and food as well as the general festive decorations and all the things that the vendors are offering! I love it all and going to the Markets is an overall great experience every year, as some cities have such beautiful decorations, it makes me feel all festive inside! Now that I've moved to a city two years ago, I have a Christmas Market very close to me, meaning that I go through it every week 💕 There is a little 'Christmas village' in front of the mall and the building my library is in with a place for ice skating and it's the absolute best thing as it always smells like waffles and mulled wine 😍 I always smile when I pass it by and it's very lovely, especially as I don't get to the part of the actual Christmas as often as it's in the old part of town! I already have plans to visit some neighboring Christmas Markets this year with my mom and grandmother, actually, at the time you're reading this I'll have spent my day at a Christmas Market, the first one of this year 💕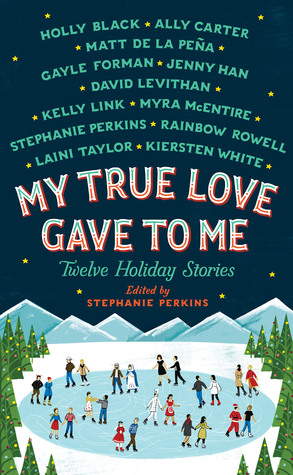 A book that gets me in the Christmas spirit
🎄 My True Love Gave to Me (Anthology)
This is probably my favorite Christmas Anthology as it has so many amazing stories with every different themes, that all really spoke to me! It never fails to make me feel all cozy and festive inside, so I reread all of the stories every year! I think there is only one story in the Anthology that I really couldn't stand, but apart from that I thoroughly enjoy reading all stories around the festive Season 😍
Eat all the festive treats 🍪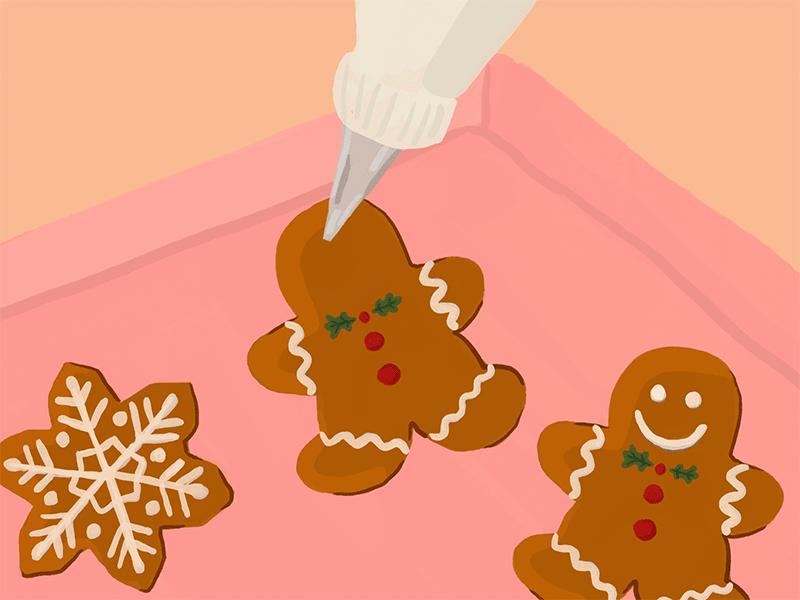 We had hot drinks, so now it's time to talk about FOOD because that's essential for every festive Season 😄 There are lots of delicious meals waiting during the holidays, but even before that there are snacks that I always return to every year because they are so good and always increase my festiveness! The most important part of any Christmas food is obviously the Christmas cookies, or how we call them in Germany "Plätzchen" because they are the traditional food to bake at Christmas! My grandmother is always making lots of them each year, so I have enough to eat in the festive Season (and beyond) 💕 Apart from that there is of course my beloved gingerbread, as well as Spekulatius and so much more, as lots of brand have chocolate and other treats with christmassy flavours now, so I'll love to eat them all 😍
A book to read while you snack on your treats 
🍪 Let it Snow (Green, Johnson, Myracle)
I choose this book, because I have actually read it while snacking on some gingerbread last year! Meaning that this is another festive reread that I always love to read around Christmas, so I will repeat the same experience this year, as I do like to eat something while reading from time to time. There is something quite relaxing about sitting in my armchair, having a plate with treats close to me and snack on them while reading!
Wear my favorite cozy Christmas Jumpers 🎅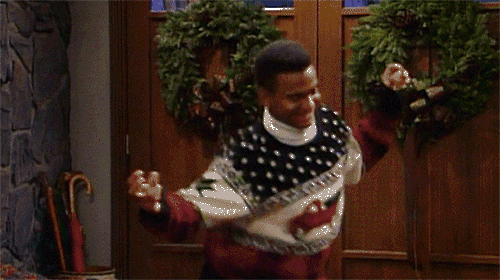 I have accumulated los of Christmas sweaters are nothing is better in winter than to cozy up with lots of sweaters and hide under a blanket 💕 Over the years I have bought several Christmas related clothing items like sweaters, pants and of course socks, as Christmas socks are very important! As I'm lucky to have quite a few sweaters now I can wear them a lot this festive Season as they just add to me feeling very festive inside! I often feel like that what I wear also reflects my mood, if I feel very comfortable in what I wear, I'll feel very confident and generally content 😊 It's also very nice to wear a festive sweater during the holidays, as it's very fitting. There is lots to choose from nowadays, so it's guaranteed that you'll find a sweater that you suits what you want to wear! My favorite Christmas sweater is the one with a cat on it that says "Meowy Christmas" combining two of my favorite things: cats and Christmas 🐱
Aesthetically pleasing Christmassy Covers 🎅
(all on my TBR and to buy list for next year 💗)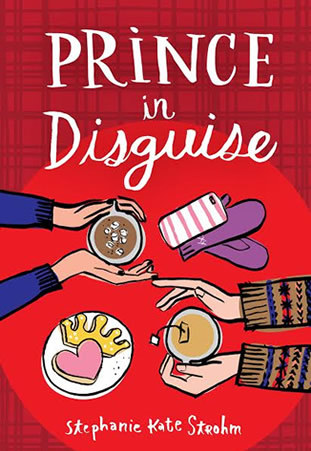 Buy gifts for everyone 🎁
I'm one of the people that adore buying gifts for everyone, as the act of giving actually makes me very happy! I make sure to always figure out what the person would like to receive, but if you have doubts it's generally best to ask the person for some ideas that you can choose from, so you can make sure you give them something they will actually enjoy and use 😊 I get my Christmas shopping done fairly early, as I like to be organized and the city is usually full of people the closer it gets to Christmas. I have almost all of my gifts as of right now, now I just have to wrap them (which will be … fun, as I absolutely suck at wrapping gifts, they always look a bit unevenly wrapped when I do it 😂)  I love to shop at Flying Tiger (a decoration/craft store from Denmark that has come to Germany now too), as they always have so many creative, lovely things that are perfect if you're searching for a something small to add to your presents. What they sell is usually pretty affordable, so if you have a store like that near you I'd highly recommend checking it out!
A book you'd like to find as a gift under the tree 🎁 
aka my Christmas Wishlist!!! (as I won't be making a separate post)
Light scented candles 🕯
Like in Autumn, I love to get all my candles out in Winter as it gets dark even sooner now, so it's nice to have some fairy lights as well as candles on, so it feels extra cozy in the evenings! I have lots of scented candles for the festive Season, as I occasionally buy the small Yankee Candles when they are on sale, as they just smell the best 😍 However, I also go for the other scented candles I can get at the store, as they tend to be a lot cheaper! I'm lucky that I still have a stock full of Yankee Candles from last year to use! One day I dream of having one of the larger ones, but they are just so very expensive and I cannot justify investing so much money into a candle no matter how much I like them. Luckily I also have some lights to put on in addition to the candles, as the stores usually sell those battery operated fairy lights for fairly cheap, so they are pretty easy to ger as you can buy them nearly everywhere!
A book that lights up your day
🕯 A Gift for Bob (James Bowen)
I just finished this today and it was such a fantastic festive read that really touched my heart. I have been reading all the books about the Streetcat Bob & James Bowen and this one is centered around Christmas and how Bob manages to make him see it could be a treasured day instead of connected to bad memories. I highly recommend you check out all the books – they deal with very serious topics like homelessness as well as drug addiction – but they truly make me happy, as the cat is so sweet and special and the story heartwarming 💗
Join some festive Readathons 📚
I'm a very seasonal reader for both Autumn and Winter, so I have lots of festive books I want to get to in December! I'm always on the lookout for some festive YA books and have gladly found a few of them, that are ,mentioned in this post like Let it Snow and My True Love Gave to Me! I also love to read the classic A Christmas Carol and recently very much enjoyed the nonfiction book A Gift from Bob, as I love cats so much! My love for all festive Reads has also prompted me to join 3 Christmas Readathons, as you might have seen in my Monday Post, where I shared my TBR! I have not participated in so many Readathons in a row for a while now, as they are literally back to back from December 3rd to December 26th! I don't mind though, as it gives me the opportunity to read all the festive books and other books that I think are great wintery reads!
My Festive Readathon TBR 📚
What do you like to do in Winter? Are you a seasonal reader? If so, what books do you like to read this season? 🎄